Andreas Dorn founded Asia Mind Dynamics, which offers certification courses to help people make changes in behaviour, mindset or attitude in their personal or professional life. 90% of students in their certification courses achieve their goals.
What's your story?
In my company, Asia Mind Dynamics, we specialise in certifying people in NLP (Neuro-Linguistic Programming), hypnosis and other management methodologies. I started this company and became involved in these methodologies because I didn't want to believe the general myth that it is hard to change behaviours, mindsets, or attitudes and that people are having a hard time to create their life and reach their goals. These tools allow me to help people make the changes they so desire, and most are extremely amazed, how fast change happens and that it is lasting.
What excites you most about your industry?
I am in the personal change industry. To me, there is nothing more thrilling than to have a client breaking through their limitations and to get their life back. Imagine, someone with 20 years of anxiety attacks is able to be free of anxiety, to see their light of happiness on their face. Clients come to us broken, and they regain their life!
What's your connection to Asia?
I came to Malaysia in 1993, with the UNDP (United Nations Development Programme) to work at the Prime Minister's Department and decided to stay on. Worked in Indonesia, and Singapore as well and run projects all across the region.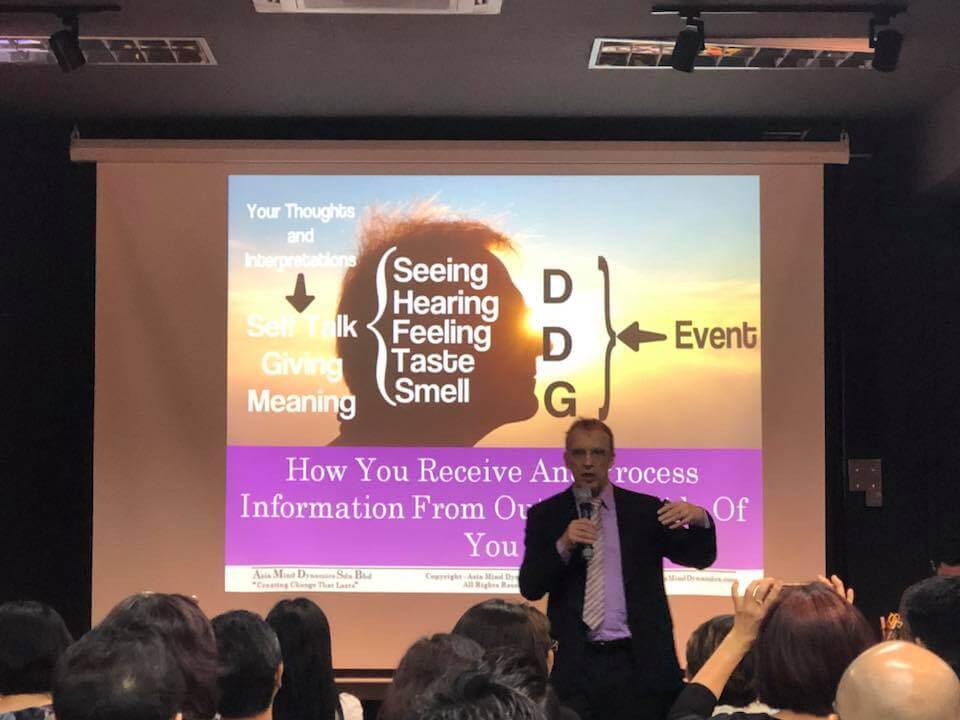 Favourite city in Asia for business and why?
Actually, Kuala Lumpur, not because I live here, but because of its variety of people, culture and food. It's a food heaven, haha. One thing I don't like are the terrible traffic jams, but I can't have everything, right? And that's just a matter of managing time and attitude.
What's the best piece of advice you ever received?
"All the resources to succeed are within us already."
It is one of 14 of the Convenient Assumptions in NLP. They are powerful assumptions on how we want to look at the world, manage our life and make interpretations about situations around us.
Who inspires you?
Wow. It depends on the industry that I look at. I started my personal self-discovery journey with books by Tom Peters. I admire Anthony Robbins. I love the language skills of Barrack Obama.
But most of all, and in my industry, it is the old hero called Milton Erickson, the hypnotherapist, who practiced hypnosis for 60 years, until his death in 1980. I admire his humour, his style, his successes, his curiosity.
What have you just learnt recently that blew you away?
Recently? I learn something new, every day :). But I got engaged in videos, video marketing, recording, and editing over the past few years. There is a ton to learn, from camera ankles, to editing, to putting something together. It's amazing and an ongoing learning but I am getting there.
If you had your time again, what would you do differently?
As a foreigner married in Asia, there was a huge uncertainty and even anxiety about contract extension, when working with companies – losing a job and not knowing, what comes next is huge. I was in Indonesia, when the country collapsed. When I opened Asia Mind Dynamics, it took time away from the time spent with my son Nabil Julius. My wife and I dedicated endless time to make this successful. While we spent time with Nabil, we might have neglected the real quality time sometimes. I would change that today, and possibly get more involved. Maybe also take more holidays and travel more than I have done.
How do you unwind?
Enjoying a great movie in the awesome cinemas in Asia. Watching motivational videos on YouTube. Having a great coffee in one of the many coffee shops.
Favourite Asian destination for relaxation? Why?
We hadn't had many holidays over the past few years, but recently spent some time in Pangkor Laut Resort. We went there for a training, but extended by a few days. It was awesome, so expensive. Service is world-class.
Everyone in business should read this book:
Malcolm Gladwell – Blink, because it demonstrates the power of intuition.
Shameless plug for your business:
90% of our students in our certification courses achieve their goals set during the training and brought their life to the next level. If someone really wants to make changes in their personal or professional life, they need to get into our certification courses. As far as I know, we are the only company with such amazing track record.
How can people connect with you?
Send me an email to [email protected], or connect with me via our Facebook Page: https://www.facebook.com/CertifiedNLPPractitioner/
Twitter handle?
NLPinAsia
—
This interview is part of the 'Callum Connect' series of more than 500 interviews
Callum Laing is an entrepreneur and investor based in Singapore. He has previously started,
built and sold half a dozen businesses and is now a Partner at Unity-Group Private Equity and Co-Founder of The Marketing Group PLC. He is the author two best selling books 'Progressive Partnerships' and 'Agglomerate'.
Connect with Callum here:
twitter.com/laingcallum
linkedin.com/in/callumlaing
Download free copies of his books here: www.callumlaing.com