Charlie's passion for increasing awareness of the importance of living a healthy and balanced lifestyle lead him to found Platinum Fitness.
What's your story?
Hailing from the international hub of Asia: Hong Kong, having studied abroad in New Zealand, I initially fell into the fitness game through my love of Tennis. Having held rank within the sport's International Tennis Federation: Juniors league, I went on to cut my teeth within the fitness industry working at Hong Kong's most prestigious gyms, The Pure Group. From my seven years at Pure, I have amassed unrivalled experience in running a fitness brand thanks to the many responsibilities and titles given to me throughout, from Sales to Operations to Marketing.
Currently, I am the founder and CEO of Platinum Fitness which is Asia's first premier twenty-four hour gym. Having launched three locations in Manila and one in Singapore in 2018. I am looking to bring affordable luxury to the masses across South East Asia.
What excites you most about your industry?
That it is constantly growing. In Asia, people are still only becoming aware of the importance of a healthy lifestyle. It's not only the opportunity in the gym industry but also the whole wellness scene from food, apparel and technology. Currently, the main issue is people not having access but now more people are creating innovative businesses that offer better for you services in areas where they previously were not available. This increases the awareness of the importance of living a healthy and balanced lifestyle.
What's your connection to Asia?
I have been in Asia my whole life. I grew up in Hong Kong, which is my home and I will always have a strong connection to the city. Currently, I split my time between Hong Kong, Singapore and the Philippines. But even though I call Hong Kong my home, I still travel back to New Zealand once a year to visit family.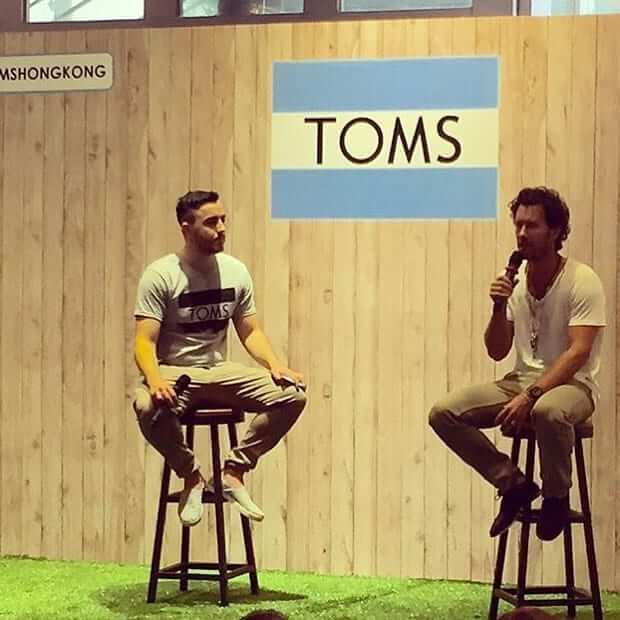 Favourite city in Asia for business and why?
Hong Kong is definitely my favourite place to do business as the city radiates energy and is very efficient. It keeps me hungry and ambitious as it's highly competitive and people are very innovative. There are always new opportunities here and people are looking for synergies on how they can invest or work together.
What's the best piece of advice you ever received?
The best advice I have ever received is to "focus on your customer and not your competitor". This is important as too many people focus on what their competitors are doing but when you focus on your customer, your business will always do well as you are not distracted by something you can't control but instead, focusing on what makes your business great.
Who inspires you?
I'm fortunate to call the person that inspires me one of my best friends and like family, Bruce Rockowitz. There is no better person as a role model for me, and not only in business but personally as well. His global accomplishments in multiple industries, especially in Asia, his ambitions, leadership and also personal values would easily inspire anyone who comes to know.
What have you just learnt recently that blew you away?
I wouldn't say that there is just one thing that has blown me away. As I move into new markets, I am constantly learning and dealing with the struggles of operating businesses in countries with different laws and regulations.
If you had your time again, what would you do differently?
I would do it exactly the same. The great thing about making mistakes is that it's the only way that we really learn and grow.
How do you unwind?
To unwind I like to travel. Recently I have gotten my PADI scuba diving certificate and have been diving in El NIdo and Komodo. I love being underwater as it is so peaceful and being in an environment which is not natural to a human makes it even more unique. I already have my next dive trip planned for later this year in Byron Bay!
Favourite Asian destination for relaxation? Why?
Favourite Asian destination would have to be Tokyo. I try to go at least twice a year with friends. It is a place so rich in culture. Every time I go, I learn something new or find inspiration in different ways. Also the food is pretty amazing as well.
Everyone in business should read this book:
"You Gotta Have Balls" by Brandon Steiner. This book is a true testament to having a passion for what you do and how you can make your hobby into a career. It also touches on the ups and downs of running a business but the most important thing is to keep going and you will get to your goals.
Shameless plug for your business:
We are currently looking to expand our franchise business after completing our first franchise fair in June. Anyone that has any interest in franchising a Platinum Fitness gym in their city, please let us know! We are open to all markets in Southeast Asia.
How can people connect with you?
People can connect with us via [email protected]
Twitter handle?
I don't have a twitter handle but you can catch me on Instagram @charlie.temple
—
This interview is part of the 'Callum Connect' series of more than 500 interviews
Callum Laing is an entrepreneur and investor based in Singapore. He has previously started,
built and sold half a dozen businesses and is now a Partner at Unity-Group Private Equity and Co-Founder of The Marketing Group PLC. He is the author two best selling books 'Progressive Partnerships' and 'Agglomerate'.
Connect with Callum here:
twitter.com/laingcallum
linkedin.com/in/callumlaing
Download free copies of his books here: www.callumlaing.com