Christina Can Help You Redefine Your Customer Engagement Strategies
What's your story?
I am a Greek Venezuelan with a very International mindset and education. Whilst my career ambition was to become the CEO of a large business, the 2000 dotcom bustled me to double redundancy. I was completely lost, yet, somehow, I decided I wanted to set up my own business. Unfortunately, my first business failed. I made the mistake of taking on high overheads!
Interestingly, the metrics from that first business showed we had a very high customer retention rate, largely due to the very unique experience we offered, that set us apart. Though I had created the vision driving that experience, I realized it was my great staff who turned it into a reality. This was a critical turning point for me. I also discovered that I had a natural talent for running training programs and speaking engagements. We ran events on our premises as part of our retention program. So my business failure actually led me to discover my true strengths! This led me to create my second business, Aquitude Group, an international engagement consultancy working in 3 business areas: Talent, Communications, and Digital.
What excites you most about your industry?
I love having the opportunity to work with clients from completely different industries and cultures. The companies my team and I have worked with have been extremely varied. We developed international engagement strategies using online gaming, co-created perfumes with Arab female consumers, and provided marketing for cable-tie manufacturers in India.
What drives me are the challenges of working in different countries, catering to consumer expectations while adapting to diverse local working cultures. We have been successful in Singapore, Indonesia, Bahrain, the UAE, Malaysia, the UK, and China, and look forward to expanding our reach.
What's your connection to Asia?
I have had the great fortune to provide consulting services, training programs, and speaking engagements across the world, including South East Asia. These have led to working with multinationals in different markets, and it has really opened my eyes to the cultural diversity offered in this region. To me, the reality is simple: When you are a third culture kid, like me, (there are not many Greek Venezuelans around), you experience the world differently. The truth is, I always felt like an outsider when I was young. As I matured, I realized that I am a true global citizen and I fit in everywhere! With premises in London, Dubai, and Singapore, the point is proven.
Favorite city in Asia for business and why?
I am torn between Singapore and Hong Kong. Both are very dynamic and ambitious cities with a positive vibe! There are aspects of Hong Kong that remind me of London, making it strangely familiar, even though they are so different!
What's the best piece of advice you ever received?
My parents have instilled in me a very strong work ethic. They have always advised me to work consistently hard and that will result in greater success and opportunities. I live by this mantra every day.
Who inspires you?
My Venezuelan grandmother was my first source of inspiration. She was a very wise woman, with a very progressive attitude, who was ahead of her time. I think of her as the Coco Chanel of her time. She had a rebellious streak and was a proponent for women making their own mark in life. I guess this is why a lot of my work centers around brands and companies understanding what makes modern women tick, and how to retain them as employees and customers. My grandmother was my inspiration when, in 2010, I co-wrote a book called, "Your Loss: How to Retain Your Female Talent," the purpose of which was to help companies redress the leaking pipeline and avoid sabotaging their marketing efforts to female consumers.
Women can do anything they put their minds to, and more often than not, it is gender stereotyping that derails their corporate ambitions. The same is true for marketing to women. Women are often stereotyped or put into the "mummy brain" bucket so brands patronize women rather than recognizing their modern role in society as not only carers but professionals and shapers of communities.
What have you just learned recently that blew you away?
Through CoVid19, I have learned how quickly what we take for granted can be taken away. Industries can grind to a halt, and the skills to adapt is what will separate the winners from the losers.
Companies, at the moment, are trying hard to navigate the CoVid19 minefield. I believe they need to work on building authentic and empathic engagement strategies with employees and customers. Towing a "safe" and predictable party line is no longer the path to success.
I have been blown away by some brands that have embraced and adopted this new culture to their benefit. They have gained the respect and loyalty of their employees and customers.
However, there are many other established and well-known brands that are really getting it wrong. Their approach has really disappointed me, and no doubt, many of their customers.
If you had your time again, what would you do differently?
I am not one for regrets. I have lived a full life and honestly would not change a single thing!
How do you unwind?
Exercise is my relaxation. As the Ancient Greeks said, "Healthy Body, Healthy Mind!" Exercising also allows me to indulge in local cuisines, which is another reason why I am attracted to South East Asia! The food in the region is fantastic! The more I exercise, the more food I can consume! I also enjoy anything next to the water – from walking on a beach, sitting in a cafe, sailing, to anything that gets my "blue mind" on. This region provides it all!
Favorite Asian destination for relaxation? Why?
I love discovering old civilizations and Asia is so rich in these places. I recently traveled to Yogyakarta in Indonesia and really fell in love with Java. I have yet to visit Thailand and Cambodia, but those are next on my list!
Everyone in business should read this book:
I had the honor of meeting Dame Anita Roddick early in my entrepreneurial journey, and I would even call her a mentor, as she was a great supporter of my first business. I love her book, "Business as Unusual." It is an autobiography about how she created The Body Shop. She is one of the world's most successful entrepreneurs and I use a lot of her quotes in my speaking engagements and workshops. She is another trailblazing woman!
Shameless plug for your business:
Building a profitable business requires a focus on the "experience economy." Customers today yearn for experiences, not just transactions. By the same token, experiences can only be memorable if employees make them such. This is where we come in: we help businesses build on both sides of this equation. We also have a special strength in building engagement with the female demographic. Women represent the world's largest growth market as they are expected to control $43 trillion of global consumer spending by this year. This is why high profile superbrands such as Hermès Perfumes have turned to me and my team to redefine their customer engagement strategies. To help with the setting of an Omnichannel Customer Experience (CX) strategy, Aquitude is the exclusive licensee of the UK-certified "CX Typology Framework." The CX Typology Assessment is the only data-based model of its kind which collates in-depth outputs of all 3 levels for making CX a reality – Individual, Team, and Company. This proven methodology has helped us drive retention and improve the bottom line of companies in multiple industries.
How can people connect with you?
I can be reached via email on [email protected]. LinkedIn: https://www.linkedin.com/in/christina-ioannidis-ba139/; Instagram: @christinai1502
Twitter handle?
@christinai
—
This interview is part of the 'Callum Connects' series of more than 1000 interviews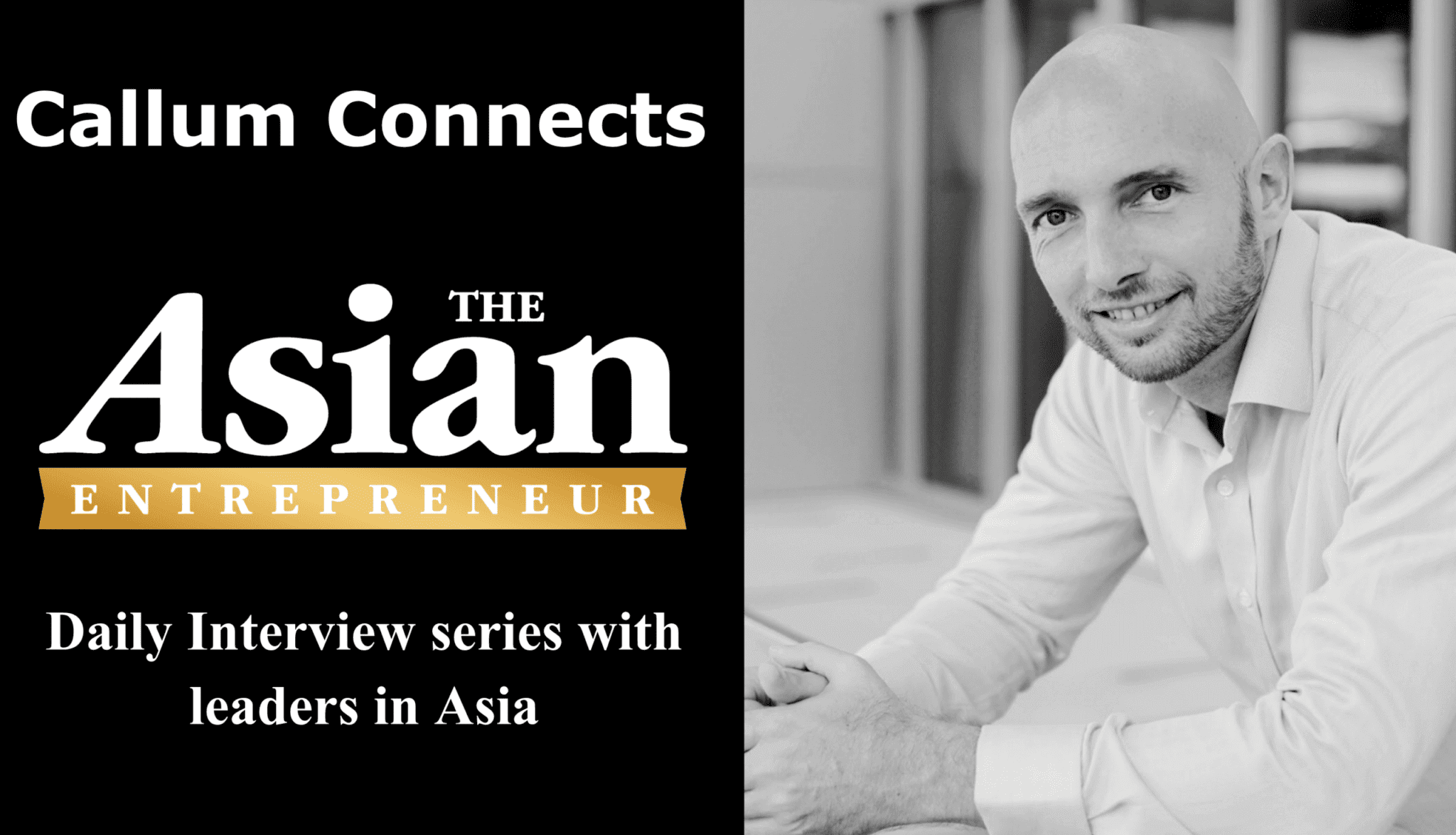 Callum Laing is an entrepreneur and investor based in Singapore. He has previously started, built, and sold half a dozen businesses and is now a Partner at Unity-Group Private Equity and Co-Founder and CEO of MBH Corporation PLC. He is the author of three best-selling books 'Progressive Partnerships', 'Agglomerate', and 'Entrepreneurial Investing'.
Connect with Callum on Twitter and LinkedIn
Download free copies of his books at www.callumlaing.com