Eric Edmeades is a South African born, Canadian raised, serial entrepreneur with a business background in mobile computing, wireless networking, Hollywood special effects, military research and development and business consulting. He is also the founder of WildFit, a fast-growing nutritional coaching company.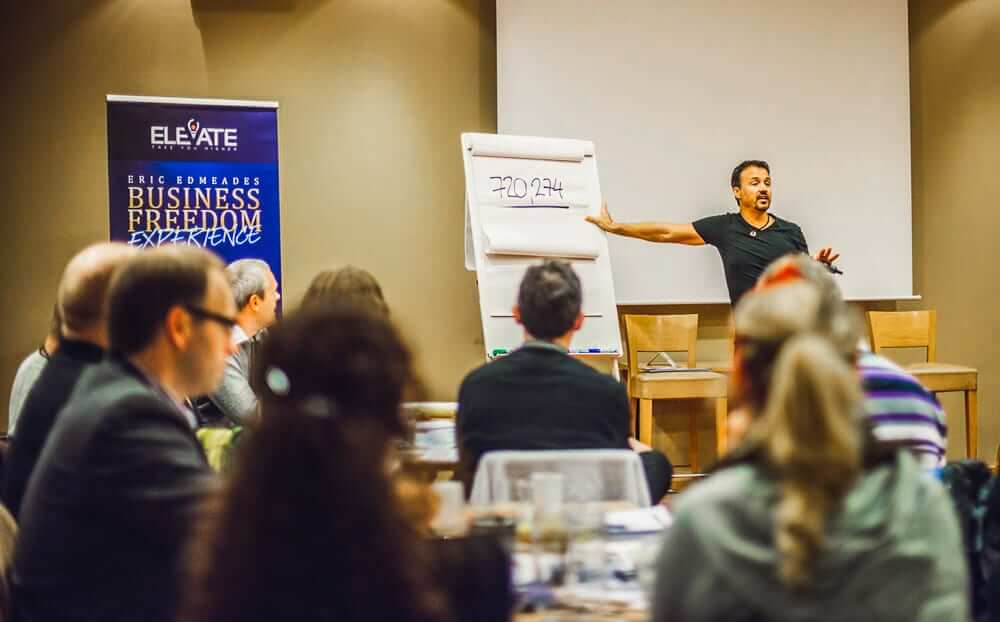 In your own words what do you do?
Mostly, I like to have fun. When I look at business projects I am looking for things that lie at the intersection of fun and value-creation. Recently, I have shifted my focus to one of my most serious passions: health care through self-care. I have spent over twenty years on an Indiana Jones-like exploration into the the history of the human diet and the science of behavioral change to create programs that genuinely change the way people think and feel about certain foods. As the founder of WildFit, I find myself at the forefront of a badly needed food revolution and nothing I have worked on in my life so far has been more fulfilling than this.
What led you to your current business?
As a young man I was frequently sick. Well, no, I should say I was pretty much always sick. I didn't really think of it as 'being sick' so much as just being the way I was. After receiving some advice from a good friend, I changed a few things about my diet and, about a month later, I felt better than I had in years. That made me curious. I wondered how 10 years of doctors and specialists had done so little for me and one month of changing my diet could do so much.
That started me on a journey looking into medical education, human history, nutritional anthropology, behavioral psychology and the food manufacturing, marketing, and distribution business.
What I learned, over the next several years would change everything I thought I knew about food and health and soon I was sharing my views with anyone who would listen. I think I was even sharing with people who didn't want to listen.
Could you walk us through your process of developing your business?
At first, it was a hobby. I had learned some powerful things about food and created great results for myself, some close friends and my family. About 5 years ago, I got into professional speaking as a business speaker and soon had many people asking me how I could have so much energy even though I was flying all over the world and spending so long on stage; some of my programs have me on stage for 10 or more hours a day for up to 5 days in a row.
And so I started sharing my ideas with customers and fans. And getting results.
One day I decided to formalize the approach. Instead of just giving people 'rules' to follow, I created a structure that would ease them into those rules while giving them a chance to really get to know themselves and to understand their relationship with food. The first class we did went so well, that we decided to launch a business around it. The rest, so far, is history.
Did you encounter any particular difficulties in the beginning?
Not really. I mean, yes, we have had growing pains. We have experienced exponential growth over the last year and that has been tough on our business systems and our people but otherwise, we have been pretty lucky. Our business grows primarily through word-of-mouth. Our clients look so different after a few weeks on the program that their friends and relatives start asking how they did it.
What is your long term plan?
We aim to have a major impact on the food and health care industry in the western world. Healthcare is one of the most significant burdens on society, and upon many families. So much of that is because our relationship with food is incredibly wrong. We are waking up to the realization that the cigarette manufacturers were puppy dogs compared to the level of profit-motivated manipulation that we have seen from the food industry.
Could you share with us some industry insights?
Look, if you manufacture food, there are only a few ways to increase your profits. You can get more people to eat your food but once you have saturated the market, you need to start getting more creative.
You could start by lowering the cost of the food you manufacture, which might then lower the quality of that food.
You could then figure out ways to get people to eat a great deal more of your food than they really need including, for instance, adding addictive substances or reducing the nutritional value of the food so that people remain hungry even after eating it.
The 'industry', per your question, in our world, starts with food manufacturers and ends up with the medical industry. The whole chain profits by people eating large volumes of low-quality food and then spending a great deal of money on medication starting with the innocuous and prolific antacids up to and including expensive and multi-year treatments for lifestyle caused heart disease and cancer.
What are some important lessons you've learnt about entrepreneurship?
The first thing is People. It is all about people. Take care of your people and they will take care of you.
The second thing is to invest in business systems. To be really scalable, a business needs well-defined procedures and solid business systems.
Have fun. I think it is really important to enjoy what you are doing as much of the time as possible and make sure that your people feel the same way.
Any tips for achieving success?
There are two different versions of success to consider. For business success, add as much value as possible (to everyone involved), attract the right people and don't ever give up.
Personal success is much more simple. The more days you spend in true happiness, the more successful you really are.
Connect
Website: www.EricEdmeades.com
LinkedIn: https://uk.linkedin.com/in/ericedmeades
Facebook: http://facebook.com/ericedmeades
Twitter: http://twitter.com/ericedmeades