A great mutual friend of Sam and I suggested we connected a couple of years ago as we both own businesses in the Employee Wellness space.  Sam built up a great company in Australia and now is replicating that success in Hong Kong.
Sam's Business:
My company is called Total Loyalty Company, and we provide staff lifestyle programs for employers. We help companies provide more perks and social activities to staff, without using valuable internal resources to do so. We source corporate discounts, help organise staff events and seasonal offers to enhance the employment offering, allowing companies of all sizes to provide the sort of perks normally reserved for large corporations to their employees. We help provide happy, healthy and productive work environment. We call these staff loyalty programs. Companies very often look to loyalty programs for their customers, but many times ignore their most valuable asset, their staff.
We typically help our clients work on a theme – such as to enable staff to mix better, or have more work-life balance, but recently the most popular theme has been to provide wellness solutions.
We have a complete solution that costs similar to buying staff a cup of coffee a month. Currently our solutions are in Hong Kong but looking to expand to other parts of Asia.
What's your story?
I have been an entrepreneur since 1995, after spending my early career in Shell Australia. I have a passion in helping companies create better workplaces, in terms of staff morale and making the workplace fun! As many of us spend almost half the day at work, I believe that each company should provide the initiatives at work to make sure each person can feel they can perform at their optimum. After all, happy and healthy employees will lead to optimal productivity!
What excites you most about your industry?
Work-life balance, corporate wellness, staff engagement are terms that are top of mind of many HR leaders, but yet in Asia not many companies are providing solutions in this space specifically. This industry is still in its infancy and has got huge opportunity to grow in the next 2-3 years. I am excited to be in the driver's seat and see the opportunity to be one of the change leaders of this industry in Asia.
What's your connection to Asia?
I was born in Hong Kong, and after studying in the UK briefly and spending many years in Australia, have recently moved back to Hong Kong.
Favourite city in Asia for business and why?
I have to say Hong Kong, for now, as the city is, for all the rhetoric still the gateway to China and also a window to many international corporations. The city is very multi-cultural and still attracts many entrepreneurs with many fresh ideas.
What's the best piece of advice you ever received?
There are many great pieces of advice I have received, but probably one that I live my life by, is to always think "how can I help you" when meeting people, without expecting anything in return. Doing business is about developing trust, especially in Asia. I am always happy to provide an introduction or a connection if I can help. You develop a trust and bond with your contact and that could be invaluable as you develop.
Who inspires you?
Many people inspire me for different reasons, so it is hard to pinpoint one. Just because one is rich and successful to me doesn't necessarily inspire. I would say anyone who has a strong sense of ethics in they way they conduct themselves inspires me.
What have you just learnt recently that blew you away?
Recently someone was talking about company values, what does a company stand for. Large organisations tend to work these out through many offsite workshops and come up with some collaboratively created list. This person challenged all that, and say as an entrepreneur – you and you alone should set what the company values are, and these should be non-negotiable with your staff. It is about what you stand for and that is reflected in your business, and you should not be doing any staff consultations to work this out.
In fact you should use these values and find out during interviews for new staff if they buy into them. Otherwise no matter how competent they are for the job, if they do not share your values and ethics, that person should not be an employee of yours. I thought this was totally on the mark..
If you had your time again, what would you do differently?
I think most entrepreneurs agree that starting companies can be a very lonely existence. You come up with great ideas, you have a plan and you work on it. Unlike sitting in a multi national corporation where you can have many resources on hand to help critique and enhance, you are a lot of times on your own. I would say I would get myself a mentor earlier on, to help guide and perhaps provide a sounding board for your wacky ideas and schemes, and also to ensure I stay on track!.
How do you unwind?
I am a big fan of hiking and in Hong Kong it is a great way to get away from the concrete jungle and actually smell some fresh air. It helps clear your head and I find it physically and mentally rewarding. I also love to eat and trying out new places. My latest favourite area in Hong Kong is the network of streets around Tai Hang for some great eateries.
Favourite Asian destination for relaxation? Why?
I recently went to Chiang Mai in Thailand and didn't realise how relaxing it can be, sitting by the pool with a massive green wall, great service and people, and basically doing nothing! I highly recommend this place for a thoroughly relaxing holiday!
Everyone in business should read this book:
I am not a big reader of business books, but one that I recently picked up is called The Chimp Paradox, by Dr Steve Peters. It talks about how to recognise how your mind works and he has used his model to help many olympic athletes to succeed.
How can people connect with you?
You can contact me by email – [email protected] or by phone +852 5131 6338
This Interview was part of Callum Connects column found on The Asian Entrepreneur: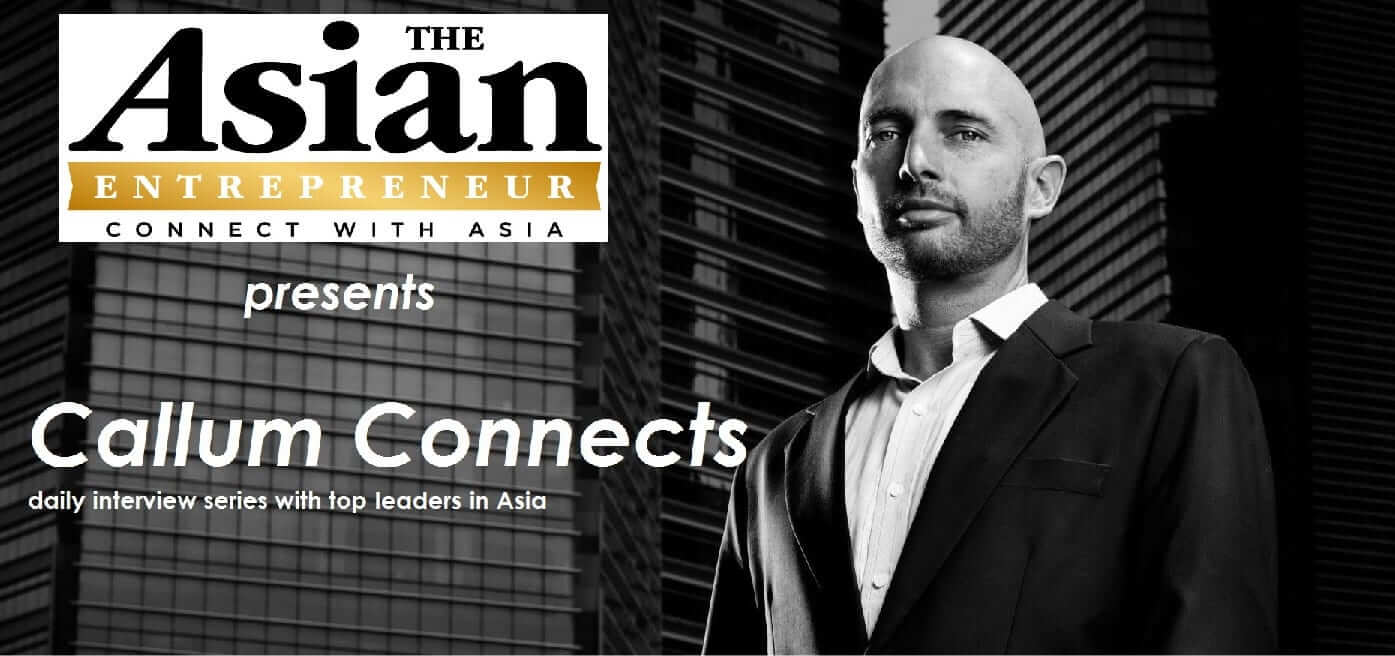 Callum Laing has started, built, bought and sold half a dozen businesses in a range of industries across two continents. He is the owner of Fitness-Buffet a company delivering employee wellness solutions in 11 countries and he is also the CEO of Entrevo Asia, a company that runs 40 week Growth Accelerator programs.
Connect with Callum here:
twitter.com/laingcallum
linkedin.com/in/callumlaing
Get his free 'Asia Snapshot' report from www.callumlaing.com
Take the 'Key Person of Influence' scorecard <http://www.keypersonofinfluence.com/scorecard/>