I continue with the second part of our series on showing how Singapore is using Feng Shui. You can read part one here.
In Feng Shui there is a saying "Mountains govern people and Water governs Wealth". Without water, even the most powerful mountain formation means nothing. Qi (energy) is activated by the presence of water.
In many Asian countries such as Hong Kong, Singapore, Taiwan and Malaysia it is not uncommon for Feng Shui Consultants to be engaged by top business tycoons, prominent corporate leaders and other well-known personalities, as in-house advisors to help them make important decisions, based on their own personal Destiny Chart.
However, this is not everything. I have to state something before going any further; no Feng Shui practitioner can offer a complete service without some knowledge of Destiny Analysis. Destiny Analysis is the diagnosis of an issue if you like and Feng Shui is the prescription. If your Feng Shui Consultant has no idea about your problem in the first place how can he be expected to fix them? We will discuss Destiny Analysis in the next article.
After explaining in Part 1 how Singapore was building its power using some simple strategies from Feng Shui, I would invite you now to discover more spots in this beautiful place that are using Feng Shui to bring up their prosperity.
As in the previous article for all those specific details, the credits are going to Master Tan Koon Yong and his business Way Feng Shui. You can find more information here.
Changi Airport
Changi Airport is one of the biggest in the world and is by far the most 'natural' airport that I know.
Unlike other airports, most of this airport is filled with massive garden features and water through its fountains. You could hardly disconnect with nature as you traverse through its walkways. This is what makes this airport relaxing. It makes you feel like you're immersed in a garden instead of an airport as we know it.
As usual, my favourite places are ones filled with nature. They are also ranked higher in terms of Feng Shui for a reason. A few minutes of contact with nature can significantly reduce stress and take away anger, frustration and many other negative feelings. Furthermore, nature can brighten our mood and give us pleasant feeling. A definitely plus when you're stuck at an airport terminal waiting for a delayed flight.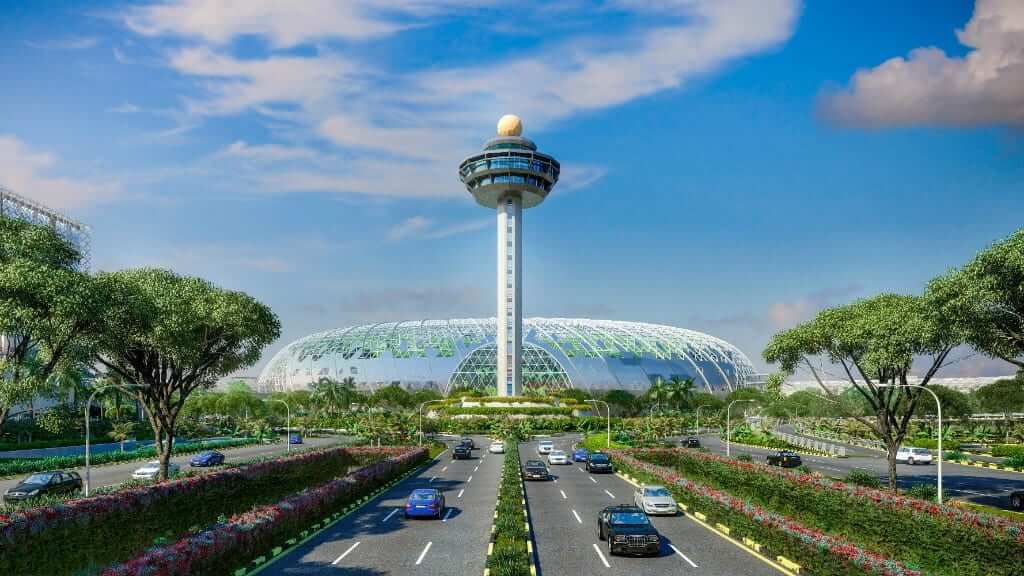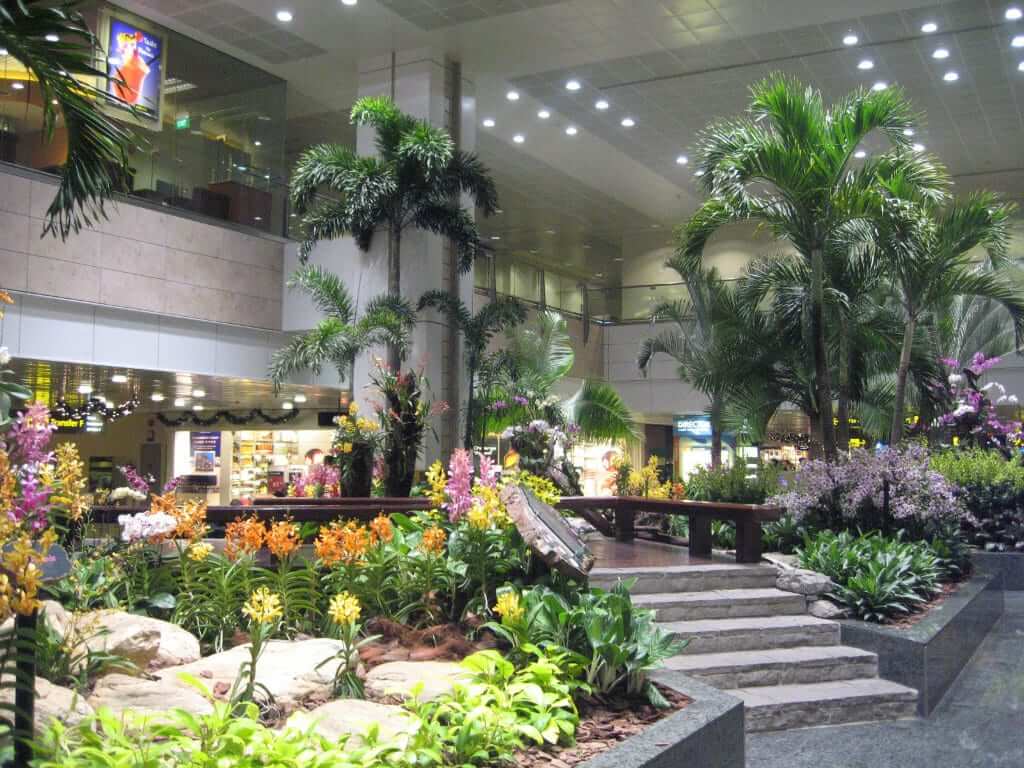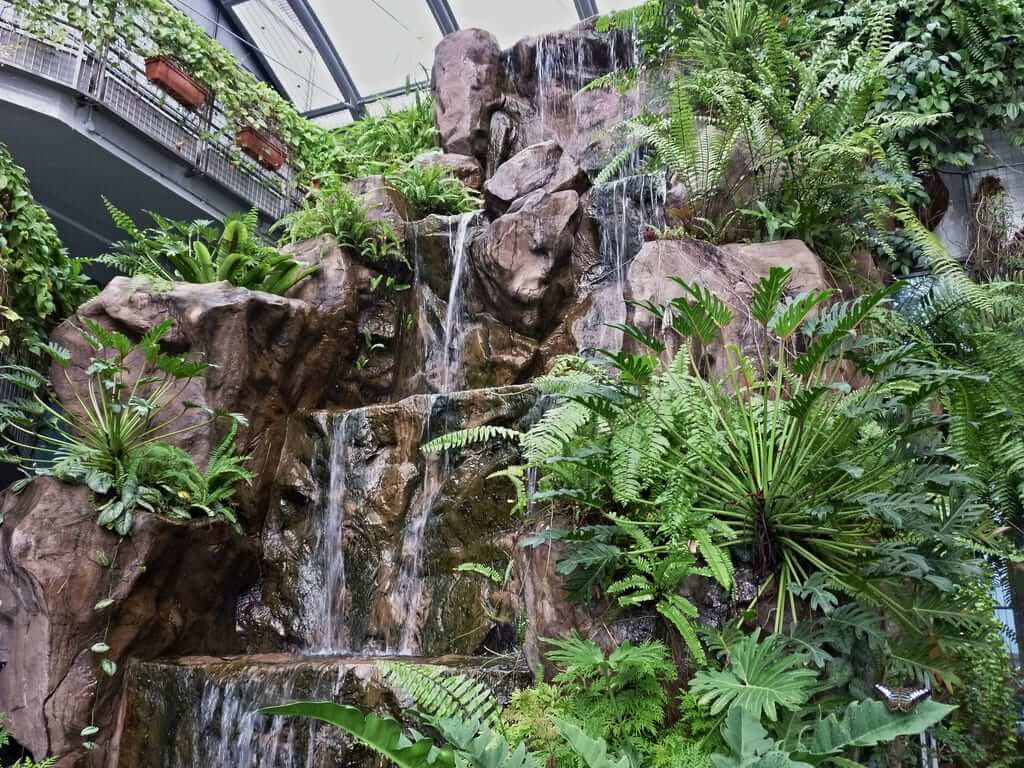 Orchard Road
If you walk along Orchard Road you can discover Tang Plaza at the junction of Orchard Road and Scotts Road. Tang Plaza is the only building in Singapore designed in the style of a Chinese pavilion. With a magnificent exterior that meets Feng Shui requirements, a palace, water and hills. The main entrance of Tang Plaza is in Scotts Road, drawing Qi into the lobby of Marriot Tang Plaza and then out to Orchard Road. This is a prosperous Qi with heavy traffic and throngs of shoppers letting the 'Castle Gate' receive a constant flow of Qi.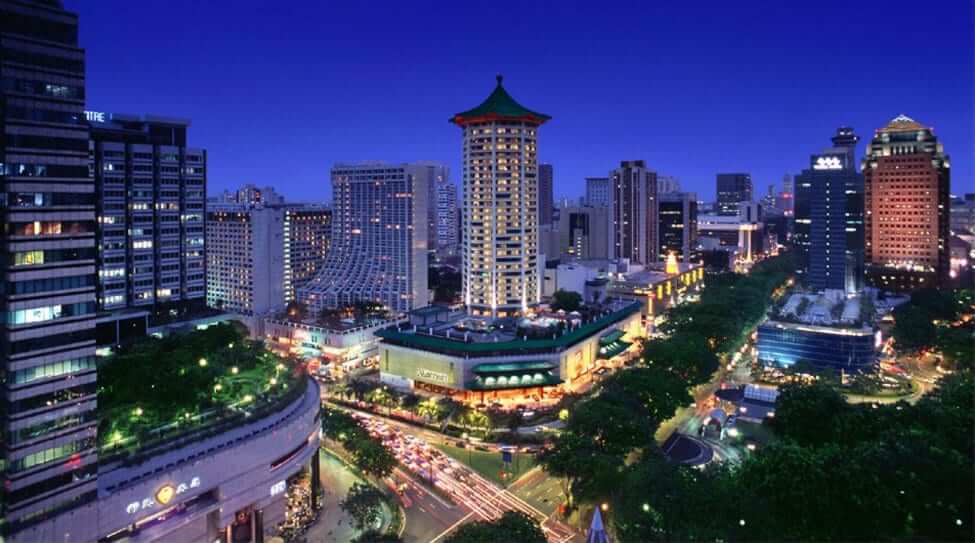 There were some problems along the way due to the appearance of the 'Flying Guillotine' and the speculation was rife that the Senior Manager of Tang Plaza experienced health problems and businesses declined because of the 'Flying Guillotine'!  Currently Tang Plaza's product range is rather mass-market, with little differentiation from other nearby shopping malls.
Apart from the uniquely designed Tang Plaza, Orchard Road also has another Feng Shui masterpiece. The Grand Hyatt Hotel, which inevitably reminds me personally of Venerable Hong Choon. Looking at the Feng Shui layout of the Hotel, Venerable Hong Choon cleverly adjusted the original entrance to give it a 45-degree slant, creating a 'City Gate' for retaining Qi. Like an ancient palace, there should also be a moat – and sure enough, the Grand Hyatt has a fountain at its entrance, with water constantly spraying and flowing. It looks like Venerable Hong Choon and his 'gates' tactic can take much of the credit for Grand Hyatt Hotel's lasting renown!
If you pay a little extra attention, Goodwood Park Hotel near Grand Hyatt Hotel also uses something similar to the 'Gates tactic'. Did one Hotel copy the other or did Goodwood Park Hotel also enlist the services of Venerable Hong Choon? Regardless of the answer, it is a fact that business is booming at both Hotels – Master Tan Koon Yong explained.
Back to our topic mentioned in part 1; this unique 'Seven Falling Stars' Feng Shui formation has a unique characteristic. It requires frequent renovation and change to maintain its freshness and shine. Not long ago, when strolling around Tang Plaza, I notice that it is undergoing yet another facelift with obvious Feng Shui features. You can also take a Feng Shui compass there and have a look for yourself!
Parkview Square
Another important building in Singapore is along North Bridge Road next to Bugis MRT station. It is an unusual building with an elaborate Art Deco facade which is actually a commercial office complex!
Feature exteriors with intricate details as well as interiors filled with priceless artwork adorn this building. The 12-metre high wine tower of the famous Divine Bar in Parkview Square cost over $10 million to built! It is certainly worth visiting for a drink, to soak in the view after a shopping trip in Bugis.
If you explore Parkview Square in greater depth, you will find that it's not just a 'pretty face'. Entering the grounds feels like you are entering another world or dimension. Every inch of the place, from the granite walls to the carved motifs and sleek interiors, is incredibly ornate. This building is truly one of the most artistic commercial office buildings in Singapore.
The exterior of Parkview Square is mostly sandy yellow in colour, which some have surmised to be the representation of the owner's surname. From a Feng Shui perspective, however, the building colour represents the Earth element, which is mutually generative with a strong Metal element produced by The Gateway nearby. Furthermore, this earthy yellow also represents stability, so Parkview Square acts like a sturdy mountain absorbing the negative Qi from the 'Killer Blades' of The Gateway.
If you head to Parkview Square and determine its orientation, you will find that it faces Southeast (Xun facing) and Northwest (Qian facing).  Xun (Southeast) represents the number 4, which – look up now – reveals itself in the form of four fibreglass statues holding light balls on both sides of the crown of the building. It may also be representative of the four brothers of Chyau Fwu Group who own the building.
For further proof that the owners of Parkview Square believe in Feng Shui just look to the golden crane statue in the front courtyard of the building (facing Qian, or Northwest). The crane, ready to take off, is facing China in the north – this is an evident usage of Feng Shui Castle Gate tactic.
How and Where Singapore is Building Its Health!
Did you know that Singapore has quite a few places that are home to ferocious tigers? Of course, we are not referring to real tigers, but the 'tiger land' observed in Landform Feng Shui.
While small, Singapore has several 'tiger' lands, but there are only three 'Crouching Tiger' ridges, with Kent Ridge being the largest. National University of Singapore is located on top of it, creating a 'Crouching Tiger Ridge' Feng Shui formation.  Typically, a 'tiger land' benefits the advancement of medicine, academics, research and the arts. You might wonder; tigers can harm people, so how can a tiger land aid medical advancement? In fact, this is thanks to the traditional Chinese medicine doctor, Sun Simiao, who reportedly 'rode a tiger to visit patients'.
Legend has it that while Sun Simiao was in the mountains picking herbs, he saved a tiger. In order to repay his kindness, this tiger would always protect Sun Simiao from wolves and other beasts whenever he went into the mountains. After following the doctor around every day, this smart tiger slowly became familiar with the medicines that Sun needed to pick and would guide him to where the herbs grew in abundance. Hence from the arts and academics, pursuing medical research on a tiger land can also yield great results.
You might not know this, but the NUS Yong Loo Lin School of Medicine happens to sit at the reproductive parts of the 'crouching tiger ridge', giving medical students studying obstetrics, gynecology and paediatrics, an advantage. In addition, there is a sculpture in the School of Medicine that resembles the shape of a 'tiger tail pearl' (the pearl on the tip of a tiger's tail is said to be an elixir that grants wishes, immortality and marital bliss), helping the long-term development of the school. You might want to stroll around the area and taste this 'elixir'! However, the 'crouching tiger' of Kent Ridge is a tigress, so NUS has strong Yin and weak Yang forces.
Being located on Singapore's largest 'crouching tiger ridge' has, naturally, helped the National University of Singapore gain renown. However this 'crouching tiger' has yet to wake from slumber, meaning that the best is yet to come. There is still plenty of room for growth. Perhaps the relevant authorities could consider making adjustments to this rare tiger land and renovate it in order to awaken the tiger and further improve the global ranking of the University.
Apart from NUS Kent Ridge, have you noticed that other tiger lands – such as Caldecott Hill, Fort Canning Hill, Singapore General Hospital (SGH) and Paragon all have something in common? SGH and Paragon specialise in medical services while Singapore Management University (SMU) is close to Fort Canning Hill, which is great for learning?
On another note, Caldecott Hill is also a tiger land that is advantageous for artistic development.  This explains why MediaCorp, which has been located here for decades, has been doing well both locally and regionally. It is probably the influence of the land's Qi! Based on our analysis, the new MediaCorp headquarters is an 'eagle land' – a 'land to soar from'.  Looks like MediaCorp should expand overseas to continue its reign in the industry.
Be it Jing Yang Ridge or Kent Ridge, if you want to 'walk with the tigers' you will need a significant dose of bravery to overcome any challenges and succeed!
Istana – Singapore and Its Money Business
Some say the Singapore government is business-like and excels at making money. Indeed, it is obvious to all that the Singapore government manages the country like a business; for generations 'efficiency' has trumped 'people development'. Most agree and accept this – after all, Singapore lacks natural resources and could not possibly have survived if not for pragmatism. However, there are some who question if we really need to be so 'money-minded'.

Which mindset is correct? It's hard to say. Now that the country has developed and stabilised, our values and culture are starting to get more attention. In this 50th year of Singapore independence, we have to ask "Is Singapore's economy-first policy due to global forces or due to the invisible forces of terrain and Feng Shui?" As geomancers, we would naturally analyse this from a Feng Shui perspective!
To study the development of the country, we must begin from the Feng Shui of Istana. Singapore's Istana is located on the 'Southern Dragon' close to the 'dragon head' Mount Emily. If you are familiar with Singapore's 'Five Dragons' Feng Shui concept then you will know that the 'Southern Dragon' is the 'Wealth Dragon' which is important to economic growth. Not only has this vivacious 'Wealth Dragon' boosted the growth of businesses located along its body, but it has also influenced the closely-linked 'Central Dragon'. This is especially true in Orchard Road, which is close to the 'head of the dragon' and can be considered the lifeblood of our economy. No wonder the area around the Istana is always full of exuberance.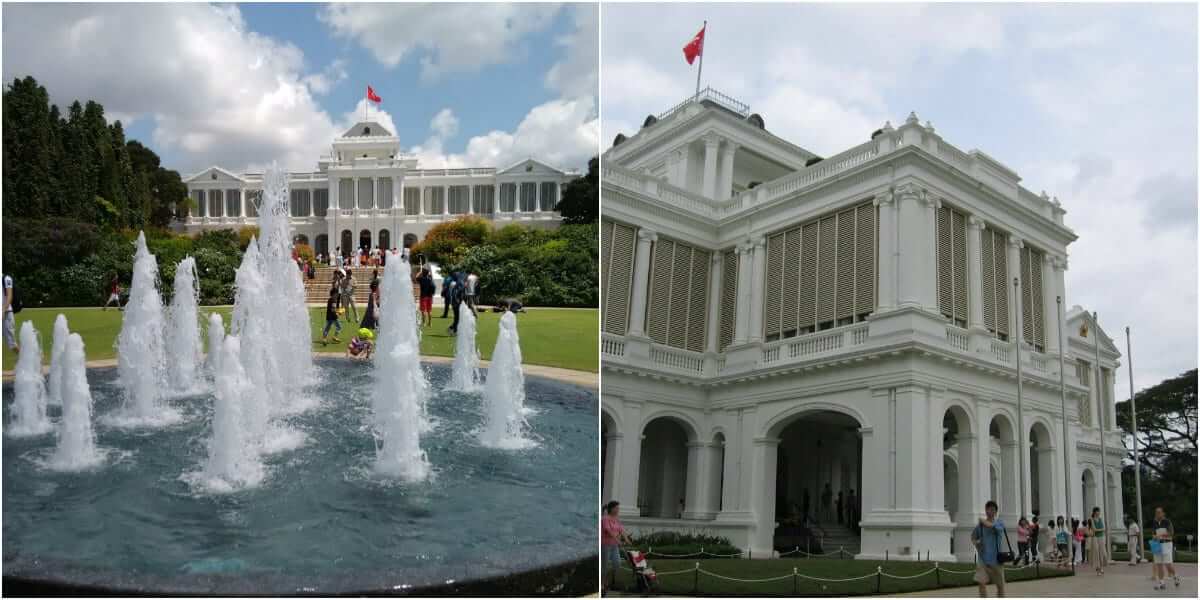 As the 'head' of this 'Southern Dragon' or 'Wealth Dragon' the Istana is also heavily influenced by the Qi here. So much so that we have repeatedly created economic miracles on this resource-scarce Little Red Dot.
Singapore's Istana sits at the top of a slope where hills intersect. In Landform Feng Shui this forms a 'Lion Playing with a Ball' formation. Apparently, apart from all its facilities, the Istana also possesses a natural hot spring, giving it a perfect Feng Shui environment. However, as both a 'Dragon Head' and a 'Lion' ground, its Qi is extremely powerful and adversely affects the nearby KK Women and Children Hospital. Could this affect Singapore's fertility rates? We can't say for sure but from a Feng Shui perspective, the hospital could consider shifting its focus to the development of medicines instead.
If you have visited the Istana main entrance where the changing of the guard is conducted, you may have noticed a small garden opposite. The most outstanding feature of this garden is a monument made from copper pipes, accompanied by a small pond.
Dear friends, did you know that apart from adding greenery to the area, this garden also serves a Feng Shui purpose? Its purpose is to block the destructive energy of the road! Don't believe us? The next time you pass by the Istana, look towards the garden from the main entrance! However, this structure also resembles the bars of a cage, trapping the 'lion' in this Feng Shui formation. How then, can this lion go far?
As this year was about celebrating the Golden Jubilee for Singapore and reflecting on its achievements thus far, the founding Prime Minister, Mr Lee Kuan Yew has already left the Singaporeans. Prior to his departure, Mr Lee had already instructed in his will that his official residence, located in a prime commercial district, should be demolished to make way for development.  The Orchard Road and Istana region is a rare Feng Shui treasure that benefits the long-term development of the economy.
Hence, isn't it better for this place to be a commercial rather than a political district? However, for privacy and security reasons, the government imposes a height limit on buildings around the area, and whenever foreign delegates visit the Istana, roads have to be closed and traffic obstructed. Doesn't this seem to stall our economic growth in some way?
For the 'lion' to escape this quandary and for the economy to grow even stronger, moving the location of the Istana is an option to seriously consider. But is there a more suitable place for the Istana? Definitely! We will tell you more in the next instalment in this series.
Singapore is a small city-state without any so-called 'capital' so it becomes impossible to speak of moving our capital. However, if we are to consider moving our Istana, then it would be just as important as moving a capital city! After all the Istana is just like the official residence of any leader and moving it will affect the fate of the country.
Bukit Timah
Located on Singapore's 'Southern Dragon' the Istana is deeply influenced by the Qi of this 'Wealth Dragon' resulting in an astute and capable government that made Singapore what it is today. However, Singapore's small size and lack of natural resources mean we must maximise what little land we have to ensure lasting growth. The Istana stands proudly on the head of the 'Southern Dragon' and while this has resulted in economic miracles, it has also restricted the effective use of prime land in Singapore.  Don't you think so? If the Istana were to be moved there could be more skyscrapers, commercial buildings and hotels here to further benefit the economy.
That being said, if moving were a real possibility, the new location of the Istana must be carefully chosen. It must have excellent Feng Shui in order to maintain the standing of Singapore on the global stage. Where in Singapore could one find a place comparable to the current grounds of Istana? From a Feng Shui point of view, the old Bukit Timah Race Course would be perfect!
The old Bukit Timah Race Course sits along the 'Central Dragon'. Singapore's 'Central Dragon' is a 'Riches Dragon' and is closely related to the 'Southern Dragon' (the 'Wealth Dragon'), both originating from the Kota Tinggi mountains of Malaysia.  These Dragons of Wealth and Riches encircle Singapore's three main reservoirs; Seletar Reservoir, Peirce Reservoir and MacRitchie Reservoir.
The 'Central Dragon' is a Dragon of Riches and can consolidate political power. The Bukit Timah Race Course is also located at the 'reproductive parts' of the Dragon meaning this place would benefit the population, government and the economy. What's more, Bukit Timah is a 'cornucopia'; its low elevation is like a bowl that can collect riches and boost the Singapore economy.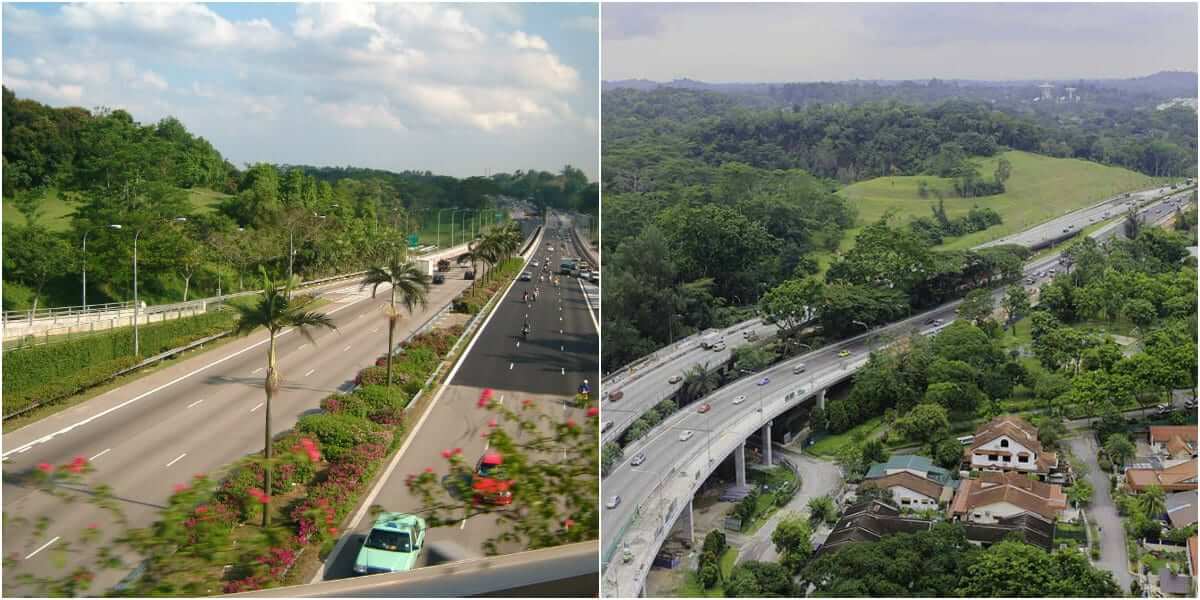 Also worth mentioning is the nearby Bukit Panjang which has a 'General's Land' formation. This would serve to guard the Istana if it moved to Bukit Timah. While abstract, according to Landform Feng Shui theory a 'General's Land' will always be guarded by a handsome steed. This horse is none other than Bukit Timah's 7th mile, creating the 'Heavenly Steed Soaring Across the Skies' Feng Shui formation. With a horse comes a saddle and manger. The 'saddle' is located in the private estates here, and residents in the public service arena will benefit from such a formation. Next to the 'Saddle Land' is the 'Manger Lang' that has the potential to 'create miracles'.
This outstanding Feng Shui environment and the sprawling grounds of the race course allow high privacy and security. It's simply a Feng Shui gem that meets all the requirements of the Istana. If the government ever wants to move the Istana, the old Bukit Timah Race Course should be the first site to consider! For those who are working in, or considering entering public service, you might want to choose a private residence here and use the positive Feng Shui to help your career prospects. That being said, places with good Feng Shui will naturally attract a higher price. If you can't afford to live here yet, then just walk around the neighbourhood and absorb the excellent Qi.
Singapore and its water: major reservoirs
In Feng Shui Water = prosperity.
We have often heard of 'heavenly lakes' but are quite unfamiliar with them.
During one Feng Shui lesson, Grand Master Tan Khoon Yong openly shared on Singapore water sources and outlets, revealing that Singapore not only has heavenly lakes but has three of them! Before reading on, can you guess where they are?
Yes, these 'heavenly lakes' are actually the three reservoirs at the Singapore Central Catchment Nature Reserve; Upper Seletar Reservoir, Upper and Lower Peirce Reservoir and MacRitchie Reservoir.

The heavenly lakes in China are usually found in the mountains, but the heavenly lakes in Singapore are on flat land. In fact, all three are located in Singapore's central area, forming the 'heart' of Singapore. Do you know the importance of these three 'great heavenly lakes'? Before we explain, let's look at the geography of Singapore and her surroundings, circumstances and Feng Shui layout. From a Feng Shui perspective, Singapore and her neighbouring countries form a 'Treasure in the Golden Basin' formation.
What do we mean? Compared to neighbouring countries, Singapore's terrain is minuscule, which corresponds to what is termed a 'bowl' in Feng Shui studies. In addition, Singapore is surrounded on all sides by the hills of other countries (such as Malaysia's Kota Tinggi and Gelang Patah in the North, Indonesia's Sumatra in the South and West and Borneo in the East) forming natural barriers. A bird's eye view of Singapore and its geographical surroundings would show that Singapore looks like an ingot at the bottom of a basin, forming the 'Treasure in the Golden Basin' formation. Whether from a geographical or Feng Shui viewpoint this has given Singapore a huge advantage.
Here's the clincher…Singapore's geography and Feng Shui layout resembles an ingot while the 'three heavenly lakes' at Singapore's central region are akin to water collected by the ingot. This has great significance in Feng Shui since water represents wealth.  These three reservoirs provide an abundant supply of 'water' (read 'wealth') to Singapore's economy.
As the name suggests, Feng Shui is about the flow of wind and water, so 'water' is a crucial element.  However, how can we best use the water stored in the 'heavenly lakes'? The traditional Feng Shui classic, Book of Burial gives a clear hint…"Qi is dispersed by wind and bounded by water". The ancients gathered it to prevent dispersal and allowed it to flow within set boundaries – that is Feng Shui! In simple terms, one must appropriately 'collect' Qi. Apart from keeping the water clean, a good drainage system and minimal disturbance of the water is crucial. Hence the authorities should avoid excessive construction or development works on the three 'heavenly lakes' and avoid holding large-scale events here as this would disrupt their tranquility and affect Singapore's spiritual energy.
Go for a stroll around the 'heavenly lakes' and experience the aura there for yourself!
Singapore, Feng Shui and Its Sports
Singapore may be a little red dot, but it ranks highly in the Southeast Asia sports scene. Even with a small pool of talent, Singapore has managed to shine in both the economic and the sporting world. This is thanks to the ceaseless efforts of the government to support sportspeople through its policies and facilities upgrades – like the Singapore Sports Hub which opened in June 2014.
We won't go into detail about the design of the Singapore Sports Hub since you can find this information everywhere. Instead, we will analyse this unique new structure from a Landform Feng Shui perspective.
Visitors near and far unanimously agree that the Sports Hub is shaped like part of a ball, perhaps thinking that the design should be 'sport related' since it's the Sports Hub. In terms of Landform Feng Shui however it has its own 'Feng Shui identity'.  On a lighter note, some have joked that the Sports Hub looks like a rice cooker or even a radio set! What do you think?
Truthfully, determining the Feng Shui formation of the Sports Hub isn't easy as it resembles both the 'tortoise' formation as well as the 'Oyster growing a Pearl' formation. First let's discuss the 'tortoise' shape! Doesn't this domed exterior look just like a tortoise shell?  Of course, we can't call it a 'tortoise land' just because of that. Before we make up our minds, let's look at the conditions required for a place to be deemed a 'tortoise land'.
Typically, a 'tortoise land' Feng Shui formation is found near 'snake land' or 'centipede land'. The Xuanwu (Black Turtle) is one of the four benevolent animals in traditional Feng Shui and takes the shape of a tortoise or snake. In case you didn't know, the Sports Hub happens to be located at the 'Five Snakes Battling White Crocodile' Feng Shui formation on the banks of the Kallang River. In addition, nearby Geylang is seen as a 'water centipede'. This tortoise formation appearing on a 'snake' or 'centipede' landform fits right into Feng Shui theories!
However, if we analyse the architecture of the Sports Hub carefully, it becomes apparent that it does not belong to the 'tortoise' Feng Shui formation. Why? What makes the Sports Hub unique is its retractable roof. Therefore if Singapore Sports Hub is a 'tortoise' formation, would that make it a 'tortoise with its shell removed' when the roof of the Sports Hub is retracted? Guess it's not a tortoise after all!
Does that mean the Sports Hub belongs to the 'Oyster growing a Pearl' Feng Shui formation instead? We kept this possibility in mind during our several field inspections. You've seen oysters and know that they have two half shells hinged together than can open and close, similarly, the retractable roof of the Sports Hub can be opened or closed as required – just like an oyster shell.
You might be curious about this? Since the Sports Hub belongs to the 'Oyster growing a Pearl' formation shouldn't there then be a pearl shaped structure somewhere nearby? In fact, the overall structure of the Sports Hub is essentially a giant pearl, but this 'pearl' requires some time to grow into a bigger and more precious gem.
Perhaps the authorities could consider adding some pearl-shaped structures in the vicinity of the Sports Hub to boost and accelerate the good Feng Shui here.
Marina Barrage
Due to forest fires in neighbouring countries, Singapore has been experiencing severe haze in recent years – to the point where there was a nationwide shortage of face masks. Luckily, Singapore has a gigantic 'face mask' – the Marina Barrage, which opened in November 2008.
We're not kidding here! If you look at a map of Singapore, you will realise that the Singapore River, Kallang River and Marina Barrage seem to form a 'giant mask'.  On the other hand, because it is built at the mouth of the rivers, some suggest that it looks like the female reproductive organs.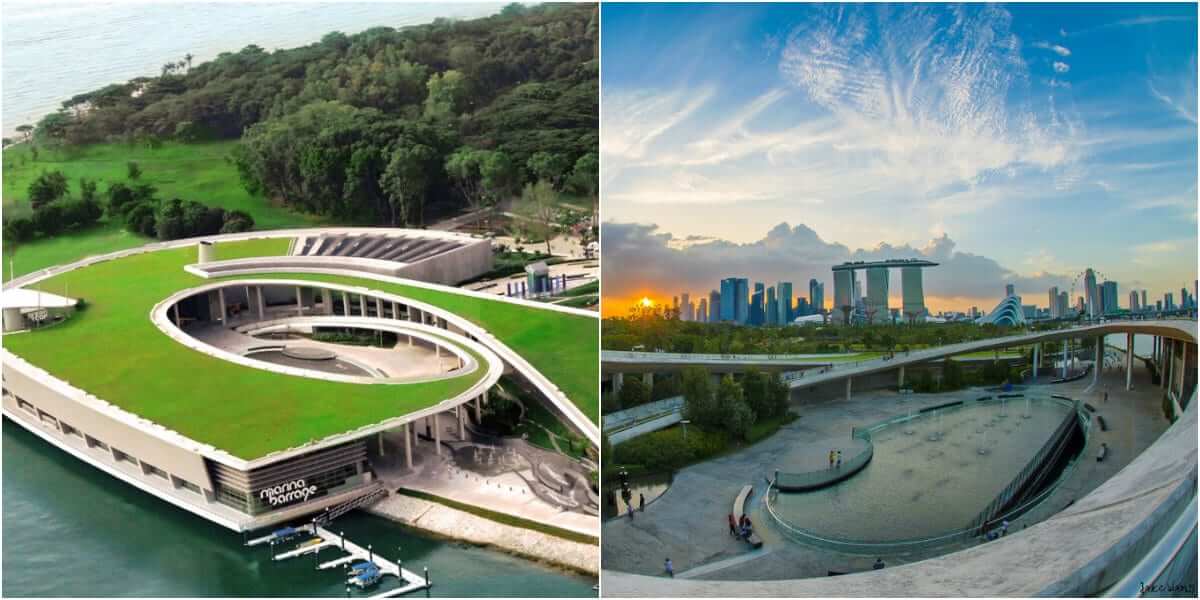 Marina Barrage is Singapore's 15th reservoir. Unlike the other reservoirs, Marina Barrage is located in the city centre and functions by keeping out seawater from Kallang Basin and Marina Bay.
The key consideration in this project was discovering a way to store this huge volume of water. Thus, extensive reclamation works were undertaken to redirect the flow of the Singapore River and Kallang River into the man-made Marina Bay.  However, the possible impact on the Feng Shui of the area was neglected.
The Singapore River and Kallang River are Singapore's main 'water dragons', and dragons are characterised by their ability to swim or fly freely. Before the construction of the Barrage, these two lively 'water dragons' could swim freely around Marina Bay and soar towards the rest of the world, creating an impressive 'Twin Dragons Heading to Sea' formation. From a Feng Shui perspective, water has to be flowing and not still.
However, the Barrage blocks the 'Twin Dragons Heading to Sea' formation, instead creating the predicament of 'Dragons swimming in shallow water'. This inevitably affected Singapore fertility rates! Perhaps this is also why the designers added the Singapore Flyer her to help agitate the water, together with the Merlion.
It seems that the Merlion and Singapore Flyer were respectively struck by lightning and hit by various malfunctions because of the heavily obstructed Qi here after Marina Barrage came into use. Of course, no-one can say for sure if these incidents were caused by the Barrage.
That said, have you spotted a giant number '9' around Marina Barrage? Does this have to do with Feng Shui too? Well, according to our deductions below, we like to think so!
Feng Shui studies consistently indicate that the next luck cycle (2024-2043 or Period 9) will see great prosperity in the South.  Since Marina Barrage is located in the southern region of Singapore the '9' shaped design lends itself to conjecture.
Upon careful observation, this giant number '9' also resembles a whirlpool, bringing to mind the image of rushing water.
So is this design really influenced by Feng Shui? We guess only the authorities know for sure! Or not! 🙂
Sentosa
The truth is, when examining the Feng Shui condition of a place, one needs to look not just at the land-form in question but its surrounding area as well. Take Singapore and Malaysia – it is clearly a 'Carp Spitting a Pearl' formation, where Singapore is that gleaming pearl.
Singapore is located at the meeting point of the Indian and Pacific oceans, with the currents providing immense energy. The surrounding islands of Borneo, Sumatra, Java and the Malay Peninsula form natural barriers that make Singapore a 'cornucopia' in Feng Shui terms. Objectively speak, it's unlikely that Singapore is a 'crab'.
That said, there is a place in Singapore that has a 'crab' formation – and a single-clawed thunder crab at that! It can be found in the region of Mount Faber and Sentosa. Looking at its geography, the body of the crab should be on Mount Faber while the mouth of the crab is at Vivocity, Sentosa, Pulau Brani and the container port area form the claw of the crab. Just look at a map and you will see it.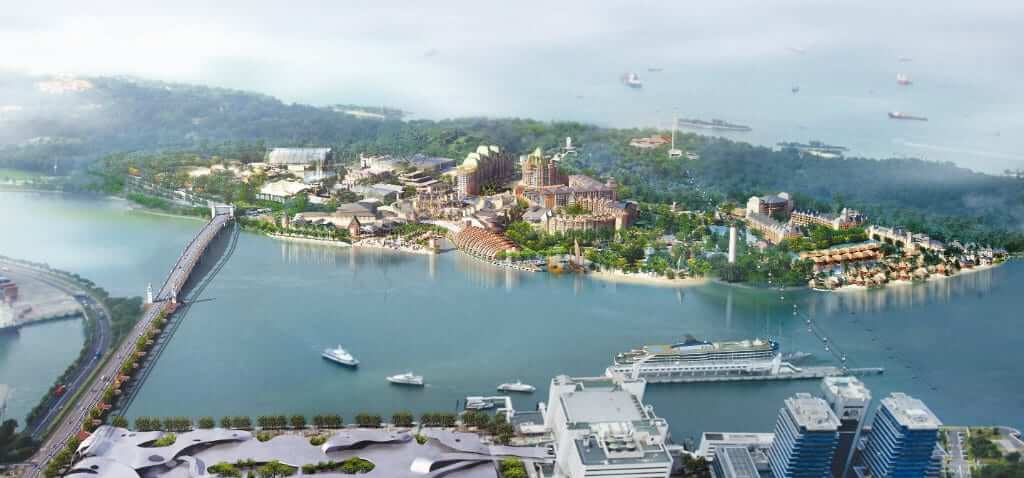 It's common knowledge that crabs are highly defensive. Perhaps this is the reason why Sentosa and Pulau Brani were once military bases of strategic importance.  Over time, however, these two islands have become places that attract wealth and boost economic development. No wonder the PSA (Port of Singapore Association) is one of the world's busiest ports, with impressive container handling volume. Sentosa is also a popular tourist destination which welcomes hordes of visitors.
The 'giant crab' formed by Sentosa and Pulau Brani has always faithfully defended Singapore's port. The reason this thunder crab can protect us and attract wealth at the same time is thanks to its tough claw. This freely waving claw must not be closed, or it will not be able to draw crowds.
Due to changes in policy, the PSA and the port at Pulau Brani will move to Tuas come 2027 and the vacated land may be turned into an exclusive residential area. In order to allow easy travel between Pulau Brani and Sentosa, a bridge may be built that' ties up' the claw of the thunder crab.  This would restrict is movement and by extensions its ability to attract visitors. Let's hope the authorities consider this situation before deciding how the land will be used.
On another note, the authorities should also avoid building high-rise developments on this 'crab' formation. Why? Because having high-rise buildings here is akin to sticking a chopstick into the heart of the crab, which will effectively destroy the Feng Shui atmosphere here!
Suntec City
In the 1980s a group of 11 business tycoons led by Hong Kong billionaire Li Ka-Shing jointly invested in what was then Singapore's biggest commercial development – Suntec City. Completed in 1997 the design and architecture of the building placed heavy emphasis on Feng Shui since Hong Kong people are known to be ardent believers in the power of Feng Shui.
It is common knowledge that Suntec City is designed in the shape of an open hand, with the five towers representing fingers.  Some claim that the fingers' connection to the palm symbolise Singapore's different races living in harmony, although this could also be interpreted as achieving financial gain through unity and co-operation. You may also have realised that Suntec City is a 'left hand'. Why left and not right? Because in China, the left hand represents men while the right represents women.  Since the investors were all men, using a 'left hand' naturally made sense.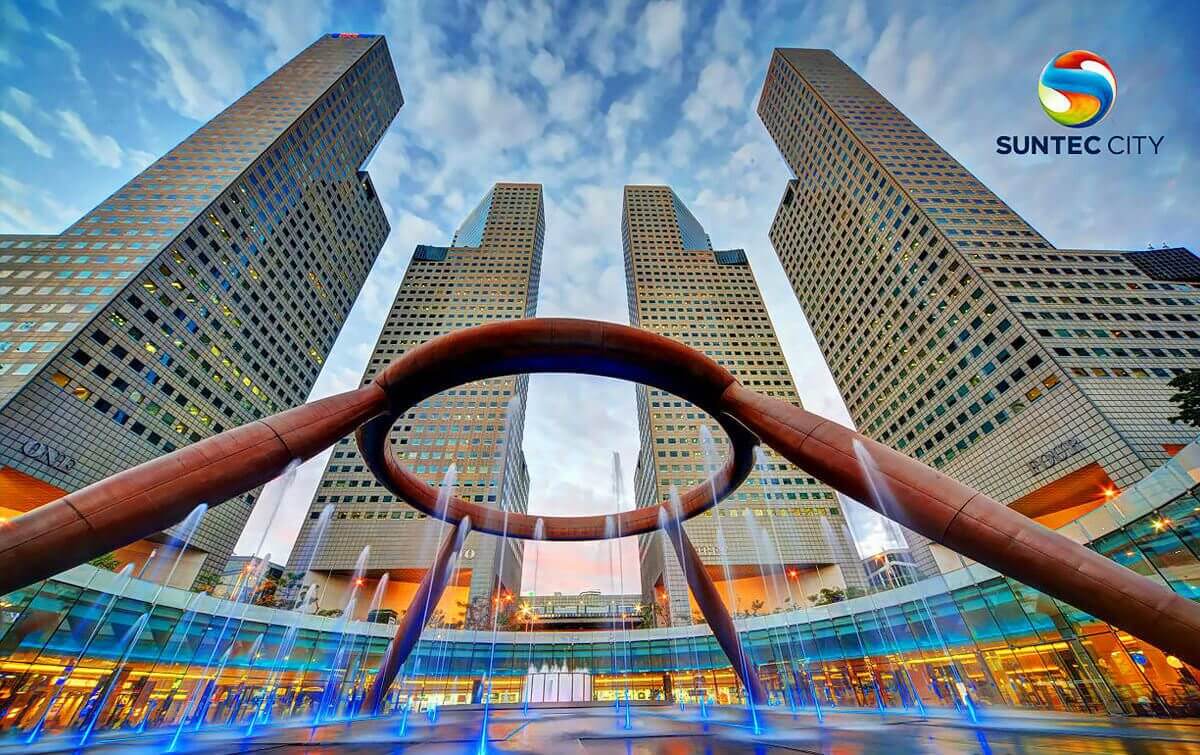 The 'left hand' of Suntec City can be described not only as an open hand, but also one with its five fingers pointing up at the sky!  What is this humongous hand trying to grab? Well, if you look at Suntec City on a map you will see that it forms a straight line with nearby Shenton Way. The hand seems to be beckoning to the Central Business District and absorbing the positive Qi from there. In its early days, Suntec City was often crowded with shoppers, tourists and business tenants.
Apart from its mega-mall, Suntec City is also home to the famous Fountain of Wealth, which for a time was the biggest man-made fountain in the world. Since it sits on reclaimed land, a Feng Shui layout where water is kept in the palm is essential for the building to receive and retain Qi. This brilliant Feng Shui formation is known as 'King Holding Up the Sky'.
The placement of the Fountain of Wealth in the palm of Suntec City suggests a desire to hold onto wealth. However, nothing lasts forever. Following the completion of the Durian, that is the Esplanade, Suntec City seemed to lose its appeal. Not long after the Esplanade was built, an accident involving a crane damaged the Fountain of Wealth.  From then on business slowed and the ownership of the building was later transferred.
It has been reported that the new developers consulted with a Feng Shui master to help improve Suntec City's lack of business.  However even after renovations and adjustments, the spatial planning of the building is far from ideal with numerous partitioned areas and confusing passageways. It's like adding numerous lines to Suntec City's left hand, forming a complex handprint that confuses and frustrates shoppers – and Qi! Still, no matter what, the Fountain of Wealth generates an excellent energy field. If you happen to be at Suntec City, circle the fountain thrice and you might be able to absorb the aura of wealth from it!
Feng Shui at OCBC Bank and its details
An outstanding architect not only creates uniquely designed buildings but is also able to endow it with life and energy.  Consider Conrad Centennial Hotel. Its exterior design seems to display the number '13' – a controversial design for a Hotel since in Western society the number 13 is said to be 'unlucky for some'! In Chinese culture however 13 is a lucky number and sounds like 'perennial growth'. In predominantly Chinese Singapore this design might even be influenced by Feng Shui.
Another famous building in Singapore also features an exterior that looks like a Chinese character.
Have you guessed what it is yet?  It's the OCBC Building. In olden times, people used shells as a form of currency.  As one of Singapore's foremost banking institutions, OCBC chose to use the traditional Chinese character for shell "貝" for the design of its headquarters, to reflect its line of business.   An outstanding architect certainly knows how to integrate details like these in a creative and artistic manner. What's more, the OCBC Building is located at the 'Carp Jumping the Dragon Gate' formation, further helping it to shine out. It shouldn't come as a surprise to learn that OCBC Building was designed by the famous Chinese-American architect I.M. Pei.
Coincidentally, the Chinese character 'Bei' that inspired the design of OCBC Building is the same as that for I.M. Pei's surname.  Was the character meant to reflect OCBC's banking business or did I.M. Pei deliberately leave his signature on the building? If we combine the three main buildings I.M. Pei has designed in Singapore, you will see why the latter conjecture makes sense.
OCBC Building was I.M. Pei's first big project in Singapore. Completed in 1976 its concept was likely meant to reflect OCBCs line of business as well as Pei's Chinese surname. With his second and third projects – Swissotel The Stamford in 1986 and The Gateway in 1990 – his designs seem to represent the Chinese characters for his name ('Ieoh' and 'Ming'). The three buildings even form a sequential line when seen from overhead. Coincidence or creativity? You make the call!
Liang Court
If you've been to Clarke Quay you will definitely have taken notice of two brightly coloured towers that resemble gigantic candles. In Feng Shui this is terms as 'Colossal Candles'. These two towers actually belong to Liang Court.
The 'Liang' in Liang Court, which means 'bright' in Chinese, seems to emphasise the 'Colossal Candles'. The name 'Liang' reportedly comes from the founder's name – Mr Goh Cheng Liang, so the developers likely did not intentionally build it like candles, let alone name it according to their shape. Nevertheless, these beautiful coincidences fit the Feng Shui layout of the place perfectly.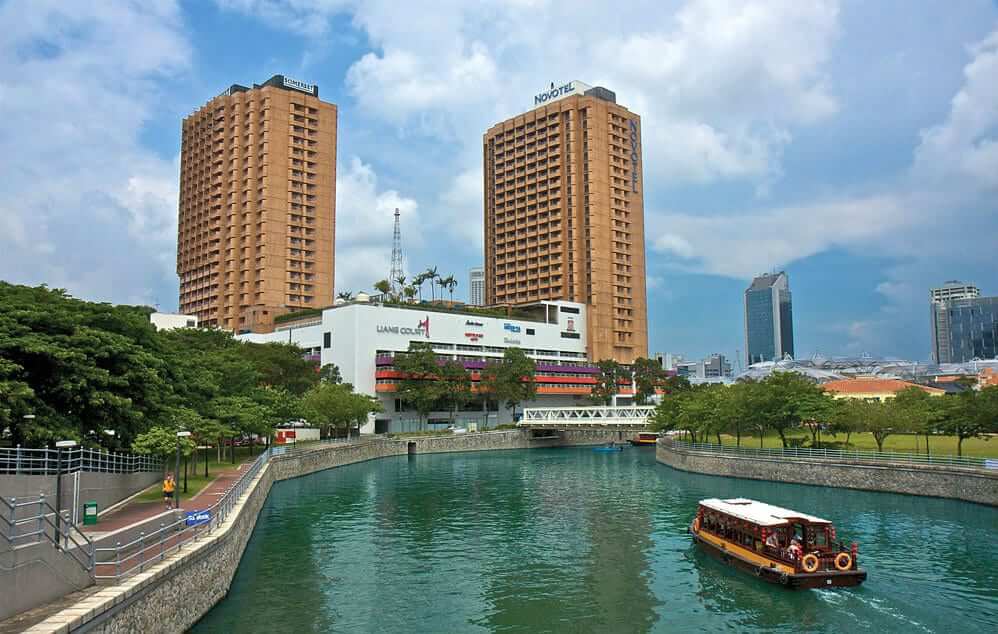 Liang Court, which commenced operations in 1984, is located on River Valley Road and is close to the 'Tiger land' that is Fort Canning Hill. What's more, it squarely faces the mouth of the 'tiger' where the National Theatre once stood. Those who remember the architecture of the National Theatre will recall a five-spiked facade that brings to mind tiger fangs or claws.
In such a disadvantageous environment, using the design of 'Colossal Candles' is one way to counter any negative effects. After all, tigers are afraid of fire and light, so the bright orange towers help ward off attacks from the 'tiger'. Even if Liang Court design did not take Feng Shui into consideration, it has certainly benefited from good Feng Shui.
You might then ask "If Liang Court's 'Colossal Candles' are so beneficial to it, why does business at its shopping mall seem so slow?" The first ten years after its opening in 1984 saw booming business, but since the 'tiger land' provides positive as well as negative Qi, welcoming the tiger to rest and play rather than scaring it away, would be more beneficial to the area.
Do you remember?  In its first few years of operation, the former National Theatre (and tiger's mouth) had not been demolished yet. Back then, the River Valley Swimming Pool and Van Kleef Aquarium became the tiger's playground and brought revenue to the area. However, since their demolition, the tiger lost its playground and Liang Court lost its 'glow'.
The 'Colossal Candles' are firelight, and are therefore prone to being extinguished by the water of the river. Such a Feng Shui formation would benefit from being built on higher ground so that it can shine even more brightly. The developers of Liang Court should seek to maintain this positive Feng Shui environment and avoid building fountains or pools in these towers – that would extinguish the flames of the candles and wreck the Feng Shui configuration. The current Liang Court mall building is also white in colour and of course white candles symbolise something else entirely… Now you can visit Liang Court and enjoy a romantic 'candlelight dinner' by the riverside!
As I usually state it, if you educate yourself and if you undertake some simple research – or better follow my future articles when more evidences will be brought by the Power of Feng Shui, you will understand that smart people 'Live by Choice Not by Chance'. And you can be one of them. Empower your own life and bring up the prosperity.
Read, post your thoughts and share! 
This article is a part of the Business, Entrepreneurship & Feng Shui Series on The Asian Entrepreneur. Click on the image to read other articles in the series: