Thailand is a remarkable country and having lived in Bangkok for 9 years I still keep a close eye on what is happening there.  All of the Chambers of Commerce play a huge role in helping enterprise happen and it is great to hear from someone at the highest level seeing the opportunity in borderless trade.
What's your story?
I came to Thailand with my parents to study high school back in the eighties. After my graduation, I returned to Taiwan for college. After graduating from college, I started working for the family textile business in Thailand. Career wise, I have been in the textile industry since 1992 and our business ranges from the materials to the final product.
In 2013, I was appointed as Chairman of the The Joint Foreign Chambers of Commerce in Thailand (JFCCT), an organization that has the aim to promote trade and foreign investment, encourage skills development and focuses on our overall aim of contributing to the Thai economy. We are the biggest joint chamber of its kind in Thailand, combining 30 chambers.
What excites you most about your industry?
What excites me most is the diversity of the industry and how global our businesses have become today. In daily life we're living in this part of the world but in our ways of business, thinking and conceptualizing, we're global, we're borderless. It is exciting to see how this will grow with the further disintegration of borders once AEC comes into effect.
What's your connection to Asia?
I am originally from Taiwan and I have been living and working in Thailand for over 34 years. We do businesses all over the world but our operations are in Asia and so I travel regularly to Taiwan China, Indonesia, Vietnam, Cambodia and Singapore. Our production is based on various continents.
Besides that, I am strongly connected to Asia through my function as Chairman of the JFCCT, connecting Thailand with the region.
Favourite city in Asia for business and why?
Bangkok. Why? It has the complete package. When looking at businesses, you take everything into account, including the lifestyle and the people, because in the end, they also strongly affect businesses and operations. I don't want to compare Bangkok to Singapore because that city is much smaller and far more expensive.
Bangkok is diverse, conveniently located, safe, and most importantly, it is growing. With the JFCCT, we are working on supporting the government to grow the local SMEs to become regional within ASEAN and making policies to support that growth and foreign direct investment.
The way of conducting business and life is good here. There are many facilities here that supports businesses related to leisure, bringing in businesses for MICE and hotels. Businesses involved in manufacturing will find Bangkok a conducive environment.
So Bangkok is clearly my favourite city.
What's the best piece of advice you ever received?
The best advice I got is that: The quality of your life is the quality of your communication.
We receive so much information these days. Our lives are changing very fast and you're not living here alone. We have to be able to communicate correctly and effectively with the world and people around us to move forward together. I have combined two slogans from two of my internationally known customers: "Impossible is Nothing" and "Just Do It". I believe that you have to move forward and communicate properly.
We don't have an issue with quantity. We have an issue with quality, the quality of our communication.
Who inspires you?
Many people have inspired me throughout my life: my parents and friends. When my father passed away, his best friend, my uncle, looked after us and guided me. He taught me that life is about choices. We face many decisions each day and we have to make a choice. He taught me to choose and not to regret the choices I make. There is no right or wrong but you have to make a decision.
Many people fail to make decisions. They hesitate and rethink, but don't move forward. You have to make a choice to move forward, left or right. Make a choice and you will progress.
Surely you want to make the right decision but go with what you love, what motivates you and you will not regret. If you make sure that you have chosen what you love, you will be happy and you will make others happy.
What have you just learnt recently that blew you away?
As Chairman of the JFCCT, I meet many people and have experienced many things, whether it is meeting different people, learning about different cultures, listening to stories, etc. I am constantly learning from these experiences. Recently we had a luncheon with the Prime Minister of Thailand and what struck me most was that he told the audience (this was said in Thai) "don't love me too much but love me longer". He explained that people love him too much, making the love run out in a way. It would be better to love him slightly less but for a longer time.
This fits with my view on life that we have to have a long term vision, either when managing a nation, company or our personal life. Try to focus on a happy, loving, fulfilling life rather than to aim just for your next happy moment.
This brings back to my philosophy of moving forward and making choices. You must have a vision and plan a path towards it. Keep your focus on it and whether you turn left or right, you will get there and succeed in what you love in life.
If you had your time again, what would you do differently?
What I mentioned before was that I was taught not to have regrets and to move forward. Accept your choices and learn from them to steer towards your goals in life.
Most entrepreneurs don't complain. If they find something that doesn't work, they will find a way to make it work. People who complain are people who either don't want to change, or don't know how to make the change.
So there is nothing I would have done differently.
How do you unwind?
I believe that we, humans, have unlimited power but if we want to use that unlimited power, we need to ensure that we have sufficient charge. Whenever I need a recharge, I just go out of the city into the mountains or to the beach, to unwind and recharge. But I don't let the battery die, I recharge before that happens.
I like to take a step back and truly enjoy nature. I like going to the mountains and to get out of the city for a while and be in the open.
Favourite Asian destination for relaxation? Why?
I don't have a favourite destination, as I said. Beauty is everywhere and any country I go I find beautiful places. I keep an open mind and appreciate the world around me, wherever my work or life takes me.
Everyone in business should read this book:
I would recommend all leaders to read The Law of Success by Napoleon Hill. He's a great thinker and he focuses not only on businesses, but on people, which is the really, the key. While his works are old, they are not dated.
Shameless plug for your business:
I recently started a new company with my wife. I mentioned about recharging by getting into nature and I want to be able to do that for years to come and also for our future generations to have that luxury. We're now really hurting the earth and S.D. World Group wants to change that. We offer complete energy savings solutions and are bringing in a lot of technology from Taiwan to Thailand.
S.D. World Group is strongly focused on implementing LED intelligent street lighting to save energy and building self-sustaining solutions based on solar energy to produce street light. At Tuntex Textiles we also work a lot with recycled fabrics, like the shirts we produced for the World Cup last year.
How can people connect with you?
Quite simply, just email me. I am open to everyone. My email address is: [email protected]. I believe that it is a good thing to help anyone in any way to grow their business and make them more enthusiastic and successful in what they do, so I am open to that.
—
This interview was part of the Callum Connect's column found on The Asian Entrepreneur: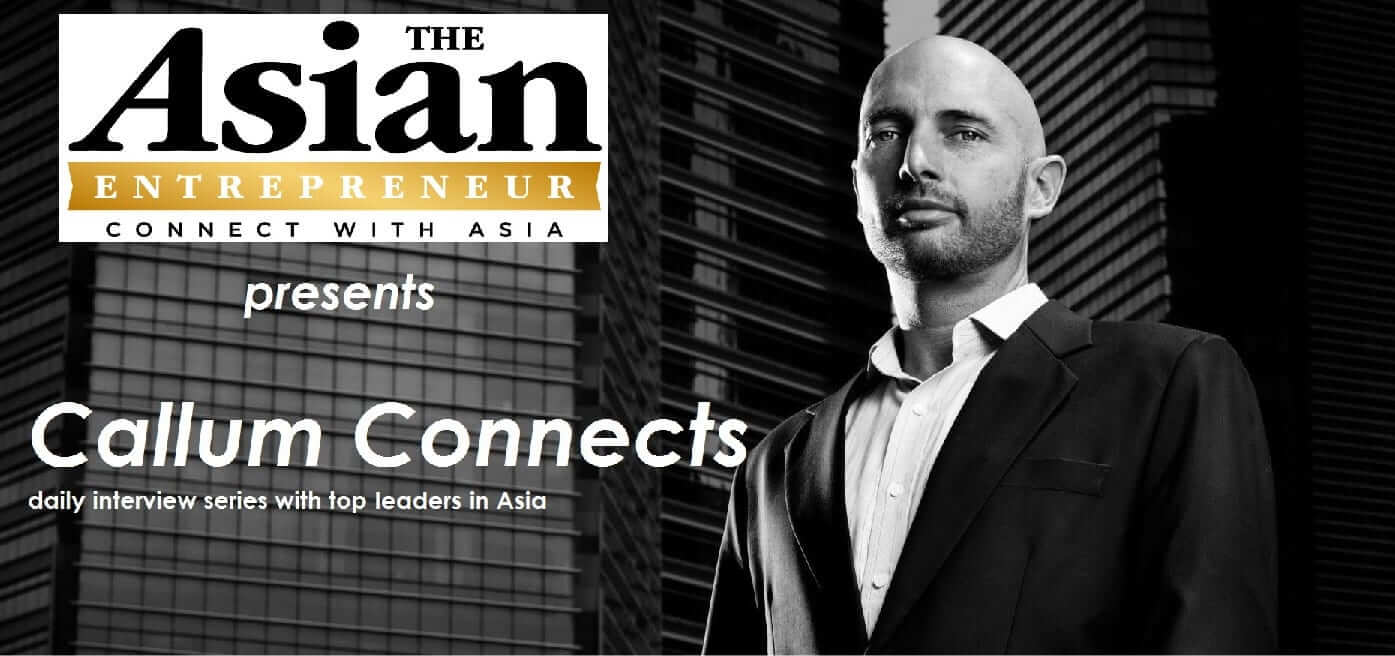 Callum Laing has started, built, bought and sold half a dozen businesses in a range of industries across two continents. He is the owner of Fitness-Buffet a company delivering employee wellness solutions in 11 countries and he is also the CEO of Entrevo Asia, a company that runs 40 week Growth Accelerator programs.
Take the 'Key Person of Influence' scorecard <http://www.keypersonofinfluence.com/scorecard/>
Connect with Callum here:
Get his free 'Asia Snapshot' report from www.callumlaing.com