German Mittelstand (GM), the small and medium-sized enterprises (SMEs) in Germany—are a unique and highly successful economic phenomenon that could serve as a model to promote trade and industry for emerging Asia.1
What are GM companies?
GM companies are the backbone of the German economy. Some 3.7 million GM companies account for 99% of all German firms, and in 2011, employed 15.5 million people (Federal Ministry of Economics and Technology. 2012). In 2014 alone GM firms created almost one million new jobs; whereas Germany's big companies cut more than half a million jobs.
Employees of Mittelstand in industrial sector
Figures in percent, 2012 figures*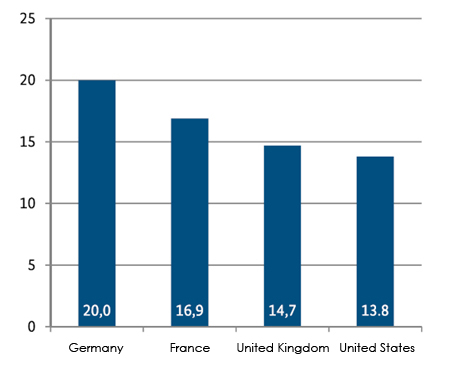 Reference size: European SME definition
Sources: European Commission (*United States: 2009); Federal Statistics Office
Germany boasts the world's most "hidden champions," or SMEs that are global market leaders in their respective niches, with about 1,300 GMs, far more than No. 2 US at 366. Germany's GM firms are adept at exploiting product niches in global markets, especially in electrical and industrial products.
"Hidden Champions" in the international comparison, 2012 figures
Sources: Simon, H.: Hidden Champions – Aufbruch nach Globalia, Campus Verlag Langenschedidt, F., Venohr, B.: (ed.): Lexikon der deutshen Weltmarktfuhrerm Deutsche Standards, pp.9-19
Current figures: Deutsche Weltmarktfuhrer database 2.3.1, survey of 29.06.2012
The dynamic innovation of GM firms makes this possible: 54% of GM firms created a product or process innovation between 2008 and 2010; the EU average was only 34%. Every year about 90% of patent applications in Germany come from the GM.
The impressive GM performance enables Germany to maintain its high position in the head-to-head race for global export champ with much bigger countries like the People's Republic of China (PRC) and the US. The performance of GM firms, among other factors, helped Germany sail through the 2008 global financial crisis.
Where does the GM phenomenon come from?
Various official policies support GM firms. For example, the federal government's initiative "Building on SMEs: greater responsibility, greater freedom" provides assistance in the fields of business startups, overseas market opportunities, cutting of red tape, innovation, and finance. In this context Kreditanstalt für Wiederaufbau Group, including DEG-German Investment and Development Company, runs a comprehensive soft- and long-term finance program partly based on the European Recovery Program that contains financing services via long-term loans, mezzanine financing, equity capital, and guarantees (partly extended to SMEs in emerging Asia). This approach is complemented by other official finance services for GM firms by banks in several federal states, such as the LfA Förderbank in Bavaria.
Sources of finance for the Mittelstand
2011 figures as % of volume of investment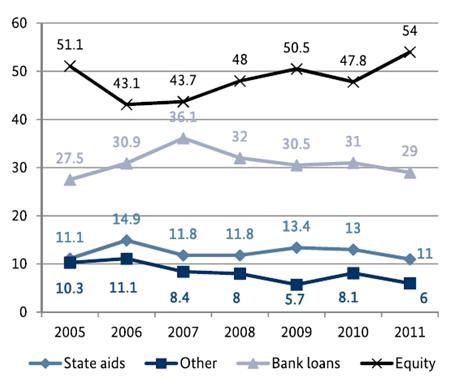 Reference size: German Mittelstand definition
Sources: KfW-Mittelstandspanel 2011; Deutscher Sparkassen- und Giroverband (DSGV)
But these state-supported programs contribute only 11% of GM financing. Commercial bank loans contribute 29%, and relatively little use is made of GM bonds or other alternative forms of commercial financing like mezzanine or venture capital, factoring or leasing. GMs finance most investments from their own equity (54%). So, government support is not the only source for GM success. Public support programs serve as catalysts, but what really counts is Germany's political, economic, and social framework.
GM success comes from a robust entrepreneurial spirit, particularly in the south of Germany. Emerging Asia exhibits a similar entrepreneurial drive. The PRC has an equally active and successful spirit of entrepreneurship—the country's SMEs account for 60% of GDP and 82% of the workforce. However, in other Asian countries the SME sector is much less developed and less active abroad, and is severely hampered by red tape, faulty macroeconomic policies, and a lack of financing, among others. Even in the PRC, SMEs must wrangle with an unstable environment characterized by shadow banking, and limited legal frameworks for collaterals, among others. This highlights the stark dilemma between the huge potential value of SMEs for emerging Asia's economies on one hand, and the lack of a favorable environment on the other.
Emerging Asia lacks institutional frameworks that support SME trade and investment—in contrast to Germany's comprehensive system of chambers of trade and industry, as well as chambers of crafts that promote GM trade and investment activities at home and abroad. These chambers greatly contribute to the essential role of the GM in Germany's economic policies, not only with reference to concrete support programs, but also with reference to more general macroeconomic policy issues such as maintaining a sustainable, investor-friendly macroeconomic setting, as well as sound, stability-oriented fiscal and monetary policies. Numerous influential GM associations, such as the Federal Association of German SMEs, also actively lobby in support of GM firms.
GM has strongly pushed for a resilient, but also effective and liquid bank and finance system in Germany. One GM-related advantage of this system is its decentralized structure containing a large number of regional and local banking institutions like sparkassen (mutual saving banks) and volksbanken (cooperative banks) whose key asset is being near local GM clients. This closeness helps in better assessing GM loan risks and conserving long-term business relations. Even large banks have begun to see GM firms as valued clients: Deutsche Bank has announced a decentralization campaign to get closer to GM clients at the local level.
In addition, the German government has mandated Euler-Hermes and Price Waterhouse Coopers to run credit and investment insurance agencies to enable GM firms to cover the risks of comprehensive foreign trade and investment activities, without which many GM entrepreneurs would not be able to go abroad because of their limited risk exposure capabilities.
In contrast, emerging Asia's finance systems are dominated by banks with too much focus on big companies and too little interest, empathy, and trust for SMEs—which is difficult to understand in view of the huge profits and economic gains that are untapped in emerging Asia's SMEs. Much needs to be done to set up adequate SME-focused credit, guarantee, and insurance facilities in emerging Asia.
But Germany's breeding ground for GM firms consists of more than a favorable economic and financial system—it also consists of the rule of law and a solid legal framework that guarantees property rights, bankruptcy law, sufficient collateral instruments, as well as other indispensable elements for a productive and trustful cooperation between GM firms and their commercial partners—an asset that only partly exists in emerging Asia.
Finally, I come to a GM aspect that may be the most important yet the most difficult to replicate—the deep involvement of the GM in German society. Many GM entrepreneurs have a special affinity with their company's locale and workforce. This may be because the vast majority of GM firms are family owned (95%) and managed by their owners (more than 80%). Many pursue "entrepreneurial social responsibility" by maintaining stable, long-term client relations, socially oriented human resource policies, and strong ties to their locality—including generous donations to their social and cultural environment. All this makes GM firms an integral part of the local and regional community—and conversely brings them support from the local political and social leaders. GM success is dependent on a close symbiosis with the political and social environment based on Germany's decentralized democratic system—with big benefits for all symbiosis partners.
Conclusion
The GM is a product of Germany's special political and social environment that emerging Asia should follow as a model. A mere government-run support program for SME access to finance is not sufficient. If a full GM-like success story is the goal, reform steps must be taken to create a high-standard legal and institutional system that is complemented by a stable and sufficiently decentralized and participative political system combined with a strong entrepreneurial spirit toward social responsibility.
_____
1 I use the European SME definition (up to 250 employees or up to 50 million euro annual turnover) except in the chart on page 3 where I had to use the German Mittelstand definition of up to 500 employees with same annual turnover limit).
by Sebastian Paust. Sebastian Paust is a senior adviser to the managing board of Deutsche Gessellschaft fur International Zusammenarbeit (GIZ). He is a member of the international commission of the German Mittelstand SMEBusiness Association MIT linked to German Chancellor Angela Merkel's CDU/CSU parliamentary group. He is a member of the ADBI advisory council. He has also served as a member of the GIZ managing board, and as a member of the Asian Development Bank executive board. – See more at: http://www.asiapathways-adbi.org/2014/06/the-german-mittelstand-a-model-for-asias-emerging-economies/#sthash.jjaQD0fB.dpuf