Afiq Iskandar is the founder of Tarik Jeans. Born in Kedah and growing up in Penang, Malaysia, music has always been an essential component of Afiq's life. His passion for music led him to attempt to pursue a career in music, at the same time, it also naturally led Afiq to explore and develop many of his creative talents in other fields. Whilst in the 2nd year of college, Afiq began to toy with the possibility of creating his own designer brand when he created a t-shirt brand. The seed for Tarik Jeans was properly sown after a personal trip to a tailor in Bandung, in which Afiq was attempting to make a pair of jeans for himself. The tailor informed Afiq that he would get a discount if he ordered more pairs which Afiq ended up doing after borrowing money from his father. Since then, his brand has really grown exponentially becoming the eminent Malaysian denim brand that it is today.
Today, Afiq talks to the Asian Entrepreneur about Tarik Jeans; sharing with us some of his experiences as a self-starter.
What is Tarik Jeans all about and why does it matter?
Tarik jeans is a Malaysian denim brand that celebrates the rich cultural diversity we have here in the country. We are a brand with a philosophy to hopefully groom the youths today for a better tomorrow. The brand is constantly looking out for talented local designers, artist and musicians to collaborate with. We hope to share the amazing work of these local talents through fashion for every Malaysian to embrace. Moreover, denims has always been the face of freedom. In my opinion, we at Tarik are well aligned with that. This denim is made to be worn by everyone regardless of race, creed, politicalaffiliation, sexual proclivity, music preference, and anything else designed to divide us. More than just a denim label, Tarik is an advocate of Malaysian pop culture and art. We are the vanguard of the progressive youth.
Why did you create Tarik Jeans?
Before Tarik, it was very hard for us to be able to obtain a decent piece of clothing from a local brand. The only selling point that local brands had at that was the fact that they were local and nothing beyond that. There were a lot of brands but none really paid attention to the quality in terms of the design to the choice of garment which was very frustrating to me because I really want to wear something local. At that stage, it was a very obvious void that needed to be filled.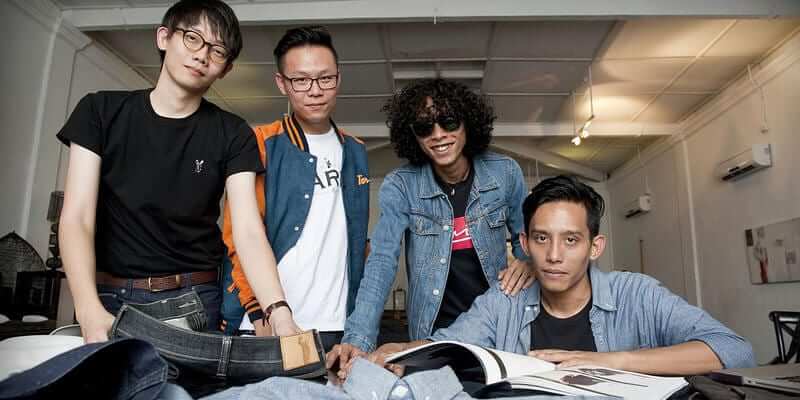 How was it like starting up Tarik Jeans?
I'll be lying if I told you that it was all smooth sailing since day 1. We faced challenges from
almost every single aspect of a business. It raises a lot of questions, things like, whether people would buy a pair of jeans from us. How Tarik will be positioning ourselves in the market? What kind of message do we want to convey? Ultimately, I guess I would say, Malaysians are generally still very much looking at prominent international brands despite the steep price, and we hope to change that perception.
How did you tackle some of these issues?
It has been tough because I was handling most of the initial setup on my own with very little knowledge of the fashion and retail industry. I reached out to my close friends and got some help from them at what they do best. Together, with all our professional skill sets combined, we are now better established and will continue to define the denim culture in Malaysia. Aside from myself, I had particular help from Nicholas Yoon, who is our General Manager, Alif Ridzuan, who is our Creative Director and Teo Choong Ching, who is our Chief Designer.
Tell us about the local fashion industry in Malaysia.
I think it's very healthy. We see a lot of brands nowadays and I think it's a healthy sign. It's a challenge for us as the market is getting pretty saturated but I think we can manage. The growth has been very positive and the audience are growing. It has the potential to grow bigger, so for those whom aspire to venture into this industry can seriously consider this as a career choice and parents should be cool with it.
Do you think local brands face more challenges compared to those in the West?
Honestly, I don't think so. In my opinion, the competition is fierce everywhere in the world. When we talk about big brands such as Levi's, or GStar Raw, these brands has been in the industry for a very long time. The only edge they have is that they are well established, and probably have a much bigger budget to create awareness compared to thriving independent labels. Other than that, I can't think of why they would have an edge.
So have you faced competition locally?
Yes, we do have some upcoming denim labels in Malaysia. We are looking at it as an opportunity to be better, in terms of customer experience and quality of our products. This also serves as an indicator that people are starting to notice Malaysian denims, and this is good news for us.
How do you guys stay relevant admist all the competition?
First of all, the brand is in for a long run. We strongly believe that Tarik carries a more significant meaning to the public than jeans and tshirts. We stay true to Tarik's philosophy. It takes a lot of research to stay up to date with the fashion world, and a bit of luck to create the next big thing. Our varsity jacket collection is a good example.
What are some common problems entrepreneurs will face starting their own fashion brand in your opinion?
Finance will always be the first few major ones. Theres also the part where it is essential to convince my audience on why they deserve something nice for themselves once in awhile. In my case, one of the major one is to educate my audience about the products because the money that they are paying for is going to the craftsmanship and construction of the particular clothing which is not something which is visually loud in most cases. It is something that the audience has to be interested in, in order to really be convinced.
What are some important insights you have learnt working on Tarik Jeans?
Tarik Jeans has always been a brand that creates clothing that Malaysians in general can claim to be theirs. In pursuit of achieving that, we have learnt to love our target audience and that is one of the most important things that I learnt pretty late. You have to at the very least love something about what you wish to do to make a living.
Could you name two things that separate successful entepreneurs from others?
Discipline and selfmotivation. I won't speak much of this, since I'm far from knowing what it is all about.
What are you currently working on at Tarik Jeans?
We have just started operations on our flagship store, Nusantara Denims, an initiative to establish a platform to further boost the denim culture around the Southeast Asian archipelago. The store offers premium denim brands, leather shoes, and leather accessories for denim heads from Indonesia, and Thailand.
What drives you as a person?
I wouldn't say its just me. I guess I am fortunate enough to be surrounded by the right people and them being around has really put me in place to where I am today. So I guess, the appreciation and motivation to not let other people down drives me as a person.
Connect with Afiq and Tarik Jeans today
Facebook: http://www.facebook.com/tarikjeans
Website: http://tarik.my/
Twitter: https://twitter.com/tarikjeans
Statigr: http://statigr.am/tarikjeans