Obviously as the owner of Fitness-Buffet I have a soft spot for people that have made a career out of helping other people to get fit and healthy. Like every industry there are people who talk a good game but are afraid to walk-the-walk. You certainly could not say that about Aimee as the below interview (and photos!) show.
What's your story?
I relocated to Singapore from Queens, New York in 2010 following a significant personal transformation- I had ditched the cigarettes, booze and antidepressants I'd relied on for well over a decade; exited a career I had no heart for; regained control over my health; and decided to finally make a life that I could be proud of. That led me to become an athlete- I'm a former distance runner and now IFBB figure competitor and 2014 Singapore National Physique Champion- and build a mission-driven business in the field of women's wellness.
What excites you most about your industry?
We are beginning to realize as a global society that perhaps pills can't solve everything and maybe how we've designed our everyday lives doesn't support the way human beings naturally operate. The integrative wellness and coaching industries finally have an opportunity to help masses of people rediscover well-being and live optimally. At the same time, the traditional medical community has our attention. I'm excited about the breakthroughs we may be able to achieve when we put our minds and our experiences together.
What's your connection to Asia?
My Dad spent some time in Asia in the 1980s and he used to tell me wild stories about his experiences, so I think that probably planted a seed of fascination. I ended up studying Mandarin and Asian Development in college, moved to Shandong Province in 2001 to immerse myself in the culture, and worked with several Asia-focused organizations during grad school. My husband is originally from Manila, and we head back to the Philippines every so often for R&R and lechon.
Favourite city in Asia for business and why?
Singapore, without a doubt. It's one of the most entrepreneur-friendly places in the world, and a creative culture is really starting to blossom here as well. The camaraderie and support for business owners is unbeatable, with several events for entrepreneurs happening any night of the week. You get to work with people from different countries and all kinds of backgrounds, which facilitates some unique conversations and ideas.
What's the best piece of advice you ever received?
The best piece of advice I ever received was the worst piece of advice I ever received and it is, "do as I say do, not as I do do," which was first told to me as a young child and many times thereafter. I found the message so disagreeable and decided early on that if I were to ever serve as a leader or be in a position to teach, I would do my very best to serve and teach by example.
Who inspires you?
My clients inspire me! I've seen several cross the finish line of their first races this year, and then there are others building businesses, making career changes, tackling ultramarathon distances. But, they all started at the beginning. My husband is my biggest inspiration. He came from a complicated country and a tough situation, and yet he has so much optimism about the world. I call him Buddha because he is such a wise, kind, and centered individual… and when we visit China, strangers ask if they can rub his earlobes!
What have you just learnt recently that blew you away?
I was very surprised to learn that the average American household spends $1,000 a year on lottery tickets, and absolutely blown away to find out that the typical Singapore household spends $4,000 USD annually on the lotto! This explains the massive lines at Singapore Pools and the substantial radio airtime lottery receives. While I've taken many gambles both personally and professionally since moving to Singapore, the appeal of lottery and casinos confounds me.
If you had your time again, what would you do differently?
I spent a good part of my twenties working in Manhattan nightclubs as a bartender and door girl, just trying to get by and pay rent on time. I had no confidence back then. While I learned a lot about service, sales and psychology, if I had to do it over again I would have taken a few more risks, gone after something I was truly passionate about, and I would have asked for help instead of just trying to do everything on my own. The last one is something I'm still working on.
How do you unwind?
I spend many hours each week doing some form of contemplative practice- lifting weights, meditating and praying. These tools are my way to destress, along with walking my dogs or taking a nighttime jog around the Quays with my husband. Weekend evenings are usually spent trying out a new restaurant or getting a massage or curled up on the couch with a book. My reality lately has been fairly ascetic, aside from flexing onstage in a rhinestone-studded bikini.
Favourite Asian destination for relaxation? Why?
I'm not at the point in my life yet to have a favorite destination and perhaps I never will! It is so much fun to explore different places and I usually end up picking somewhere new when vacation time rolls around. China will always be close to my heart. I love Thailand for its cuisine; my favorite restaurant in the world is in Bangkok– Bo.lan. Tokyo fascinates me. I'm still searching for the perfect beach in Asia.
Everyone in business should read this book:
Five years ago, as I was making a transition from the corporate world to entrepreneurship, I picked up Po Bronson's book, "What Should I Do With My Life?" The personal accounts contained within are testimonies of businesses and careers with soul, sprung from the heart. They also convey a very important message for both budding and seasoned entrepreneurs- it's ok to not have it all figured out. Hardly anyone does. Anticipate- and embrace- the mess.
Shameless plug for your business:
Tangram Fitness promotes physical, mental and spiritual strength through health, life and athletic coaching, serving women in Singapore and across the globe. We also conduct workshops and seminars on action-based wellness for corporate clients and private groups.
How can people connect with you?
You can find me at TangramFitness.com and on Facebook at https://www.facebook.com/tangramfitness. We can also connect via Linkedin at sg.linkedin.com/in/aimeebarnes or via email at [email protected]
—
This interview was part of the Callum Connect's column found on The Asian Entrepreneur: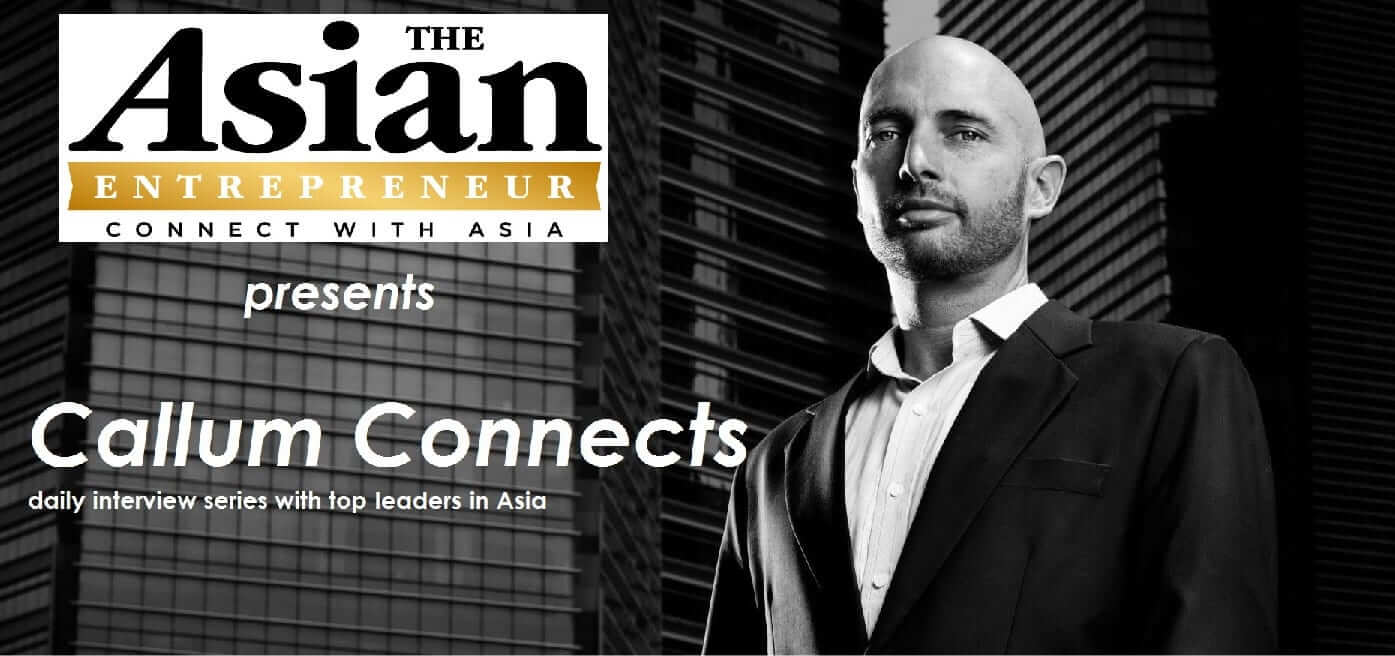 Callum Laing has started, built, bought and sold half a dozen businesses in a range of industries across two continents. He is the owner of Fitness-Buffet a company delivering employee wellness solutions in 11 countries and he is also the CEO of Entrevo Asia, a company that runs 40 week Growth Accelerator programs.
Take the 'Key Person of Influence' scorecard <http://www.keypersonofinfluence.com/scorecard/>
Connect with Callum here:
twitter.com/laingcallum
linkedin.com/in/callumlaing
Get his free 'Asia Snapshot' report from www.callumlaing.com