Catherine Molloy has enjoyed adapting to the Asian culture and way of life and is well and truly grounded across Asia with her businesses.
What's your story?
We grow businesses and create courage and confidence through communication and our leadership programs. When I started my training company in 2010 I made a pledge to donate 10% of my earnings to worthy causes. Since 2012 I have been fundraising for orphans in Uganda and every 2 years we have been able to go over to Uganda and assist in the construction of their houses. I am a mother to 3 young adults and 2 dogs as well as being a wife, a daughter, a sister, friend, business owner, philanthropist, speaker, author and trainer.
What excites you most about your industry?
I am a learner so being in the field of training and education is the best job in the world. Every day I get paid to research and develop programs and facilitate the delivery. I love to take these tools to the wider audience so as to help clients increase sales, service and leadership with the overarching tool being communication. I get to meet 1000s of people globally and am able to see the differences and similarities of cultures and all human behaviour. I am blessed to be able to make friends worldwide whilst making a difference to their income, happiness and purpose.
What's your connection to Asia?
My father read me beautifully illustrated books from China from a young age and one of my favourites was Tikki Tikki Tembo which I still have today. From the age of eighteen and onwards, I travelled to a lot of Asian countries loving the food, learning to communicate non verbally and loving the people I met. Four years ago I started working internationally. I am on the education task force for our council and I was asked to speak in China and from there, I have been invited back each year since to speak and train. I also worked in India last year and have been invited back again this year. I have worked in Singapore and Hong Kong this year with the main focus being to partner in Singapore and Shanghai to establish a soft skills training company. I also assist new Australian exporters research their product in different Asian countries with the view of exporting their products.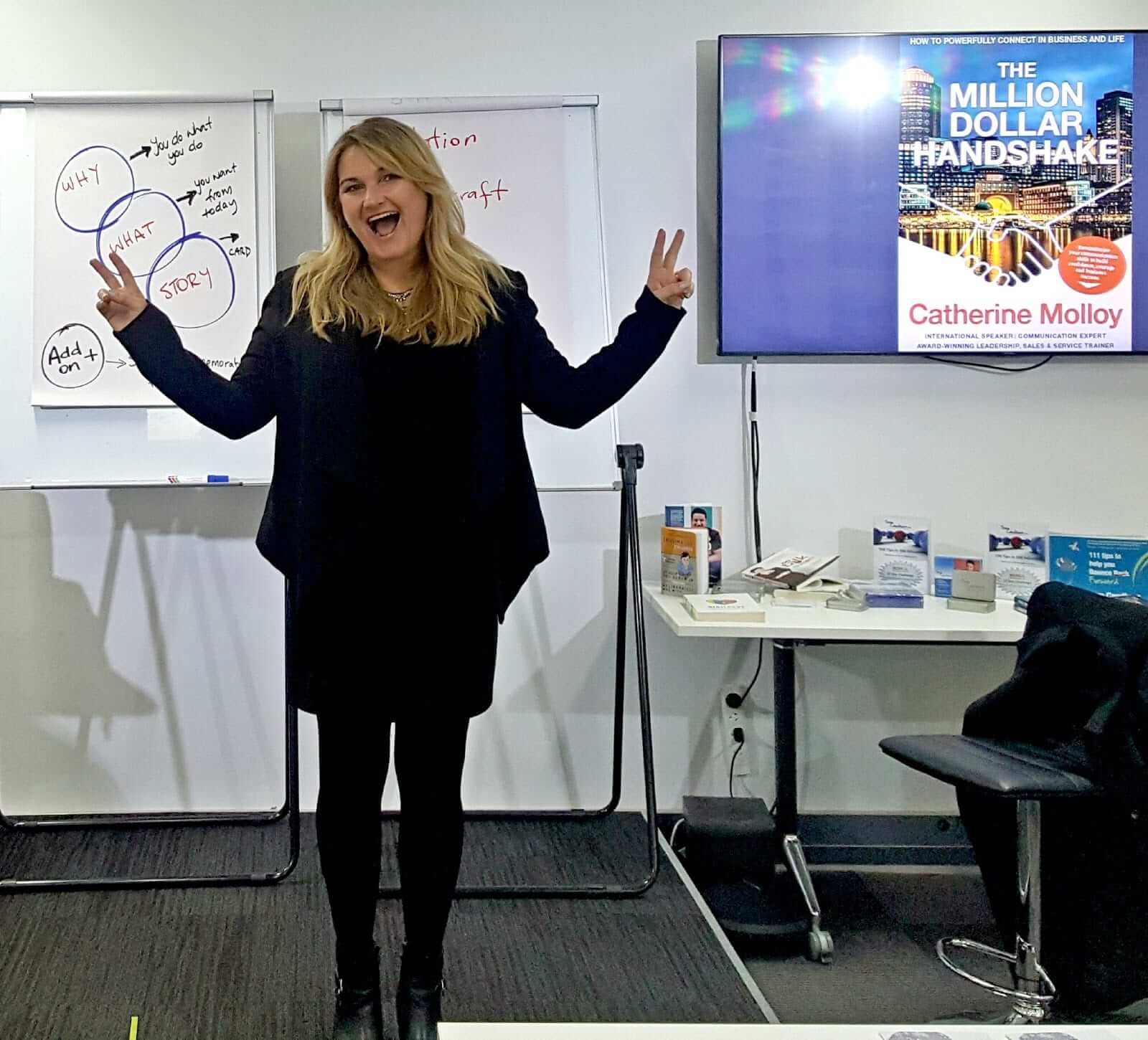 Favourite city in Asia for business and why?
China was the first Asian country I was contracted to deliver speaking and workshops to. I love their food, their kindness, their humility and forgiving ways. Even though I am emotionally intelligent and train in this area I'm sure there are still a lot of customs I don't know. I love working in Xiamen as it is near the beach and when I get a break I always head there for a rest under a tree. I have forged friendships with a number of people there and enjoy their food banquets and hospitality. I absolutely love eating with chopsticks much better than a knife and fork and love my soup breakfasts. I really enjoy working with simultaneous translators and have had awesome results at conferences because of these wonderful people. I am always inspired greatly by the people I meet and how much the Asians love to learn. My field of soft skills are now regarded as an important priority for people to get a job; stay happy and work effectively in teams. Working in countries where English is a second language means I am pushed to communicate in many different ways. Every time I have been to China (where I love the people), Hong Kong (I love the nightlife), India (I love the dancing) and Singapore (I love the business connections), I have successfully sealed a deal, so my communication skills are at a master level now!
What's the best piece of advice you ever received?
Believe in yourself, your business and your ideas. I truly believe each person on this planet is enough. I am enough and you are enough, and each and every day we can make a difference … Even if it is only smiling at a stranger.
Who inspires you?
I love Richard Branson for his simple methods of building teams. My parents for unconditional love and belief in me even though I lost them at a young age. My children for their love and support. My husband for his behind the scenes help in setting up events, training rooms and looking after the home when I am travelling and working in different countries. My team – all legends in their own right. All people who give from their heart. Eckhart Tolle, the author, for his inspiration and genius in understanding the human conditions which map my discoveries.
What have you just learnt recently that blew you away?
That so many of us are polymaths (someone of wide knowledge or learning). I love this word and I didn't know I was one.
That all minds are Maya and eventually everyone will not be happy for some reason and that all the skills I have learnt and teach make a real difference to leading a better life and creating a bigger picture of happiness.
That everyone can achieve operational excellence and when put into place will encourage self-leadership and create performance at a higher level.
If you had your time again, what would you do differently?
Believed in myself at a younger age. Commenced my soft skills training company earlier instead of running and owning a registered training company that was governed by government funding. Developing, researching, training and education is my great passion and I discovered at the age of 10 how much I loved teaching and learning and should have completed my bachelor in my teenage years. I have loved every experience I have had and the things I have been able to learn in each job.
How do you unwind?
Wherever I am or whatever country I am in, if I can get to the beach and put my feet in the sand – that is an awesome feeling and something which soothes my soul.
I also enjoy being absorbed in a good book, dancing, walking and swimming. Last time I was in China I climbed a 3000 ft mountain.
Favourite Asian destination for relaxation? Why?
There are too many to pick just one. I like the places with great food, culture, beach and surf. I have just spent 10 days relaxing and surfing in Bali, as well as visiting a few schools there. I truly can relax anywhere and I also make sure when I'm working, that I take a few days after to see the sights and become part of the country, mix with the people and eat the food, and if I get to dance well that's just a bonus!
Everyone in business should read this book:
A NEW EARTH. Awakening to your life's purpose….by Eckhart Tolle it was released in 2005 and The Million Dollar Handshake – How to powerfully connect in Business and Life by Catherine Molloy being released in March 2018! Both are self-help books.
Shameless plug for your business:
This year we have have won international awards for training and leadership around positive growth for business through sales and leadership. We also won an Asia Pacific award for the development and implementation of our conscious connection framework where we get to make a difference in the way we self lead and communicate to ourselves and others. 'The Million Dollar Handshake, how to powerfully connect in business and life' has been delivered this year in Australia, New Zealand, China, Singapore and India. The book is now having the finishing touches applied for release for the new business year in 2018. It's all about learning how to make yourself and others feel a million dollars by creating a level playing field for win-win results. It's about making and keeping great connections as well as sealing deals and working internationally for successful business growth. It is aimed at the corporate world and universities to use for their students as they step out into the business world. It is a soft skill book working with proven tools for hard core business results. Also a plug for B1G1 as you create a better business, you will find the need to give is strong. When you give, so too shall you receive. We encourage people to have fun in their business to laugh and play, as business should be a little like kindergarten was when you were young, a place where you have fun and create the outcomes you would like to see in the world. These simple tools, skills and mindset lead to better business practices and a better and happier work place for all. Contact us if you would like an education framework tailored for your business with your people and outcomes in mind. Enjoy better results, play a bigger game and get ready for business growth. See our website for testimonials.
How can people connect with you?
Website: www.catherinemolloy.com.au
Email: [email protected]
LinkedIn: https://www.linkedin.com/in/catherinemolloy/
Facebook profile: https://www.facebook.com/catherinemolloykeynotespeaker/
Instagram: https://www.instagram.com/catherinemolloyspeaker/
Youtube channel: https://www.youtube.com/channel/UCc07VCr2KtVOCtxM2m4gjlg
—
This interview was part of the Callum Connect's column found on The Asian Entrepreneur:
Callum Laing invests and buys small businesses in a range of industries around Asia. He has previously started, built and sold half a dozen businesses and is the founder & owner of Fitness-Buffet a company delivering employee wellness solutions in 12 countries. He is a Director of, amongst others, Key Person of Influence. A 40 week training program for business owners and executives.
Take the 'Key Person of Influence' scorecard <http://www.keypersonofinfluence.com/scorecard/>
Connect with Callum here:
twitter.com/laingcallum
linkedin.com/in/callumlaing
Get his free 'Asia Snapshot' report from www.callumlaing.com