What's your story?
I am an art dealer and gallery owner from Switzerland. I founded Art Plural Gallery in 2011, which is a unique gallery that specialises in Contemporary Art. The gallery is located in an art deco building with 12'000 sq. ft of exhibition space, located in the heart of Singapore's cultural district. Art Plural Gallery presents a dynamic programme of solo and group exhibitions by leading artists from East and West, creating a dialogue between cultures.
What excites you most about your industry?
Art is my passion. I love to travel around the globe to meet artists in their studios and discover new talents. I have an eye for quality. I have recently discovered Fu lei, a Chinese artist that received great attention from international collectors during his solo exhibition at Art Plural Gallery recently.
What's your connection to Asia?
I moved to Asia in 2008, and Singapore has been my home ever since. I was attracted to the dynamism of the city, a place where anything is possible and where there is still so much to be built. From Singapore we have been able to organise exhibitions in Hong Kong, win public art projects in Australia, place a number of monumental sculptures in the region and bring international artists like Fabienne Verdier, Ian Davenport and Chun Kwang Young to Singapore.
Favourite city in Asia for business and why?
I love the energy of Hong Kong and I spend time there for business, but I also enjoy Shanghai and Beijing as there are many great artists in China today. So far I am very happy in Singapore and the city has really established a strong reputation in the art.
What's the best piece of advice you ever received?
Never give up – follow your instinct – do what you love – keep moving forward!
Who inspires you?
Free thinkers, artists and great leaders.
What have you just learnt recently that blew you away?
The power of positive thinking, I try to focus on my goals and dreams instead of worrying about the future. To be entrepreneur has always been my choice and not always an easy one. However, I enjoy following my own path.
If you had your time again, what would you do differently?
I would study Fine Arts and become and artist myself!
How do you unwind?
I have trouble switching off. As an entrepreneur, I never totally unwind. I leave my computer for my iPad and my phone – work is an addiction!
Favourite Asian destination for relaxation? Why?
I dream about the Como Shambala Resort in Bali and Kamalaya in Koh Samui. There are so many great places to relax in Asia.
Everyone in business should read this book:
"Ways of seeing" by John Berger, one of the most influential books on art.
Shameless plug for your business:
Art Plural Gallery was named by Blouin Artinfo in 2013 as one of the best new galleries in the world.
How can people connect with you?
Facebook, Twitter, Instagram, email, phone or pay a visit to Art Plural Gallery on 38 Armenian Street!
—
This interview was part of the Callum Connect's column found on The Asian Entrepreneur: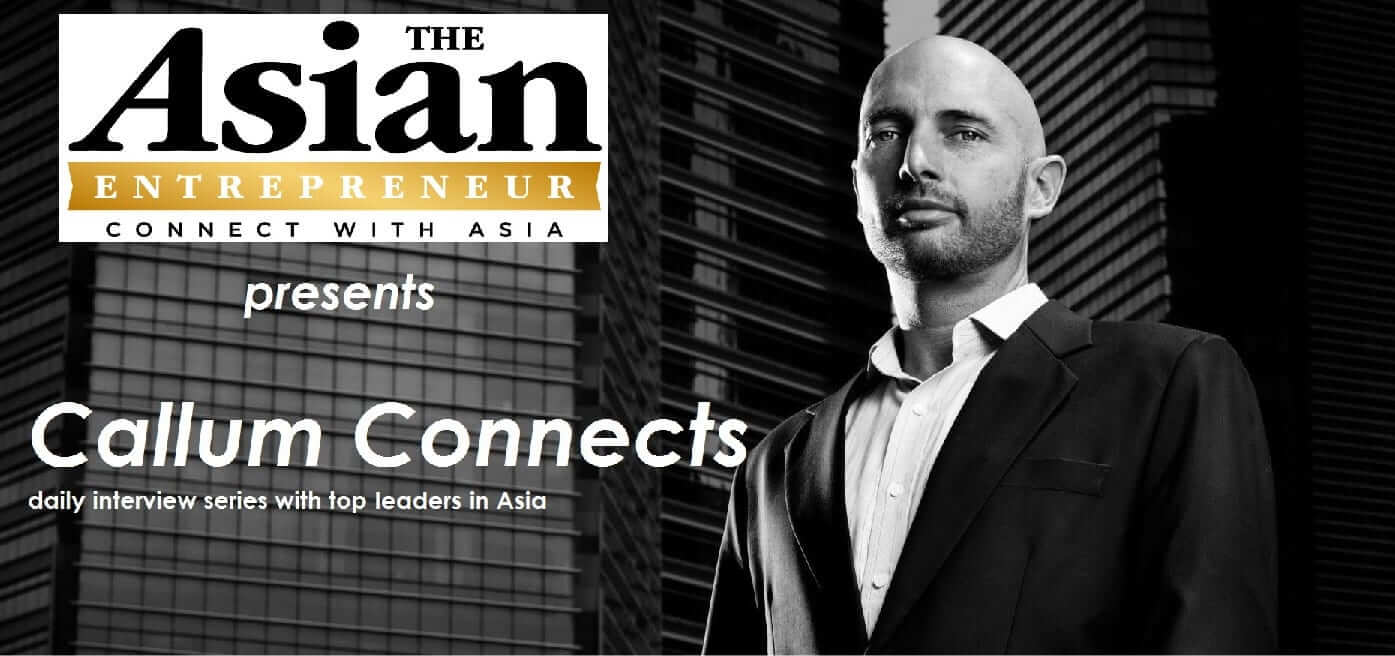 Callum Laing has started, built, bought and sold half a dozen businesses in a range of industries across two continents. He is the owner of Fitness-Buffet a company delivering employee wellness solutions in 11 countries and he is also the CEO of Entrevo Asia, a company that runs 40 week Growth Accelerator programs.
Take the 'Key Person of Influence' scorecard <http://www.keypersonofinfluence.com/scorecard/>
Connect with Callum here:
twitter.com/laingcallum
linkedin.com/in/callumlaing
Get his free 'Asia Snapshot' report from www.callumlaing.com