If there are two overarching trends that are impacting everyone it is technology and a broader awareness of our impact on the environment (and it's ultimate impact on us). Consequently it was great to connect with Joakim and see how he is combining these trends in something as seemingly simple as paint.
What's your story?
Born in Sweden, I had an idyllic countryside childhood where I was taught that you must take care of your environment. That didn't mean much then but later working in big cities as an investment banker I began to understand the importance of that principle. My own children were raised in London where we lived for 15 years. They may be city kids but they also know the importance of respecting their environment. It's why I chose to invest in eico during this time. Then we moved to Hong Kong and a few years later I decided to give up banking to launch eico here in Asia. It's not just about having a livelihood. It's also about ensuring that my children, and their children's children, can enjoy the countryside as much as I did.
What excites you most about your industry?
Judging by the offerings of established paint providers (almost all chemical companies) you'd have no idea how versatile paint and other decorative products can be. This is just the beginning – smart paint that changes colour with temperature, embedded microchips, truly organic paint that decomposes on the wall – these are just some examples of what the industry will be doing in the future. And of course it will all be greener. eicó is at the forefront of these innovations. In a few years we won't be niche – we'll be the industry yardstick.
 
What's your connection to Asia?
I fell in love with Hong Kong and Asia when I lived here in the 90s. I was desperate to return so when a new opportunity presented itself I didn't hesitate to board that plane. It's a great place to raise a family. There's so much energy and drive here, along with great social awareness. Hongkongers demand so much and have exacting standards, but they're also versatile and creative. It's these qualities that excite me and make for such a dynamic market across Asia. That's why I know eico's ethos will translate well here.

 
Favourite city in Asia for business and why?
I have two favourite business cities. Shanghai for the size and the scope. Singapore for simply being perfect. Hong Kong to me is the blend of those two.
 
What's the best piece of advice you ever received?
Trying is learning. Failure is teaching.
 
Who inspires you?
My wife. One day I hope to be as forgiving and generous. Until then I am by her side.
 
What have you just learnt recently that blew you away?
Titanium Dioxide, the main ingredient in the white base of all paints, is also found in most everyday household foods. What makes your skimmed milk so white? Yep, Titanium Dioxide. We didn't have to check its organic credentials in a lab (although of course we have!); it's being tested everyday in a kitchen near you, by you!
 
If you had your time again, what would you do differently?
Learn a lot more. Mainly languages. The rest can be found on the internet.
 
How do you unwind?
Sport to release. Music to focus. Books to understand.
 
Favourite Asian destination for relaxation? Why?
Hanoi. It is a great blend of Europe (maybe a bit too French…) and Asia in a manic mix. Sit at a café… strong coffee… let the day go by. What can possibly be more relaxing? And when that's not fun anymore find one of the badminton games that are always being played along the boulevards. Some games are of very high quality and are very entertaining. Also the players love an audience and always do a bit extra to keep you watching!
 
Everyone in business should read this book:
There has been many books written about expectation – most call it greed when it goes wrong. And there have been many books about Enron; a definitive study in expectation – on speed! I do recommend Brian Curver's book about Enron. If we learn anything from it, it is that expecting too much is not good for anyone and if you take any shortcuts to fulfill those expectations you will get caught. I adore success but only if it is on the back of hard work, dedication and reasonable expectation.
 
Shameless plug for your business:
We all have a responsibility to safeguard Mother Earth for future generations. That's why I helped start eicó, a carbon-neutral company, which is as close to a clean and raw product that paint can possibly be. If I can get people to think differently about their environment and the crap we allow into our personal spaces, then I will have contributed to something. Think about it – paint is everywhere life is: in classrooms, bedrooms, offices, hospital wards. If people can begin to consider what we slap on walls, then maybe they'll be more discerning when it comes other things too. Paint won't save the world, but it's a real start.
How can people connect with you?
Linkedin
[email protected]
[email protected]
facebook eico hong kong
—
This interview was part of the Callum Connect's column found on The Asian Entrepreneur: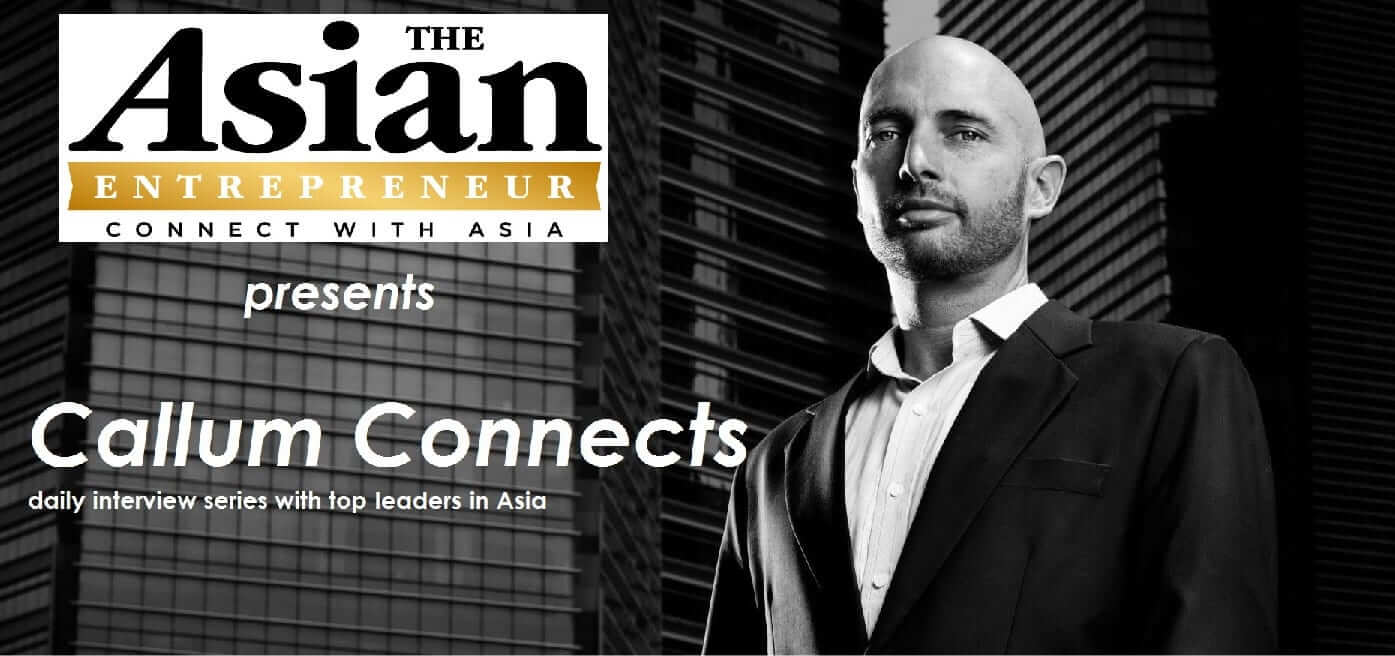 Callum Laing has started, built, bought and sold half a dozen businesses in a range of industries across two continents. He is the owner of Fitness-Buffet a company delivering employee wellness solutions in 11 countries and he is also the CEO of Entrevo Asia, a company that runs 40 week Growth Accelerator programs.
Take the 'Key Person of Influence' scorecard <http://www.keypersonofinfluence.com/scorecard/>
Connect with Callum here:
twitter.com/laingcallum
linkedin.com/in/callumlaing
Get his free 'Asia Snapshot' report from www.callumlaing.com