One of the most consistent steps towards building influence in an industry is to create value for its members by bringing them together.  In these interviews and others, you can see it happening time and time again.  Great kudos to Joyce for doing the same for her community!
What's your story?
2,5 years ago, the thought came to me to start a Women's Wing. LISHA (Little India Shopkeepers & Heritage Association)  supported the idea to form this sub-committee under my leadership. As a Chairperson I decided that I shall do something extra-ordinary that would highly connect the ladies in Singapore. Firstly I designed my networking and awareness programmes outline,   invited a few ladies to come onboard with me on this mission. Formed my Executive committee and kick started the first event on 27th August 2012. Since then I have condcuted 40  events.  I am also a business owner of an import & wholesale company, also the CEO & Founder of an Ettiquette & Image consultancy.
What excites you most about your industry?
My networking sessions are unique in the sense that it offers the ladies business presentation slots,  stalls to show case & sell their products, be inspired by the motivational speeches by successful people,  meet celebrities, lots of networking, lucky draws, games and  sumptuous buffet dinner all under one roof.  I have about 80-120 ladies attend my sessions on a week day. Therefore the thing that excites me most the ability to connect many women, giving them exposure and an opportunity to increase their contacts and room for self improvement and confidence. As an Etiquette & Image Consultant it excites me to groom people into professionalism and mannerism.
What's your connection to Asia?
We have ladies from neighbouring countries who have heard about my LISHA Women's Wing and approach us to have advice and information on how to start business in Singapore and various  kinds of assistance. We connect them with the right people and direct them to the right Govt departments.  As we are highly connected, we are often approached by media for the right participants for their talk shows etc. We have also been approached for collaborations on international events like paegents. Bytes of our awareness programmes have been featured overeas TV channels and featured in magazines as well. As for my Etiquette & Image Concultant, profession, I would like to offer courses to my neighbouring countries and working towards this.
Favourite city in Asia for business and why?
My business involves import & wholesale of frozen goods from USA, Australia, New Zealand, Brazil, Uruguay  and Argentina. Nevertheless, my etiquette & image consultancy will be ideal for any countries in Asia.  It's all about corporate etiquette and professionalism in the business world. I believe I can fit anywhere to groom the people around me and to bring about confidence and professionalism in oneself. Hope to venture into as many countries in Asia as possible.
What's the best piece of advice you ever received?
Anything that is done in a hurry without proper planning and sufficient time, will never be at it's best !
Who inspires you?
Disciplined, focused people who go the extra mile against all odds to achieve things inspire me. Can I say that I am an inspiration to myself!
Successful Heros, people who started with Zero also inspire me, whom I bring them down to my Business Networking sessions to inspire other ladies with their success stories.
People who take great efforts to maintain themselves, disciplined exercise routines and diet to stay in shape and fitness also inspire me.
What have you just learnt recently that blew you away?
People telling me that I am a very 'Influential Lady'
If you had your time again, what would you do differently?
I would have spent a few years more to pursue my education further and then into marriage.
How do you unwind?
More than the need to 'unwind', I have my relaxation techniques to stay balanced in mind & body. The morning ritual of Sun salutation and a short meditating prayer at 3am keeps me well.  Going for a movie with family, to the SPA for therapies or shopping with my daughters who are my best friends relaxes me. I love to meet up with friends and catch up over meals, frankly breakfast in the pre-office hours is the best where mobile phones are still silent.
Favourite Asian destination for relaxation? Why?
One of my favourites has become Goa ! It has 50 beaches and more for Tourists to explore. Great hotel facilities close to beach with friendly Tour guides who are bilingual make my stay pleasant. Each beach has offers a variety of sea sports, countless shacks for lovely seafood meals, massages and the best shelter for a complete relaxation time! With sea food being my favourite and value for money, Goa is a blast in all ways. With school going children at home,  December is most suitable for a family holiday and it's is also peak season in Goa as Christmas and new year eve are celebrated away! The atmosphere during this season is at it's best.
Everyone in business should read this book:
With the world generally becoming very casual in communications with the use of abbreviations/short forms and emoticons when communicating, I feel all Business people should read the book on 'Business Letter Writing' to ensure professionalism in the corporate world.
Shameless plug for your business:
I believe in my products & services. Proud to shout out:-
My Import & wholesale of  meat business:-
Don't compromise quality ! Get the FRESHEST & FINEST here !
My Etiquette  & Image Consultancy:-
We empower people of all ages through etiquette, while creating beauty inside & out !
My LISHA Women's Wing:-
True Leaders Don't Create Followers, They Create More Leaders!
LWW is where Leaders are Created !
How can people connect with you?
I conduct business networking sessions for women every 1st Thursday of the month and awareness programmes on a variety of topics for both Men & Women once every 2 months.
Have been invited to Co-Chair at Singapore Indian Chamber of Commerce & Industry – Women's Indian Network (SICCI-WIN).  I have been a Grassroots leader for the past 4 years in Community Emergency Engagement (C2E), also been invited and sitting in the top most committee Citizen Consultative Committee' (CCC), in the 'Meet The People Session' (MPS) and the 'Newsletter Team Editorial Board' in my Thomson-Toa Payoh Constituency.  Serving also in my Church's Bread & Loaves Ministry and Parent – Volunteer at CHIJ – Toa Payoh Secondary School.
Hence I have many opportunities to connect with people of various walks of life. Life is colourful With my various involvement and I look forward to every new day.
—
This interview was part of the Callum Connect's column found on The Asian Entrepreneur: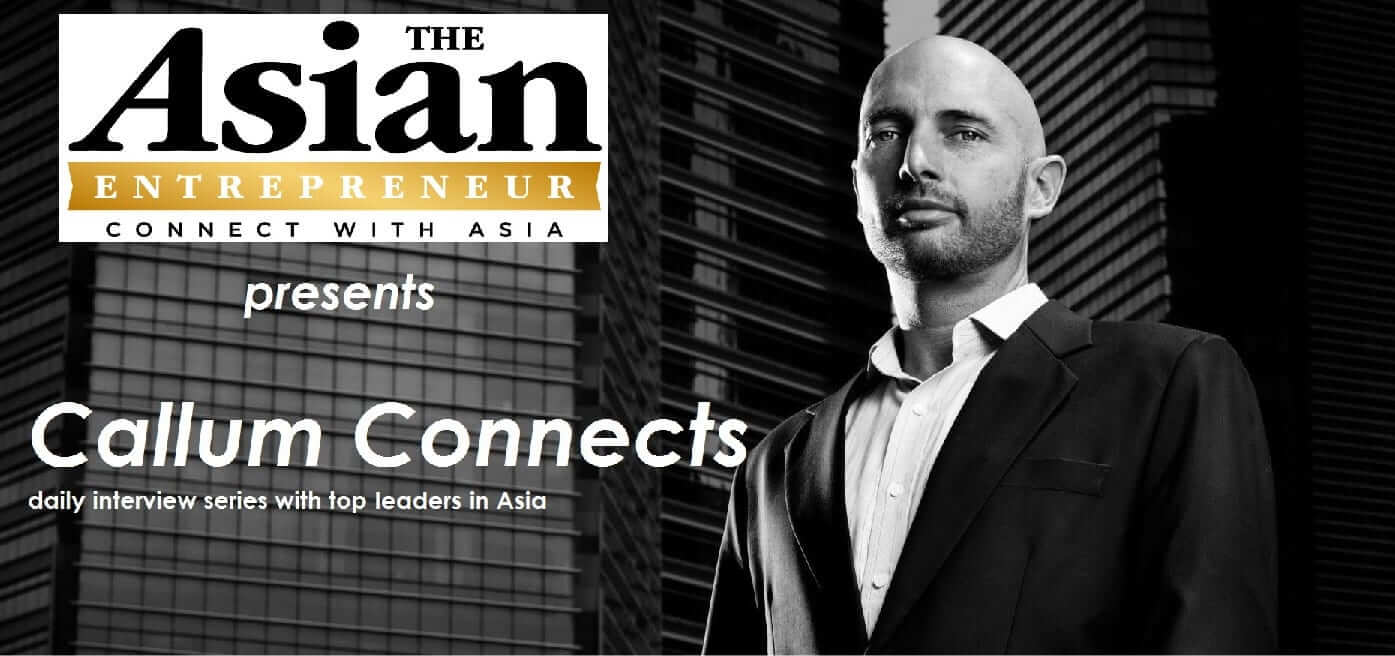 Callum Laing has started, built, bought and sold half a dozen businesses in a range of industries across two continents. He is the owner of Fitness-Buffet a company delivering employee wellness solutions in 11 countries and he is also the CEO of Entrevo Asia, a company that runs 40 week Growth Accelerator programs.
Take the 'Key Person of Influence' scorecard <http://www.keypersonofinfluence.com/scorecard/>
Connect with Callum here:
twitter.com/laingcallum
linkedin.com/in/callumlaing
Get his free 'Asia Snapshot' report from www.callumlaing.com