Khailee Ng is a technology entrepreneur who co-founded GroupsMore, a leading group buying company acquired by Groupon in 2011, and SAYS.com, a regional social media advertising and news network. In October 2013, following the completion of the merger of Says Sdn Bhd with certain subsidiaries of Catcha Media Berhad, Rev Asia was formed and Khailee was appointed Chairman to the Board of Directors. Khailee has also invested in numerous startups in Malaysia and the USA, and mentors young startups as entrepreneur-in-residence with the global seed fund and incubator 500 Startups, as well as Founder's Institute.
He studied business and marketing in California at San Francisco State University and University of California Berkeley, and University of Technology, Sydney. His success at a young age earned him the HSBC Young Entrepreneur Award (Best in Asia) and an invitation by the US State Government into the prestigious IVLP, joining notable alumni like Tony Blair, Nicolas Sarkozy, and Mahathir Mohamad.
Today, The Asian Entrepreneur is priveleged to speak to Khailee Ng about his work and views on Asian entrepreneurship.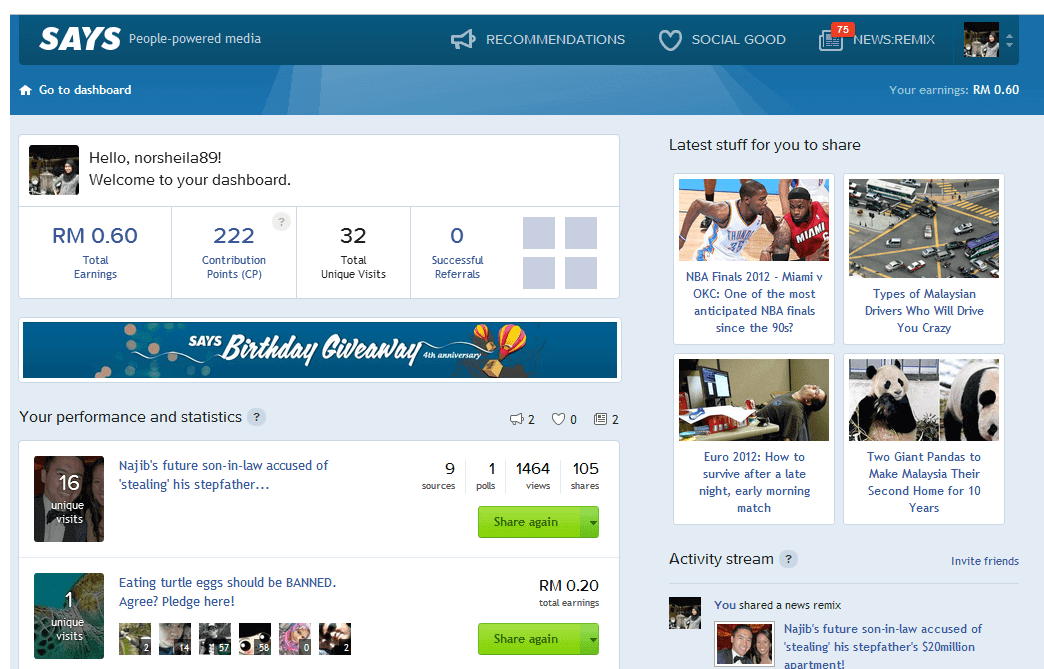 What exactly is Says?
Says.com is a social news network. We curate different news sources into a single news story and our readers share it through social media to reach more than 2 million Malaysians monthly. Half a million of these readers don't read any of the top 4 online news portals. The social media generation seems to really dig our approach.
How did the idea for Says come about?
Our friends and I realized that:
1. To get the full story surrounding a particular piece of news, you have to visit many different sites
2. Most news websites are full of words, and carried very few pictures or video
So we created a news site that summarized the words into 'bullets', but gathered all the images and video together
Could you walk us through the process of starting up Says?
We stared doing one thing. Kept doing many things. And never stopped.
What has it been like managing the business since?
The team that manages Says.com is young, driven, super smart, creative and make for brutal executors. They take great care of the business, ensuring the workplace is an environment where the very best people want to work, an environment that sets people free to do what needs to be done.
Did you find anything particularly difficult during the startup? 
A lot of entrepreneurs brag about how hard their life was, and the media loves writing about this. My view is that difficulty is relative to the size of your ambition. If you think small, small problems affect you. If you think big, it takes a big problem to affect you. When things are tough I've always encouraged my team to think bigger and find new solutions. I'm fortunate this has made things easier rather than more difficult. The tough times we go through are short lived and we always end up looking at them as just another day at work.
Was it hard to build the visitors base initially for your website?
The first 12 months was slow. We spent a lot of time winning our readers over one story at a time, challenging our assumptions, and iterating on our product and approach. During Malaysia's 2013 General Elections, we received a lot of really positive feedback on our coverage. Eventually, people got hooked on our style of news. A considerable number of our stories would get up to hundreds and thousands of reads in a week. And now we're growing so fast, we see a chance to beat the traditional news websites and be number one.
What is your strategy against your competition?
Our only competition is our complacent selves. We focus on being better than we were the month before.
Have you developed any industry insights that you could share?
News that isn't shared across social media isn't news worthy. The real front page is not the front page of a newspaper the paper's landing page – it's what people see when they load their Facebook or Twitter.
How have you managed to stay relevant in this industry?
That's not a concern of ours. We want to stay valuable; value creates relevance. Too often people associate relevance with being new or current. We focus on what drives value in news. We're not the fastest news source, we don't even have exclusive reporting, but we have the most complete account of a news story, displayed in an easy to view format that can be scanned at speed. People get a lot of value very, very, quickly. We try to do this better and for more people, and the way we deliver this value might evolve as content consumption habits evolve, but we focus on being valuable.
What does the future hold for Says?
You may see our approach translate to more verticals, and to more markets, if our approach adds value there.
 What do you think about startups in Asia?
Many startups in Asia are trying to answer big problems and go after big opportunities. I invest in many of them via the Silicon Valley-based venture capital firm 500 Startups – I take care of their Southeast Asia fund – and am really excited about where all of this is headed.
What are some personal principles or personal values that guide you and your career?
I am very skeptical of advice and conventions people lazily accept as true. I like trying to understand the deeper truth behind situations. People think I'm just being a contrarian, but really I'm just being curious.
What is your definition of success?
You wake up feeling you're doing exactly what you're meant to be doing that day.
Why did you decide to become an entrepreneur?
I didn't. I like creating things. Business just happens to be a useful vehicle for achieving that. It's a means of gathering resources, people, and energy to create things I can't create on my own.
What do you think are the most important things entrepreneurs should keep in mind?
They are the biggest limitation to their own successes. The moment they grow their thinking, grow their access to resources, grow their access to knowledge, their businesses will grow too.
In your opinion, what are the keys to entrepreneurial success?
There's a whole bunch of things one can only start to describe, but continuous learning does stand out as the one thing people overlook from time to time.
Connect
Website: http://khailee.com
Linkedin: https://www.linkedin.com/in/khailee
Facebook: www.facebook.com/khailee
Twitter: https://twitter.com/khailee