Today, The Asian Entrepreneur speaks to two bold and driven Malaysian entrepreneurs who are currently on a mission to improve Malaysia's startup scene by introducing Malaysia to Drinkentrepreneurs, a global startup movement that is driven to make local startup ecosystems more connected via monthly events.
Lingesh Thayala is the Founder and Managing Partner of Drinkentrepreneurs Malaysia overseeing the cities of Kuala Lumpur, Johor Bahru, Kota Kinabalu and Penang. He previously served Ernst & Young as a Senior Associate in Audit before joining Uber, a global online transportation network company as Head of Marketing in Johor Bahru. He then led the Strategic Operations Department for Uber Malaysia before being seconded to Uber in Singapore to develop their competitive strategy division.
Ganesh, Malaysian is the Co­Founder & Managing Director of The CViator PLT ("The CViator"), one of ASEAN's fastest growing career consultancy firms. He also currently serves DrinkEntrepreneurs, a global social enterprise accelerator founded in Paris with presence in 37 cities, as the Managing Partner of its Kuala Lumpur chapter. Prior to this, Ganesh previously served as an auditor at PwC in 2012 and subsequently at KPMG in 2013 as a Strategy Consultant before joining Asian Football Confederation as a Senior Football Executive in 2015.
How did it all begin?
Lingesh: It all started when I attended the Global Startup Youth Conference which brought together over 500 bright minds from over 100 countries to Malaysia for a week. I had noticed that most of the attendees ended up mingling in separate groups during their free time at night to different venues. I thought it would be great if everyone headed to a single location and connected over a drink, hence I decided to organise an after party. At that spontaneous event, I met the founder of Drinkentrepreneurs who had founded it in Paris. After hearing more about it, he felt that I would be a good fit to build the DE chapter in KL. It was a tough process starting the first event with 30 people initially but it has been rewarding to see how the community has grown over the last two years and pulling up to 200­ – 300 people monthly!
Ganesh: When DEKL first started, I had attended the first few events. I enjoyed it and sought to invite my network to attend it as it was a great opportunity to extend one's network. I first got involved when Lingesh decided to take a step back and focus on developing Drinkentrepreneurs in other cities in the country. I then took over DE operations in KL and brought in a team of volunteers to help assist as the number of attendees started increasing. As DEKL acts as a model for other cities in Malaysia to follow, the plan would be to solidify operations in KL so I can work together with Lingesh in developing the other chapters in Malaysia.
Did you encounter any particular difficulties setting up Drinkentrepreneurs in Kuala Lumpur? 
Ganesh: From an organisational standpoint, it was difficult initially to get the support of F&B outlets as the community was fairly small and they were not keen on allocating space to us for free. However, that has significantly changed now with venues approaching us to host our event there. In terms of awareness, we had challenges reaching out to the entrepreneurial scene at the beginning but as soon as they had more information about Drinkentrepreneurs and our objectives, it was much easier to build partnerships with fellow community builders within the startup community.
What's the developmental direction for Drinkentrepreneurs in the next few years?
Lingesh: Since founding DEKL, the initial objective was to bring the startup community together. Even though there were other startup gatherings, it was in patches and not consolidated. In some cases, it tended to be a closed gathering that was accessible only to those within the start up community. Being from the corporate sector, I felt that I needed to bridge this gap and DEKL would provide the perfect platform to do so as a lot of synergies exist. For example, startups will be able to benefit by leveraging on the skills and expertise from professionals when it comes to creating structure and standard operating procedures.
Ganesh: Given that DEKL's vision is to become the largest social enterprise ecosystem accelerator, the development direction is two pronged ­ increasing reach and providing value to attendees We plan to address the first aspect by showcasing various industries that have either just sprung up or have not been featured before. This will bring a lot more diversity to our attendee pool and will also contribute to retaining attendees for the long run. Additionally, given our huge number of attendees, as a means of enriching the DEKL experience, we will mobilise a dedicated social connector team that will be able to connect people with similar interests over the course of the event. Given that the event only goes on for 3­4 hours, it is important that attendees are able to achieve their prior objectives before attending the event.Social connectors will play a huge role in achieving that. Ultimately, we will strive to not only bring startups but also SMEs and large corporations related to the industry to provide them an avenue to network with new and existing players in the market.
How does Drinkentrepreneurs fit in Malaysia's startup ecosystem?
Lingesh: We see ourselves as the marketing arm to the startup world. Roughly half of our attendees are corporate professionals that have an interest in forming a startup but lack the knowhow. They particularly enjoy the informal and relaxed environment which enables them to connect with those in the startup industry.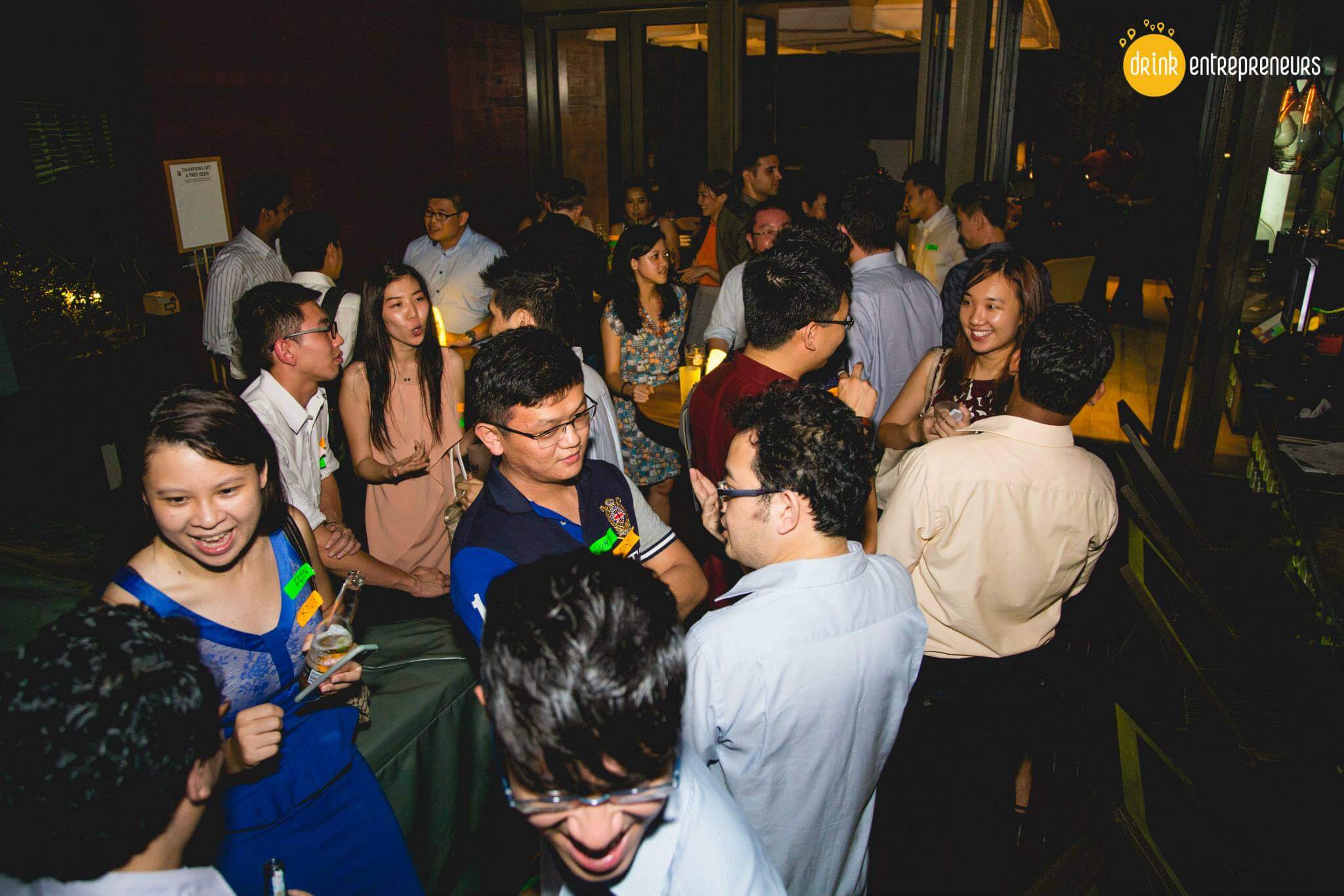 Have you learnt about any interesting trends that stand out in all the events conducted so far?
Lingesh: Over the last two years, we've experimented with various types of event delivery such as forum and pitching sessions to name a few. However, based on feedback, majority of attendees enjoy the event primarily for the informal setting. Additionally, we identified that some attendees did not return during our subsequent events. Upon getting in touch with them, they communicated that they had attended the event alone and was of the opinion that all the other attendees knew each other. To address this, we have introduced social connectors to aid the networking process of our attendees.
What can you tell us about the startup event industry in Malaysia?
Lingesh: It can safely be said that the industry is vibrant here in KL especially. A simple way of noticing it is based on the number of coworking spaces available such as MaGIC Space, The Co., Hideout and Fluent Space to name a few. Additionally, there are various startup accelerators like MaGIC, 1337 and Tune Labs that offer opportunities for various sectors. We've also seen the rise of local startups such as Grab, KFit and Servis Hero to name a few that serves to inspire other local startups.
What drives people to attend D.E. K.L.?
Ganesh: Our attendees feel they are part of a community of like minded people. The entrepreneurial journey can be a lonely one and it is nice to meet people going through things similar to you. On top of that people come here to be connected to potential business needs or just to come and make a new friend and get inspired the world of entrepreneurship.
What is your own definition of success?
Ganesh: Success is subjective to each individual. We feel we are already successful as we enjoy bringing people together and what makes us really happy is when we see people connect, build relationship and take something away from the event. That is what success is to us.
In your opinion, what are the keys to entrepreneurial success?
Ganesh:
Passion
Execution
Goal driven
Client focused
Adaptable
______________________________________________________________________
Want to be a part of it all?
Drinkentrepreneurs K.L. is held every month, a laid back event, where entrepreneurs and budding entrepreneurs come together to meet and have a great time. DrinkEntrepreneurs offers a relaxed environment for driven and motivated entrepreneurs, their friends and entrepreneurship aficionados to get together, share good conversations and inspire one another! The next event:
If you are interested in getting in connecting with and learning about Malaysian entrepreneurs who have attended the previous events, be sure to check out our Drinkentrepreneurs K.L. Column; where we aggregate notable interviews conducted with previous attendees: