I'm Marla Rausch, CEO and founder of Irvine-based Animation Vertigo, a motion capture animation company.  I'm not what you would call your typical motion capture executive; I'm a wife, an on-trend if you will, mother of two operating the only motion capture animation company to offer solutions through the world-class animation artists of the Philippines.
Being born and raised in the Philippines, I wanted to introduce the vast creative talent of artists from the country to the 3D animation and motion capture industry.   I established a production center in Manila, and grew the team from six to 60 in a few short years.    I wanted to create a system where talented artists weren't consistently being hired and fired per project – a norm in this industry. I now manage the vast majority of my team from across the Pacific Ocean with specialists in the US.  We've been very fortunate to have been involved in such leading video games franchises such as Call of Duty by Activision, Mortal Kombat and Injustice: Gods Among Us by NetherRealm, and Beyond: Two Souls by Quantic Dream.
Last year, 2014, marked my 10th year of business – not a small feat for a woman in a competitive, fast-paced, male-driven industry. I may not have begun my career in technology or motion capture but I used my job skills and education, and combined it with an intense ambition and true passion, to start and run a company. 
The career path I have taken has certainly become the foundation where I built the organization.  I graduated from the University of the Philippines with a bachelor's degree in mass communications; I took a couple of years of law which allowed me to comprehend and not fear legalese and understand the importance and necessity of the law, essential in business. I've worked in the Australian and Canadian Embassies in the Philippines which strengthened my ability to work within teams and with various nationalities.  Finally, working as a financial advisor with Ameriprise Financial and American Express Financial Advisors, gave me the insight and understanding to manage the organization's finances, make good fiduciary decisions and most importantly, to plan well so that things may fall accordingly and properly at its right time. 
Prior to establishing Animation Vertigo, I worked freelance in Spectrum Studios and Sony Computer Entertainment America as a motion capture tracker. It was here that I learned the ins and outs and gained knowledge and experience of the animation and motion capture industry.
In addition to raising the motion capture and animation industry bar, I'm also very passionate about giving back to organizations, particularly those that support the entrepreneurial spirit and STEAM (Science, Technology, Engineering, Arts and Math) to mentor girls and women. Throughout the last 10 years, I've participated in educational field trips, speaking opportunities and one-on-one mentorship.
Today, I'm a member of the Motion Capture Society, Women in Animation and the International Game Developers Association.
In your own words what is Animation Vertigo?
Animation Vertigo is a motion capture service partner for entertainment production companies.  We work towards meeting our client-partner's goals and milestones as we truly believe their success is our success. 
How did you come up with the idea of Animation Vertigo?
Animation Vertigo came about as a solution to a problem my husband's company was continuously going through.  They would hire and train motion capture animators for their projects, and then release them when the project ended.  When they would start a new project, they would find themselves looking for new trainees as those they've trained were working somewhere else.  This constant hire-train-release became more costly and so the idea was born, what if there was a company that hired and trained full-time Mocap animators that were available when they needed them.  It was a business model that we weren't sure was going to be sustainable, but then we determined that their need was actually an industry-wide need that Animation Vertigo could solve. Thus AV was born.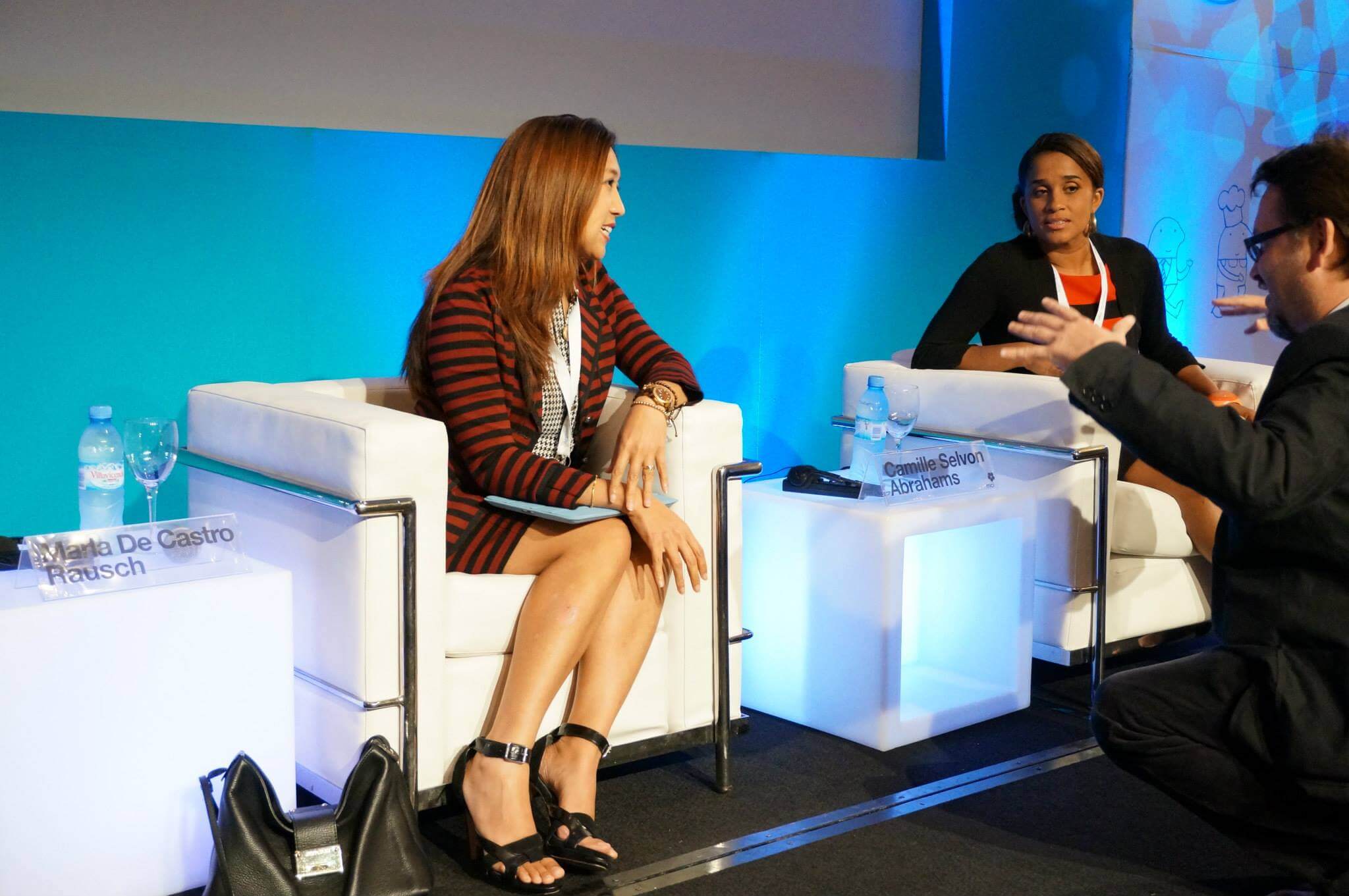 Could you walk us through the process of starting up Animation Vertigo?
Our start was a little different, as we needed to get clearance from my husband's company that he was going to outsource to his spouse.  We wanted to make sure we were cleared from all his bosses before we started.  To ensure we kept everything transparent, we kept things white gloved by checks and balances, approvals done by people other than my husband.  Even getting my next client was different, as a condition to the approval I could not actively market my company to other companies, I had to rely purely on word of mouth to let others know of my presence.  Because of the amount of work my husband's company was able to produce, other companies asked about it, and people would refer my company to them. 
I wrote a business plan that planned on a slow but steady growth, so that I could depend on word-of-mouth referrals.  With a small capital investment to start, we were able to reinvest for the first few years, grew our clientele and here we are, still moving after a decade later.
Did you encounter any particular difficulties during startup and if so, how did you guys overcome it?
With our options for marketing and promotions very limited, growing the business quickly was very difficult.  Exposure was limited as we couldn't talk to anyone about the projects we were working on as our NDA's prohibited such conversations. And with very small clients, it didn't allow us to hire and train more animators right away, which meant I had to turn down an opportunity to work on a film very early on, as I didn't have the manpower to support the project, and at such an early stage, failure would be catastrophic for a start-up dependent on referrals.    
I decided to be patient and grow the relationships with my clients, which meant we grew in expertise, experience and I found the relationships became more valuable than winning big projects right away.  I am proud to say I have amazing relationships with my clients and consider most of them friends.
How have you been developing Animation Vertigo since startup?
We truly value the relationships we have established with our clients – that means working with them through changes in budgets, scopes of work and deadlines.  As we continued working with them, we expanded the services we offered to be able to meet their needs.  I also keep up with the trends and new pipelines and technologies that are being offered in the industry, so that Animation Vertigo remains to be leaders in the service world for Motion Capture. 
What kind of feedback did you get for Animation Vertigo so far?
I'm very happy to say that most of our clients have been very happy and satisfied with the work that we have done for them.  They appreciate the communication, the quality of work and the speed we work on their projects.  It's also happened a few times where projects are urgent and burning and the clients need our help, and they've been very grateful that we were able to jump in right away to get things done, and within their budgets.
What is your strategy against your competition?
There is more competition these days for sure as motion capture has become more commonly used.  But we have been fortunate that we grew in the right time as we were pioneers in the Mocap service world.  By ensuring we are in tune with the latest and greatest in technology, aware of the needs clients have and marketing well, we are able to maintain and keep up with the needs of the industry.
Have you developed any industry insights that you could share?
The motion capture industry has certainly become more mainstream and well known, thanks to behind the scenes coverage and interview of various actors and directors of huge films such as Avengers, Teenage Mutant Ninja Turtles, even The Hobbit. Motion capture has become what it needed to be- an animation tool to be able to tell a story.  There have been motion capture films and games that have not been as successful for a variety of reasons, and for some of them, I feel it was because it was attempting to be too real – which is very impressive technologically – but doesn't really serve the story that was being told. 
The technology is continuing to improve though, with facial motion capture solutions being tested in the market.  And that's the new frontier; can we get the non-verbal nuances of a human being's face transmit successfully and comfortably into a CG character?
How do you plan to stay relevant in this industry?
I believe by continuing to be a partner for our clients in making sure they meet their goals – not only in quality of the work, but also as they try to search for more ways to improve their processes.  Working closely with our clients, we are part of their external development so that we are integrated into their pipeline. 
What is the future of the industry in your opinion?
Motion capture is continuing to improve their capabilities, just recently 19 people were captured in real-time and that was pretty impressive if you think that just 5 years ago having more than 6 people in a volume running real time would've been tough.  As more people are more knowledgeable in the field as well, schools and colleges are offering motion capture as courses now, and with more media is available searching for content, motion capture as an animation tool will be more effectively utilized unlike before, and in more mediums.

Was there anything that disappointed you initially?
When I think of things that disappointed me in business, it would have had to do with trusting the wrong people very early on.  I believed in working with people to mutually grow and that friends equal good business partners.  I've learned this is not usually the case, it was a painful lesson to learn, but one I've found out not unusual as you grow your business.  Growing pains are tough, but they definitely teach you.
What do you think about being an entrepreneur in Asia?
 I am fortunate I think because while I am Asian and grew up in the Philippines, I have learned a lot about business in the US where I now reside.  This allows me the ability to understand both sides.  Each side has its own strengths and weaknesses, of course, and you learn to maneuver both sides.  I can't exactly say it is harder or easier, just different.
What is your opinion on Asian entrepreneurship vs Western entrepreneurship?
I think there is more relationship-building on the Asian side compared to that of the Western side, in the sense that Asians tend to spend more time building it through meals, meetings, and activities.  The Western side is faster, more straightforward, would discuss potential partnerships and work via drinks, meals that lead to further negotiations via contracts.  As I've said, each has its own strengths and weaknesses, and I can see where business people from Asia and the West can have their difficulties.
What is your definition of success?
I see success in various terms – success in business, success in child rearing, success in decluterring, etc.  But in most cases, I don't think of success as reaching a particular goal, although I used to think that was what it meant.  Today I define success as the ability to live life the way we want to live it.  To have the ability to choose how to live it.
Why did you decide to become an entrepreneur?
I never thought I would be an entrepreneur, in fact, I always believed that I was going to go through the corporate route, working in a big company and climbing up that corporate ladder.  I actually had that moment when I had to choose – holding on to my pay-check from two weeks of work vs a check paid by a client for work done in one week.  I realized, beyond the numbers, one represented the ability to work within a job description, the other represented the ability to make up that description myself, in fact, make up the job myself.  That sense of freedom and chance to shape the future myself was a challenge I could not refuse.
What do you think are the most important things entrepreneurs should keep in mind?
Planning is very important, but don't get so stuck on planning and analyzing that you are unable to move or decide without all the information.  Business isn't just about what you know, but also what your intuition says.  So listen to both.
In your opinion, what are the keys to entrepreneurial success?
I think it's a number of things, but the ones that come to mind are: a) not being afraid to try something new, of doing something that's out of the ordinary or out of the box; b) being prepared to write up a plan and following it through; and c) not to be afraid to fail. 
Any parting words of wisdom for entrepreneurs out there?
It sounds kind of funny, but I find that in challenging times, the immortal words of Dory, from Finding Nemo, helps me smile, keep my chin up and go on.  "Just keep swimming, just keep swimming."
Connect
www.linkedin.com/company/animation-vertigo