Delivering superior value to customers has been the basis of this entrepreneur's business model.
What's your story?
Originally from the Netherlands, I joined Unilever in a marketing role shortly after graduating. In 2002 I got the opportunity to work in Vietnam on one of Unilever's bigger skincare brands but while in Vietnam I quickly got attracted to the dynamic of the Asian market and wanted to see brands develop from an agency perspective. I joined a UK branding firm that was setting up shop in Saigon. Starting out with just two people, we grew quickly then relocated to Bangkok in early 2005 when UK management decided a more European business model was to be adopted. The business didn't do so well and I (and many of the others) left the agency. Deciding a smarter setup was required for success, I founded square44 as a branding agency more tailored to the unique challenges of the region. I wanted more focus on what branding needs to be all about: getting marketers to stop copying others, instead focus on finding their brand's own unique identity and do what every brand needs to do to be successful in the long run: creating superior value for their audience.
What excites you most about your industry?
The variety, diversity and speed with which things move! Vietnam in 2002 was complete virgin territory for many of the big multinationals, similar to Myanmar which is currently opening up rapidly. The challenge is very different from Europe where a marketer might spend an entire year preparing a single launch, then celebrate a microscopic gain in market share. Here things move faster and market shares can shift by 10 to 20% in a few months. Another thing that excites me is that many local businesses make fantastic products, but have not yet stepped up their branding efforts. Once they do, we can make strong forces that cannot be easily ignored.
What's your connection to Asia?
My father is half Indonesian, half Dutch moved in his late twenties to the Netherlands, I guess I made the reverse journey. Having lived and worked in the region for 13 years this year I don't see myself moving anywhere else anytime soon. There are so many great companies in Asia that will benefit from accelerated growth once they realize the value good branding can add to their business. This really is the place to be if you like to be in the midst of the action!
Favourite city in Asia for business and why?
Asking me that is like asking a parent which child they like most. We work in 16 countries in Asia. I'm in Sri Lanka now as we do this interview and each market really has its unique charm. Colombo surprised me tremendously for it's warm and welcoming people and for a small island it has a great dynamic. Jakarta is a buzzing city, unfortunately it's traffic is some of the worst in the region. Singapore is very organized and a lot of regional businesses are managed from there. Shanghai has a very dynamic vibe about it and Yangon and Saigon are 2 very high energy places with a very positive atmosphere, which we love to work in.
What's the best piece of advice you ever received?
Take action if you plan to be successful, don't wait for good things to happen! When I started square44, I spent about a year getting ready, building up a business model and a structure that really works. As you plan and prepare, other things constantly pop up and if you try to prepare for everything then you'll probably never start and accomplish anything! My advice to any would-be entrepreneurs out there is to trust in yourself, work harder than your competitors and ensure you keep focused on delivering superior value to your customers. Success will follow.
Who inspires you?
There's not one specific person that jumps out. I get inspired all the time when I meet successful and smart people that are willing to take risks, do things differently, work hard and believe in what they do. Those that take action to get things done and those that do so with great energy, enthusiasm and passion. I guess the above lists some of the traits that I admire in successful people and some of the traits I try to make my own. I'm lucky that I'm able to work with such inspiring people on a daily basis in our office as well as in the many client meeting rooms I see.
What have you just learnt recently that blew you away?
89% of Fortune 500 companies that existed 60 years ago, don't exist anymore! That's crazy no!? These are some of the biggest companies out there, with some of the deepest pockets. What is it that these 89% did wrong? It's what we try and preach to every marketing person we meet, something that even good branding cannot fix. The basis of long term success and the focus every marketer or business owner needs to incorporate into everything they do: constantly look for ways to create superior value for your intended audience. If you don't, even the biggest companies will fall.
If you had your time again, what would you do differently?
Oh, I made lots of mistakes along the way and still do! If I would have known in advance of some of the issues that have crossed my path in the last 10 years it might have scared me to even get started. Now, being able to appreciate some of the more difficult issues I've had to face, I don't even think of such situations as negative anymore. It sounds a bit cliché, right? But "issues" often energize me, get me sharp and focused. I'm quite competitive and like to deal with challenges, looking for the opportunity to get out of situations better. It sounds corny, but an attitude like that helps keep you positive and motivated.
How do you unwind?
The thing is, if you're lucky like me and actually enjoy what you're doing then the need to unwind from work is much less. I love working on multiple projects at the same time for a variety of clients, but I also love to take some time away from day-to-day things and spend an afternoon or so to work on the business. When needed, there's also an off-switch behind my right ear that allows me to enjoy cooking a nice meal, escaping for a weekend to the beach, going for a movie or trip to the spa or losing a few hands in a poker game.
Favourite Asian destination for relaxation? Why?
I travel a lot for square44 and usually will spend an extra day or so wherever I am, not only for recreation but also to observe people, see how people interact with brands, watch them shop, get a sense of culture and a feeling for how life is lived differently in the places I visit. For recreation I enjoy beach trips anywhere in Thailand, city or shopping trips to Hong Kong or Singapore or a visit back to my old home in Vietnam.
Everyone in business should read this book:
I usually go by topic and particularly interested in things like creative thinking and ideation, NLP for motivation, business model innovation or marketing best practices / case studies. I'm usually too impatient to sit through an entire book and usually tend to speed read through main parts of books that I think look interesting. Also highly recommend are those RSS newsfeed aggregator apps that grab content from multiple of your favorite websites as a great way to stay updated.
Shameless plug for your business:
Square44 is a branding agency that operates across 16 markets in Asia, we've been around for 10 years and help multinational, regional and large local consumer, retail and corporate brands with their innovation, communication, design and activation. Brand design is what we do best, but our minds are pragmatic, commercial and result-oriented. We help businesses earn money by helping them to build brands that people actually care enough about to connect with and create a relationship with. How? Not by telling clients what they want to hear, but by representing the point of view of their intended audience. We help clients look for as many ways as possible to help create superior value and we team up with some of the best designers in the world to get brands that tell the right message look their best.
How can people connect with you?
Email is easiest: [email protected] alternatively you can connect with me on LinkedIn.
Twitter handle?
@square44 but for more interesting behind-the-scenes footage of agency life check us out on Instagram: squarefourtyfour
—
This interview was part of the Callum Connect's column found on The Asian Entrepreneur: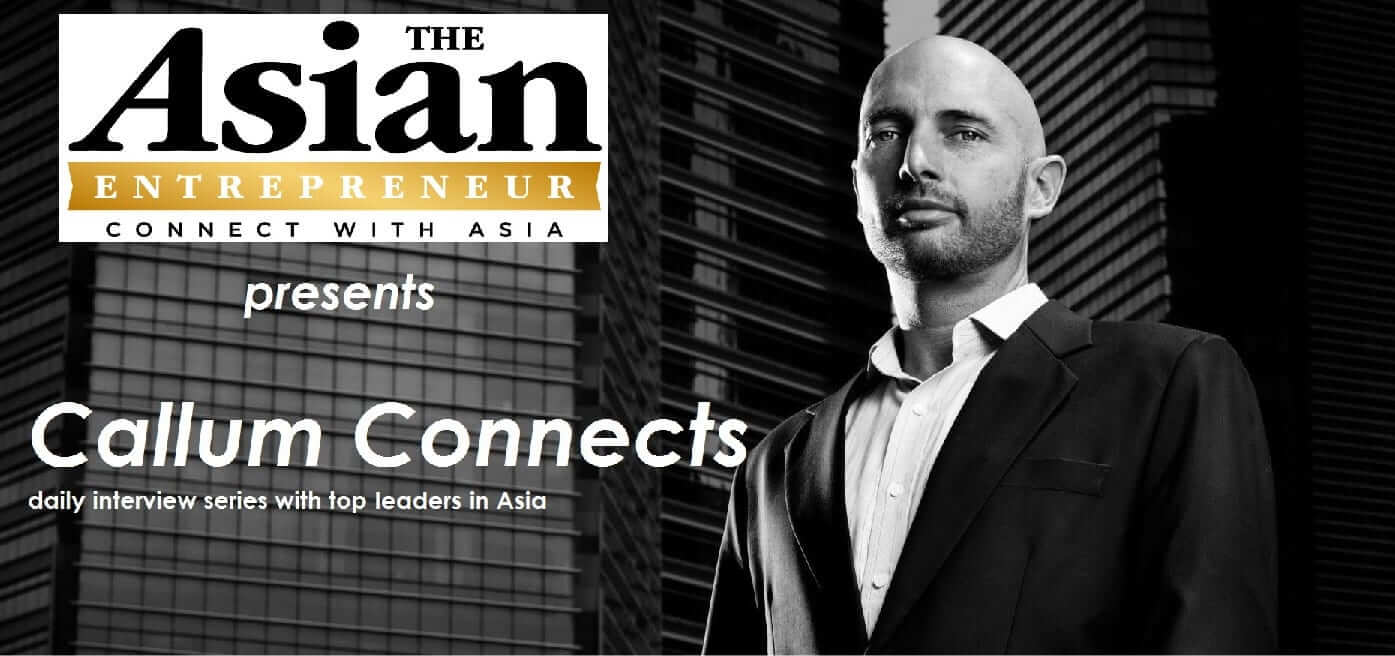 Callum Laing invests and buys small businesses in a range of industries around Asia.  He has previously started, built and sold half a dozen businesses and is the founder & owner of Fitness-Buffet a company delivering employee wellness solutions in 12 countries.  He is a Director of, amongst others, Key Person of Influence.  A 40 week training program for business owners and executives.
Take the 'Key Person of Influence' scorecard <http://www.keypersonofinfluence.com/scorecard/>
Connect with Callum here:
twitter.com/laingcallum
linkedin.com/in/callumlaing
Get his free 'Asia Snapshot' report from www.callumlaing.com