Valerian Helps Build Businesses with Credible Solutions to Environmental Issues
What's your story?
I was born in France, came to Asia in 2008, and pretty much have never left. What drives me is helping entrepreneurs build companies that shape a better world.
The bulk of my career was spent as part of the team that built one of the leading social impact VC funds in South-East Asia, Insitor Partners. Started in 2009, in Phnom Penh, Cambodia, to support the first generation of social entrepreneurs in the country, we subsequently took Insitor Partners to India, Myanmar, Pakistan, and eventually Singapore, where we headquartered the firm in 2015. Today, Insitor is proud to have invested in 25 social enterprises in Asia that have benefited millions of low-income households in the region. Today, Insitor is one of a handful of impact funds really active and successful in frontier countries around Singapore.
Last year, I left my Executive Partner role in the fund to partner with two tech entrepreneurs, Clement and Max, and together we launched Jumanji Studio. The studio is a startup factory where we pool resources and skills to build businesses from scratch that offer credible solutions to environmental issues. The power of business to change the consumption habits that have hurt the environment is probably even more powerful than its power to reduce social inequalities. However, there is still too little support to impactful startups in Asia, and we saw an opportunity to change that with a vision that together, and with more entrepreneurs around us, we'd be stronger in achieving our goals.
What excites you most about your industry?
Building something; a startup or wooden furniture (I do that too!), with your own hands and brain is incredibly rewarding.
We are building a startup that has a greater purpose, such as reducing pollution or carbon emissions. And when you do it ethically, the amount of energy you find within yourself and from others is multiplied tenfold. Today after just one year, Jumanji Studio has 4 entrepreneurs, 11 impact investors, and 50 industry experts that are all working to help us succeed.
What's your connection to Asia?
I spent the vast majority of my career in Asia. I flew from Paris to Delhi in 2008 and started interning for a consulting firm there. After this, I toured India on an old motorbike for a few months and discovered how awesome the country and its people are. But I also discovered the inequalities, and this discovery stayed with me.
After a short stint in Africa, where I spent a few months helping to restructure a Ugandan hospital, Asia called me back in 2010. I met the founder of Insitor who convinced me to join her and her partner Nick in building a new breed of an investment fund. It was designed to make a positive impact, and be socially minded, with the ambition to do something about inequalities. I spent almost ten years between Phnom Penh and Delhi and eventually settled in Singapore when Insitor raised it's second larger fund.
Of all the wonderful countries I lived in and visited in Asia, I remain deeply attached to India and Delhi in particular. I've never connected better with any other country and culture, and I maintain long time friendships in this country. I've even been seen praising Delhi in the local Hindustan Times!
Favorite city in Asia for business and why?
I don't think I've ever seen a city operate like Singapore for doing business. Things just go fast here, although, of course, my benchmarks are Phnom Penh, Delhi, Yangon, and Lahore! Still, there's such a concentration of smart people, and the surrounding countries are growing so fast that Singapore has become a very unique place in which to conduct business. I simply hope this abundance will drive a more sustainable mindset and agenda, otherwise, the risk is that this 50-year lightspeed success story becomes short-lived.
What's the best piece of advice you ever received?
Work with and hire people that are smarter than you.
Who inspires you?
I never had heroes. But anyone capable of creating things from scratch inspires me. I'm not one of these people, but I can build on their creations to make them better and augment their impact.
What have you just learned recently that blew you away?
We are in the middle of the 6th mass extinction. That's defined as the disappearance of 75% of all living species on earth. For emphasis:
WE ARE IN THE MIDDLE OF THE 6TH MASS EXTINCTION. 75% OF ALL LIVING SPECIES. TIME TO GET THINGS CHANGING !!!
If you had your time again, what would you do differently?
I'm a city child, which means like many in my generation I never had a chance to really understand nature from actual experience.
It's insane. I can do things that people pay a lot of money for… but in reality, I have no idea how basic stuff in the natural world works. That increasingly bugs me. So I would change that about me, and learn more about nature much earlier in life.
How do you unwind?
Any riding sport does the trick: kite surfing, snowboarding, and wakeboarding. There's nothing like the inexplicable feeling you get when you're on water or ice.
Favorite Asian destination for relaxation? Why?
Kep, in the south of Cambodia, is the best place on earth. If I need to be more precise: the sailing club by the Knai Bang Chatt Resort.
Everyone in business should read this book:
"Factfulness: Ten Reasons We're Wrong About the World–and Why Things Are Better Than You Think," by Anna Rosling Ronnlund, Hans Rosling, and Ola Rosling. It shows the amount of fake truth that surrounds us and helps put into perspective all things. It helps you think right.
Shameless plug for your business:
Volunteers. Every startup needs to bootstrap. I'm not proud of working with volunteers, I'd rather pay them. But I take comfort in the idea that if they do it they must be finding the opportunity rewarding in the end. I've volunteered too in Africa and it shaped my life.
How can people connect with you?
LinkedIn is the best.
—
This interview is part of the 'Callum Connects' series of more than 1000 interviews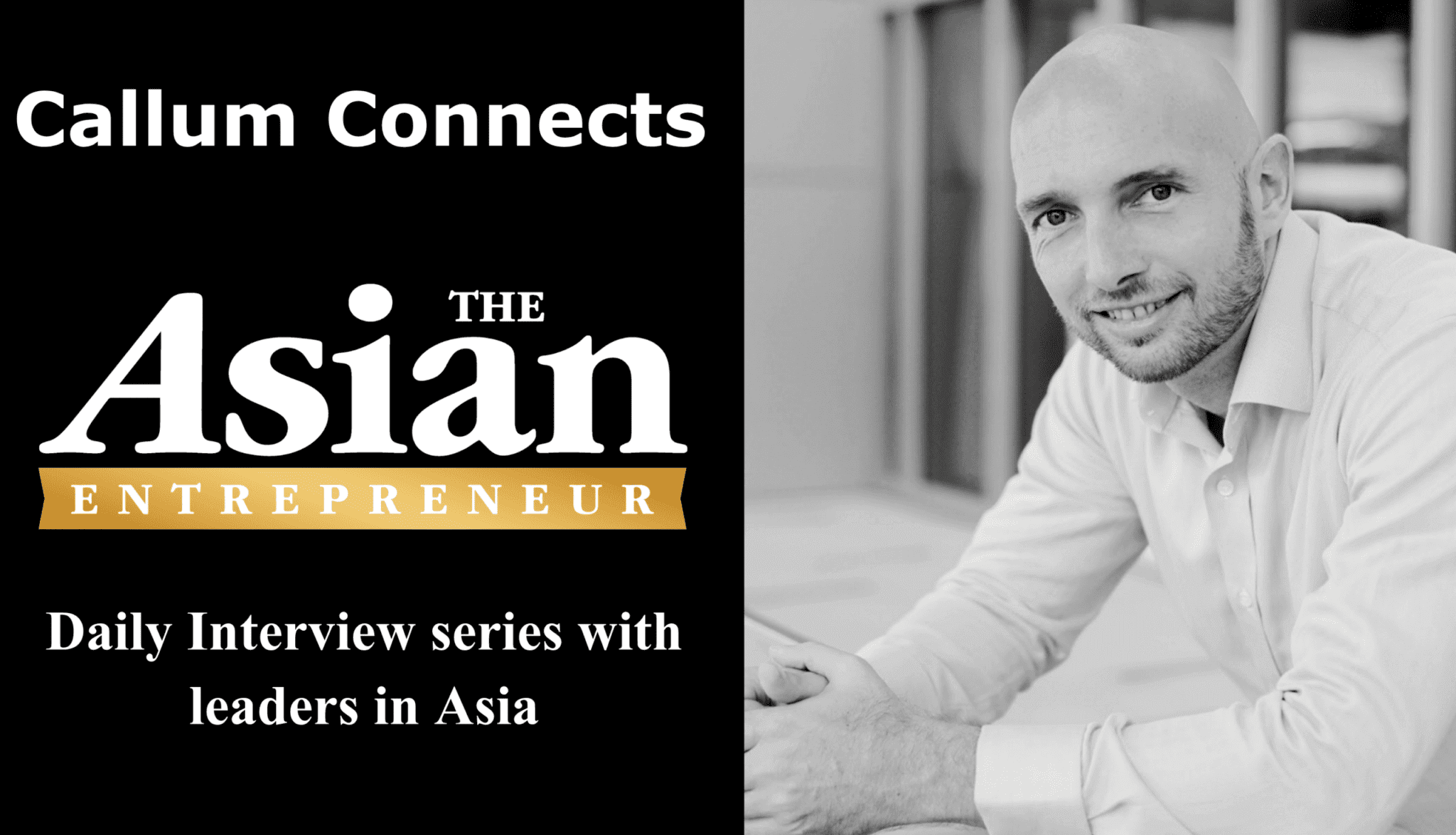 Callum Laing is an entrepreneur and investor based in Singapore. He has previously started, built, and sold half a dozen businesses and is now a Partner at Unity-Group Private Equity and Co-Founder and CEO of MBH Corporation PLC. He is the author of three best-selling books 'Progressive Partnerships', 'Agglomerate', and 'Entrepreneurial Investing'.
Connect with Callum on Twitter and LinkedIn
Download free copies of his books at www.callumlaing.com