I am a business coach and an evangelist for organizational effectiveness. I have more than 20 years of winning new clients, building new markets and market share, coaching sales teams and leading aggressive top and bottom-line growth. It's safe to say that I have successfully navigated the complexities of nearly every type of sales challenge.
Now I want to help salespeople in B2B organizations achieve their own sales targets.
Sales is one of the most important jobs in every organization. In today's complex and fast-changing business environment, it's also one of the most challenging. You can't succeed if you use outdated sales skills that are no longer sufficient in the crowded business environment.
I post articles in my linkedin and my company's website. I write and share business ideas whenever I have the time. My most recent article is about  how I managed to overcome the 500 burpee challenge using what I learned in business.
What excites you most about your industry?
In today's crowded markets, companies experience fierce competition and rapid commoditization of their offerings. There is a fundamental change in the buying behaviour of customers. Companies are spending far more cautiously than ever before. Therefore sales organizations that don't evolve will soon find it hard to catch up with expectations for top-line growth. According to ASTD, sales orgnizations that offer sales people opportunities for ongoing development are ten times more likely to create more peak-performing salespeople than those that don't. Hence sales organisations are investing on result oreiented sales training to rocket fuel their sales engines. This is where Sales Faktor comes in.
What's your connection to Asia?
I have always been a regional man. Over the past 15 years, I have been responsible for the Asia business for a few MNC software companies–UNIT4, Frango and Carmen. To expand sales coverage I used to travel a lot to open up new offices including Hong Kong, Malaysia, Taiwan, Philippines and Indonesia, and setting up channel networks in Japan, China, Korea and Thailand.
Favourite city in Asia for business and why?
Singapore. To me this is the best place to run a business. The Republic has earned numerous accolades as a key regional and global hub for companies to do business. For instance, Singapore is ranked number 1 in the world for "ease of doing business" by the World Bank Group. It also leads the rest of the global economies as an investment destination according to the BERI Report. The country is strategically located and has very modern and efficient infrastructure. Furthermore, the Tax system is also one of the lowest in the world.
What's the best piece of advice you ever received?
Building routines around the high pay-off tasks is probably one of the best-kept secrets for mastery of personal leadership. Most people are quick to say that the top-notch athletes are successful because they're talented. But pay attention to their routines and you will realize they are very discipline when it comes to investing time in high-payoff activities. Tiger Woods commits himself to an insane, 12-hour routine that not only shows his dedication to his craft, but also to other aspects of his life.
Who inspires you?
Many people inspire me from different walks of life. And everyone of them has something in common: courage and conviction. I am especially inspired with Chris Gardner who created a vision much bigger than himself and took the necessary steps to make his dream come true. He is the kind of man who constantly break out of his comfort zone: abandoning his job to pursue his dream to be a stockbroker despite not having education, connection and experience; accepting a trainee position with Dean Witter despite having no salary during the internship, and had to endure eating at soup kitchens, seeking refuge in homeless shelters and spending nights in public-restroom with his 20 months old son. His story was made into a movie—The Pursuit of Happyness.
What have you just learnt recently that blew you away?
A private tutor can make more money than a CEO. In South Korea, there was a report last year that a tutor earns $4 million dollars a year. In Singapore, the tuition industry is now a one billion dollar industry and it is not uncommon to read about private tutor who makes an annual salary of a million Singapore dollars. While ambitious parents are investing serious money to improve their children's grades, all ambitious sales organisations should seriously consider investing in sales training to increase their sales figures.
If you had your time again, what would you do differently?
I don't look back. I wake up at 6am every morning and I am excited about the day ahead.  To me living is to seek new adventures and experiences everyday. If I had to, I would rather think about what my family, friends and colleagues would say about me at my funeral. The good news is I'm not dead yet. I can still take the necessary steps to shape the outcome. So everyday I am working towards the end result I envision.
How do you unwind?
I used to relax by zoning out in front of the TV at the end of a stressful day. But not anymore. Last year I had a health scare linked to stiff neck and shoulder pain. I could barely turn my head more than 45 degrees in any direction. I started to jog regularly and engage in high intensive interval training to improve my endurance and agility.  My regular exercise routine not only help me to get in shape but also boost my mood and activate my body's natural relaxation response.
Favourite Asian destination for relaxation? Why?
I love Taiwan. It is an awesome place filled with colorful cultures, iconic night markets, stunning landscapes and hot springs. I love the Taiwanese cuisine; the Taiwanese definitely serves the best vegetarian food in my view.  Being a vegetarian, I really enjoy the experience. There are many exciting restaurants and night markets for foodies to enjoy. The Taiwanese people are incredibly warm and hospitable.
Everyone in business should read this book:
I first read " The 7 habits of highly effective people" 20 years ago. The timeless principles shared by Stephen Covery have made a huge impact on both my professional and personal life. Am I embracing proactivity? Do I have my priority right? How do I want to be remembered? These simple questions transform my life and behavior. It propels me to focus beyond building my networth in mere productivity but every other aspects of my life that are important to me.
How can people connect with you?
I am excited to meet new friends, coach sales peopple and help businesses achieve higher level of success. You can connect with me through my linkedin account: sg.linkedin.com/in/chuawengfoo/. Or you can reach me through my email [email protected]
This Interview was part of the Callum Connect's column found on The Asian Entrepreneur: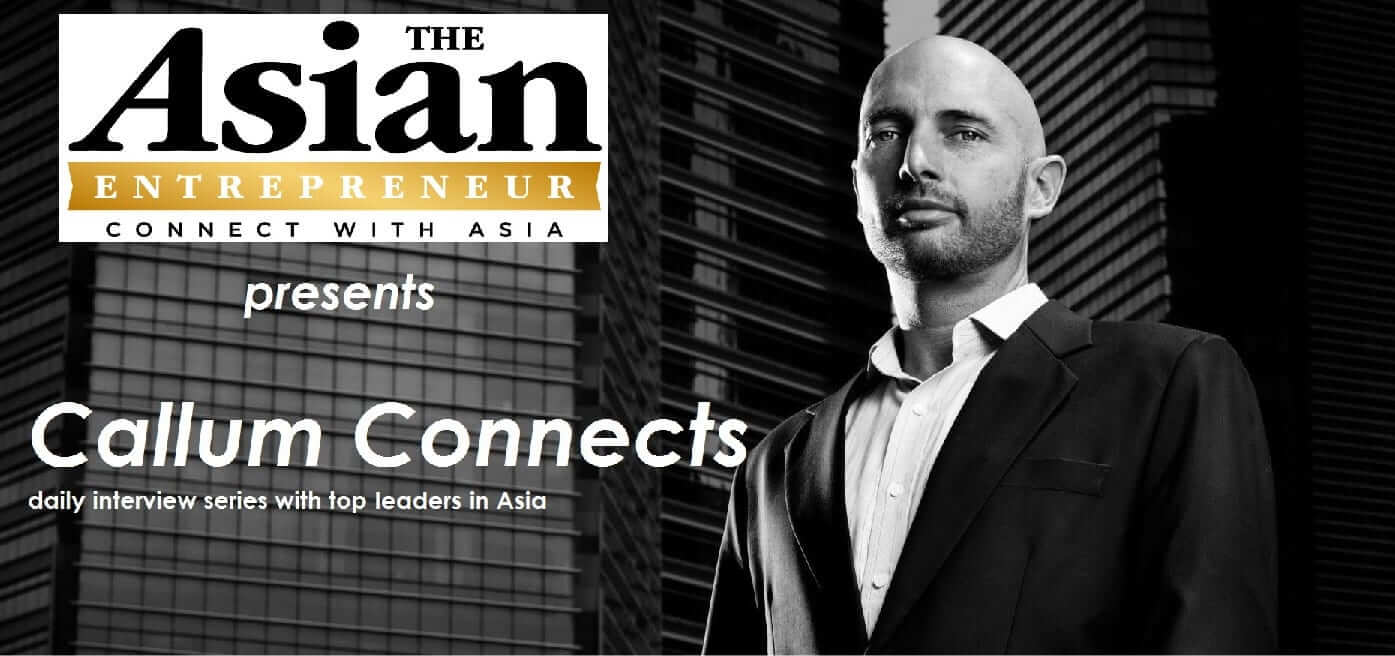 Callum Laing has started, built, bought and sold half a dozen businesses in a range of industries across two continents. He is the owner of Fitness-Buffet a company delivering employee wellness solutions in 11 countries and he is also the CEO of Entrevo Asia, a company that runs 40 week Growth Accelerator programs.
Connect with Callum here:
twitter.com/laingcallum
linkedin.com/in/callumlaing
Get his free 'Asia Snapshot' report from www.callumlaing.com
Take the 'Key Person of Influence' scorecard <http://www.keypersonofinfluence.com/scorecard