… so let's talk about it!
'The secret to change the unchanging' is that there are no more secrets.
My name is Andreea Bondoc and I will sign the series column in The Asian Entrepreneur about 'Feng Shui, Business and Entrepreneurship' every Friday. I will write and talk about those 'secrets' used by the rich and famous yet not discussed that much until now.
I am a former journalist travelling the world and combining my passions of working in digital marketing in the aviation industry together with my new passion of Feng Shui – a part of Chinese Metaphysics, discovered by me only one short year ago.
Before you read further, let's clarify something… I am not a Master, a Consultant, or an Expert in Feng Shui. I am merely a discoverer and a pupil of the great science called Chinese Metaphysics. Because I am using it, my destiny has changed. You can read my story here.
Delving into the journey of Chinese Metaphysics and writing about it is a hard and complex task, therefore I am not alone. All articles will be documented and written in partnership with Masters from China, Taiwan and Hong Kong, Malaysia and Singapore – the 'in-house' world for this ancient science.
This is the moment when I have decided to share with you real stories of how businesses and business moguls around the world are using Feng Shui in their daily lives. I know you (and everyone) will seek proof and facts about its efficacy and this is what I am going to share with you from this moment on.
I bet you don't know that Facebook or Apple use Feng Shui (to name just two examples) or many other empires and business tycoons, right!? From Jack Ma, Bill Gates, Oprah Winfrey and Steven Spielberg to businesses you may never have heard of I will show you how all are using Feng Shui principles to empower their lives and their businesses because…
…"Feng Shui is all about the flow of energy (Qi) and Yin Yang, which comes from nature.  You have to understand the principles of energy and utilise them to support you." Joey Yap
I will show you how simple businesses have grown from zero to hero; how cities were built to become financial hubs of their countries; how banks, real estate and Wall Street businesses are using this method and how Presidents, Kings and Queens from around the world follow these inVisible rules when making decisions.
To name a few of the Companies using Feng Shui: Trump Tower in New York City; Wall Street Journal; Merrill Lynch and Coca-Cola, Hilton; MGM Grand; Bellagio; Caesars Palace; Casino Niagara and Cosmopolitan;  Bank of America; Royal Bank of Canada; Citibank; HSBC; Texas First National; Chase Manhattan and Standard Chartered Bank of London, Burj Al Arab, etc.
My aim, through every article, story and interview about Feng Shui is to force you to think "to dare to seek answers from real people, real businesses and real life – experiences that will shatter your chains of bias", because…
…"Chinese Metaphysics has been around for at least 2,000 years. It is the second oldest profession in the world. It existed way before scientists, accountants and developers make an appearance. It was used as a guidance system by Imperial families and officers in ancient China. Even today it is still used to strategise work, politics and war. Chinese Metaphysics is relevant for any business which requires strategy and winning. It is not about predicting the future but about creating the future. The strategy used is to lift barriers and change how the game is played. The rule is to be a game changer. Make the rules, don't just follow rules" – the short explanation given by Dato Joey Yap, an International Master of Feng Shui.
If the super rich are using it, and it works so well for them, why not empower yourself with the same skills and techniques.  Today the world has no room for losers. However being a winner is not necessarily about crossing the finishing line first, or being one of the richest people on the planet. Being a winner is about living your life on your terms and being firmly in the driving seat rather than being dictated to by backseat drivers.
As a westerner using Feng Shui, my aim is to bring together East and West, to prove that this science is working effectively for many businesses, communities and individuals.I am not writing to convince you, merely to show the facts, and how using the principles of Feng Shui can change your life. Through the stories and interviews presented give yourself the chance to learn and know other techniques that you may not have thought about up to this time.
The secret to 'change the unchanging' is to allow yourself to learn how to think (out of the box) and to understand that 'KNOWLEDGE is POWER'. Once you are aware of this you can begin to understand that beyond your own power is also PowerOfinVisible – the power that the rich and major business are using to their benefit. Behind the scenes, it is no longer a secret that large companies are using the Universal Power to accomplish their targets and desires.
Meaningful Coincidences – since April, this year Harshul Srivastava, Strategy Officer of The Asian Entrepreneur and I discussed how to put this project together and now, after a few months, it is the right moment to share it with The Asian Entrepreneur community.
There are a few more things I would like to explain in this first introductory article besides the mission, are the benefits, the whys and hows of our future columns and why I need your help too.
Raise your voice and be heard!  We all need it!  Shout out your thoughts, ideas and questions in comments.
Being a part of The Asian Entrepreneur community requires constant time and effort and we are well aware that all our readers are looking to exchange even more knowledge and to get even more value to help them in their businesses and their own lives.  I truly appreciate the contributions of everyone of you (ideas and/or comments) and I believe together we can create a win-win relationship.
Read if you Need; Write if you Want! Sharing Knowledge, Sharpening Your Thoughts
Sharing and commenting on articles helps us bring more value to the articles. I encourage everyone to read each article, and then express their comments and ideas.
Comments have the power to inspire great discussions built on top of an article. I believe discussions will help sharpen the collective ecosystem thinking.
Building new connections: while working together towards our goal of building one of the biggest 'Feng Shui, Business and Entrepreneurship' communities we want to have fun and build new friendships along the way.
Let us bond through Facebook, as well – join us in conversations because this allows for faster and more real-time conversations online.
Writing and commenting sharpens your thoughts and helps attract like-minded people or people who disagree with you.  Either way it's a good thing since the whole idea is to share and discuss. While doing so, new bonds are made to forge new friendships.
The best way to learn is through sharing and helping with no hidden agenda. If there is an agenda then be transparent about it.
Ask – the first step when you don't understand something is not to be ashamed or afraid to ask. Ask any question that may arise in your mind at any time. Write it in comments or send us an email. You will get an answer as soon as possible.
Helping and Sharing – well-documented feedback and comments inspire people. People may disagree with you; you may even be wrong however that doesn't matter as long as we spur a healthy discussion that keeps the Asian Entrepreneur ecosystem thinking and talking.
Along the way, we aim to help startups using Feng Shui techniques, connecting people within the industry and discussing important issues pertinent to growth.
I do believe that you can't truly help others if you can't be bothered to learn about their goals and fears. Don't hesitate to reach out if you have any doubts. I'll be happy to assist and welcome you!
And do not forget: the magic of today is the science of tomorrow. It's when you connect to that higher part of yourself that you have the best ideas. That connection, if formed with honesty and passion will be made stronger with love.
Written with Love for You from Singapore (a city built on Feng Shui principles).
Let's rock together!
This article is a part of the Business, Entrepreneurship & Feng Shui Series on The Asian Entrepreneur. Click on the image to read other articles in the series: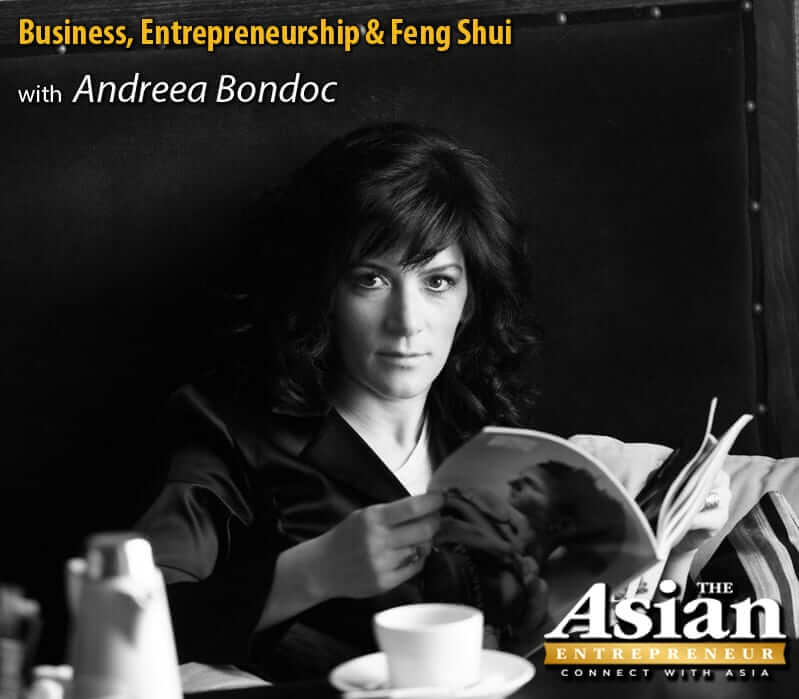 Connect with Andreea Bondoc:
Email: [email protected]
Twitter: https://twitter.com/POfInvisible