Graeme Lindsay is an experienced drinks marketing professional who began is his career in marketing at Scotland's leading drinks company Tennent Caledonian Breweries before moving to England to head up Marketing for Cadbury Beverages.
He returned to Scotland several years later with Scottish and Newcastle as Marketing Manager for Miller Genuine Draft and Miller Beer in the United Kindgom and Ireland.
This was followed by 5 years at The Glenmorangie Company as Global Director of Marketing with responsibility for Glenmorangie and Ardbeg single malt whiskies. Graeme was a member of the executive team that secured the sale of the company to Louis Vuitton Moet Hennessy ( LVMH ) for £300m. Graeme worked for Moet Hennessy for 4 years, managing the major relaunch of the Glenmorangie brand in 2007 and winning the Grand Prix at the Scottish Advertising Awards for blended Scotch Whisky Bailie Nicol Jarvie.
Graeme's Scotch Whisky experience continued at Whyte and Mackay where he joined as Global Marketing Director shortly after it was acquired by Vijay Mallya's United Spirits. Graeme was responsible for Isle of Jura single malt and the relaunch of the The Dalmore Single Malt Whisky.
In 2011 Graeme left Whyte and Mackay to explore a number of new ventures, one of which was the idea to bottle special water for adding to Scotch Whisky. Graeme formed the company Smoother Spirits Ltd and launched the Uisge Source range of spring waters at Whisky Live Paris in 2012. Two years later Graeme was one of the top winners of the Sir Tom Hunter's Sottish Edge entrepreneur competition, securing funding to accelerate growth. Uisge Source is now available in over 15 countries.
What is Uisge Source?
Uisge Source ( pronounced 'oosh-guh') is The Drop that Makes the Dram.
Uisge Source is the perfect complement for your Single Malt Scotch Whisky – a range of Scottish waters from remote, private springs close to some of Scotland's leading whisky distilleries, bottled exclusively for adding to whisky from the same region.
The chemistry of Uisge Source waters matches the chemistry of the waters used to make whiskies in each of these regions:
A hard water, high in minerals from the Highland region for adding to whiskies from that region such as Dalmore, Glenmorangie and Balblair.
A soft water, low in minerals, from the Speyside region to complement whiskies such as Glenfiddich, Macallan and Glenlivet.
A spring water from Islay which is naturally filtered through peat to give it a higher natural acidity, for adding to single malts such as Bowmore, Laphroaig and Caol Ila.
Uisge Source is presented in unique, miniature 100ml glass bottles, with glass pipettes specially designed to fit the bottles and help the drinker find their ideal whisky-water mix.
Note 1 – 'Uisge' is Scottish Gaelic for 'water' as in Uisge Beatha, which means 'the water of life'.
Note 2 – The word 'Whisky' is an anglicisation of and is derived from the word 'Uisge'.
How did you come up with the idea of Uisge Source?
It was a journey of observations and experiences rather than an epiphany.
I was inspired initially by my wife Jennifer who asked me why there wasn't special water for adding to whisky and a colleague who had taken water back from a well on a remote Scottish Island purely for adding to whisky.
I was also inspired by Fever Tree Drinks have very successfully pioneered the concept of the premium spirit mixer.
Some people say that the only thing you should mix with whisky is more whisky but according to many experts the best mixer for whisky is a few drops or a dash of water, which makes sense – whisky already has a wonderful complexity of aromas and flavours – why would you want to add any more?
The Scotch Whisky industry have been advocating the addition of water for decades. Adding water removes the alcohol prickle, allowing the palate to more easily detect the wonderful range of aromas and flavours. It's also important to retain the true character and mouthfeel of the spirit which carbonated mixers will not do.
Single Malt Scotch Whisky is more likely to be enjoyed on special occasions, in the best surroundings, with the right company and served in a proper glass such as the Glencairn whisky glass.
If you're going to add water then you would want to ensure you have the perfect water to complement this special whisky and open up its aromas and flavours.
Over 97% of Scotch Whisky is sold outside the UK in countries where tap water is either not drinkable or will contain added chemicals which taint the spirit and change its true character.
Some countries even go so far as to suggest that the local bottled waters are not suitable.
So I made it my quest to discover the best water for adding to whisky.
After a false start I sought the advice of Glenmorangie and Ardbeg Master Distiller Dr. Bill Lumsden who suggested a focus on water for Single Malts rather than blended whisky.
Diageo's website Malts.com recommends that the best water is the water that made the whisky, a claim that I researched and found to be the suggestion of several whisky experts and connoisseurs.
In his book, Whisky on the Rocks, Geologist and Whisky aficionado Dr. Stephen Cribb writes about the water sources of many of the Scottish Whisky Distilleries. In his introduction he recommends that the best water for adding to whisky is the water that made it. This way you retain the whisky's true character.
This is supported by the fact that some whisky distilleries used to provide small bottles of water from the Distillery's water supply and some hold tastings next to the Distillery's water source so they can add the water that made it.
Then I made 2 important discoveries:
that the 5 whisky regions in Scotland all use a different water, eg Hard water in the highland whisky region, soft water in the Speyside region and water from Islay which has a high natural acidity.
that waters with different chemistries will reveal different aromas and flavours when added to glasses of the same whisky.
It was these 2 discoveries that led me to set up Uisge Source with the solution being to find a spring in each of the Scotch whisky regions which produce a water which has the same chemistry as the water used by the Distilleries to make the whisky.
Could you walk us through the process of starting up Uisge Source?
In Scotland, there is excellent support for entrepreneurs wishing to start a new business.
In our case it started with belief in the idea from Business Gateway, a publicly funded service contributing to the economic well-being of Scotland by providing access to free business support services.  Business Gateway helped to secure grant funding for research and product development and financial readiness.
Getting into production took longer than expected as we had to find springs that were accessible and had consistent supply of good quality water with the right chemistry.
We had to design and purchase our own bottling equipment and production was sub contracted to the UK's leading producer of bottled water.
At the same time we used our business plan to raise finance from private investors and Government agency Scottish Enterprise who awarded Uisge Source a place on their High Growth Programme which included support from overseas division Scottish Development International.
Some of our investors were able to take advantage of the Government's Seed Enterprise Investment Scheme which helps small, early-stage companies raise finance by offering tax relief to investors who purchase new shares in these companies.
I then formed a small team to bring our brand positioning, marketing strategy and business plan to life. The team comprised a creative agency and some of our investors who had expertise in different business disciplines who we remunerated with sweat equity.
Did you encounter any particular difficulties during startup?
Thomas Watson, founder of IBM, said "Follow the path of the unsafe, independent thinker. Expose your ideas to the danger of controversy"
The Uisge Source concept is completely new and challenges some existing beliefs and in some cases requires consumers to change behaviour so initially the products we were met with some scepticism.
Fortunately, most or our existing distributors and customers approached us in the first instance and expressed an interest in partnering but if we need to convince anyone to 'follow our path' a quick taste test to demonstrate that different waters reveal different aromas and flavours in the same whisky works very well as does an account of the story behind why Uisge Source was created. 
How have you been developing Uisge Source since startup?
The focus has been very much on positioning Uisge Source as a luxury product focusing on the 3 core expressions and pairing with Single Malt Whiskies in the major countries where single malt is popular and consumers are open to adding water.
Within each country, Uisge Source has grown by developing the business in different sales channels such as duty free stores, department stores, whisky societies and specialist whisky retailers.
It's been particularly popular in 5 star hotels and luxury bars where customers are curious and looking for unique, added value experiences.
The company has also started bottling water directly from one of Scotland's well known whisky distilleries for adding to whiskies made from that water.
Uisge Source is also establishing a presence in the gift sector with bespoke presentation packs developed in partnership with some of the major whisky companies such as Diageo, Bacardi, Morrison Bowmore and Pernod Ricard.
What kind of feedback did you get for Uisge Source so far?
When our newly produced products finally arrived at our exhibition stand at Whisky Live Paris in 2012 we really had no idea what people would think. During the exhibition we were doing our taste test which took people by surprise and one visitor congratulated us on having the most innovative new product at the exhibition.
Since then we've had a positive reaction from almost everyone, even countries like Sweden who are proud of their extensive range of high quality bottled waters. But they understand that waters can be very different and that it's the water chemistry that's just as important as the quality.
5 Star hotels claim our products add sophistication and theatre to the single malt occasion and whisky retailers appreciate the benefit of an incremental top-up purchase.
We've even converted some non-whisky drinkers and whisky drinkers who don't normally add water.
Whisky companies who have been advocating the addition of water appreciate what we're doing and have been supportive and open to working with us.
And we also get a positive reaction from people when they learn that Uisge Source is a small independent company on a mission to add more interest to the single malt experience by promoting these unique products around the world.
What is your strategy against your competition?
We're not aware of any other companies doing what we're doing so in that sense our only competition is other whisky accompaniments.
Our strategy is to simply to present the Uisge Source story to the right audiences, explaining the benefits of adding a dash of water, why the experts recommend using water from the same source as the whisky and how we would recommend drinking whisky with water.
Have you developed any industry insights that you could share?
They say whisky loosens the tongue and its certainly true in my experience that whisky lovers enjoy the journey of having their curiosity ignited by experimenting with new products and experiences and then discussing in depth their thoughts and preferences with fellow whisky fans.
In the case of enjoying single malt whisky we find that the same person is likely to enjoy whisky in different ways and how they chose to appreciate their dram will depend on the whisky itself – its strength, age and provenance, the occasion, the location – whether at home, in a bar or at a whisky tasting – and whether with company or alone.
One whisky journalist compared the experience of using Uisge Source to the surfer travelling the globe in search for the perfect wave.
What is the future of the industry?
There is no doubt that the rituals associated with the consumption of single malt whisky and the ancillary products designed to enhance the experience will continue to evolve and become more sophisticated.
For example, there are now a range of different whisky glasses to choose from and several companies producing whisky stones, each claiming special features.
The future could be bright for Uisge Source: whisky drinkers are becoming even more discerning and we'll continue to see more cask strength malt whiskies which are more likely to be enjoyed with a dash of water.
It's still a young business and we now have proof of concept so the focus over the next few years will be on making Uisge Source relevant in all of the major single malt whisky markets.
We'll do this by strengthening partnerships with whisky companies, overseas distributors and luxury retailers while ensuring we have a strong presence at the major whisky exhibitions.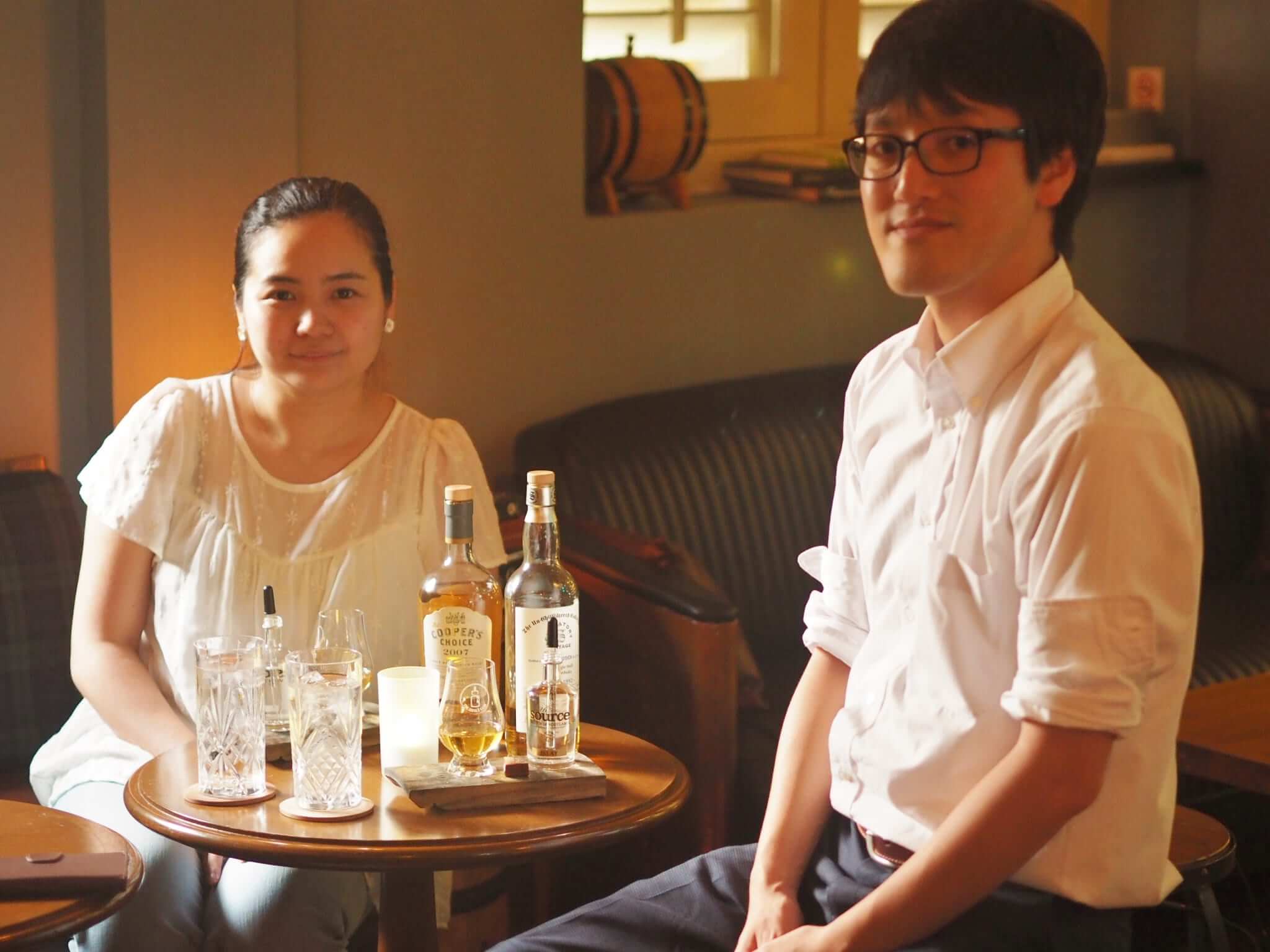 Were there anything that disappointed you initially?
It was disappointing to discover the onerous water import regulations in some countries, so growth is behind plan. But we are beginning to discover potential solutions which break new ground.
In hindsight we would have had a bottled water expert in the launch team.
It's also disappointing when a potential customer makes up their mind about our products before they've had a chance to try them but fortunately they are few and far between.
What are your experiences of developing your business in Asia?
Language, distance and cultural differences can make it more challenging to explain a new product concept to a potential distributor.
We work with a Scotland-based branding consultancy 15PL who specialise in helping companies develop their business in Asia.
When the challenges can be overcome I find that potential partners in Asia will prefer to spend more time getting to know the business and the products and considering the opportunities and risks before agreeing to take the products on. This diligent approach means more chance of a successful launch and accelerated growth and a longer lasting partnership.
What is your definition of success?
This venture will have been a success if my investors are happy with their return, if the brand and the products are still around after I've gone and if I can get the business to a scale where it can donate a % of profits every year to a water charity.
My brother works as a Programme Manager for Unicef, based in New Zealand and much of his work involves getting clean water to children in deprived regions in South East Asia.
I've promised Hamish that he is top of the list when the funds are there.
Why did you decide to become an entrepreneur?
I've always wanted to do my own thing, create or start something from scratch, build it and feel a sense of ownership.
I like taking risks which I didn't really have an opportunity to do in large, well established companies.
To borrow a quote from the founder of Linkedin, Reid Hoffman, I wanted to see what it would be like to "jump off a cliff and build a plane on the way down"
In your opinion, what are the keys to entrepreneurial success?
Unrelenting belief in your vision to the extent that you are not put off by cynics telling you it won't work.
Working with talented people. A good management team can make a success of an average business idea but an average management team can't make a success of a good business idea.
Empower your talent – Steve Jobs said "We don't employ talented people and tell them what to do. We employ talented people and they tell us what to do".
Persistence, focus and tenacity combined with energy, enthusiasm and optimism.
Lead from the front – put yourself out there, walk the walk and talk the talk, particularly at the start. No one is better placed than the founder to secure investment and get customers and opinion formers on board.
Any parting words of wisdom for entrepreneurs out there from your personal experience?
When pitching a new, medium risk business idea to investors – selling yourself and your idea is more important than crafting the perfect business plan.
Create an elevator pitch – describe the idea and why it will work in less than 30 seconds.
Act yourself into a new way of thinking – continually evolve what you do and how you do it.
Finally, always celebrate your successes by sharing a bottle of single malt Scotch with your colleagues and remember that there are only 2 rules for drinking whisky –  first, never take whisky without water and second, never take water without whisky.
Connect
Website – www.uisgesource.com
Twitter – @uisgesource
Facebook – https://www.facebook.com/UisgeSource