Helen Keller said 'Life is either a daring adventure or nothing at all'.  Jacqui Hocking seems to have embraced that philosophy with both hands and not only lives by it, she enables others to do the same through her company Gone Adventurin.  Lots of hidden gems in this interview!
What's your story?
I'm a Documentary Filmmaker who spent the first half of my career travelling & sailing around the world filming a UN Environmental Expedition & other causes under a Production Company I co-founded with my brother (LateNite Films). This led to a collaboration with a Singaporean Banker (Ashwin Subramaniam) in 2010 to film a bike race for charity in East Timor. After 3 successful projects across Asia, Ashwin, myself and our BusDev Director Laura Allen, saw an opportunity to bring together Companies, Communities and Consumers to create large-scale sustainable impact. 5 years since that first project, Gone Adventurin' has raised millions of dollars for social and environmental causes across Asia & worked with some of the world's largest corporate thought leaders to drive consumer movements towards a more ethical & sustainable future.
What excites you most about your industry?
Complete disruption. Traditional film distribution, the Advertising Agency model and even the Non-Profit / Corporate Responsibility sector are all completely redesigning their approach & technology. The chaos, opportunity and innovation is breathtakingly exciting.
What's your connection to Asia?
I've always felt at home here in Asia. Australia was where I was born originally – but I've always felt it was "out of date". Even though there are a lot of developing nations in Asia, I feel the potential of their cities are much greater than Oz. Most importantly, it's the RATE of change that is so incredible. Not to mention the hardworking attitude, non-stop innovation & all those beautiful languages.
Favourite city in Asia for business and why?
Singapore. Controversially the most exciting city in the world right now for creative entrepreneurs. The 4 National Languages and abundance of cultures mixed together creates a stunning global perspective. The Governments recent commitments towards the arts, science, wildlife reserves & social entrepreneurship is just inspiring. There is also incredible financial capital here – with easy access to multinationals & global entrepreneurs. Did I mention how many countries there are within SGD200 from Singapore? Geographically it's gold.
What's the best piece of advice you ever received?
"Don't measure time in hours and minutes – Measure time in experiences" This is something I lived by while working & living aboard a Sail Yacht around the world. It's helped me to overcome  most hurdles of fear & failure.
E.g. "I don't have enough time to finish X because I'm busy with Y"
Turns into: "when X is finished, I will begin Y"
On a different note, I think a lot of people struggle with execution because they are too focused on the success. But if you just put ALL your energy into your current experience, the success will take care of itself. With this attitude, surprisingly you'll find you have more than enough time to complete above and beyond what you thought was possible.
Who inspires you?
My co-workers.
What have you just learnt recently that blew you away?
I'm lucky enough to be in a constant state of awe most of the time. Just last week I learnt that to dispose of rubbish in Taiwan, you have to first buy the Taipei Government's allocated bag to put it in – a small gesture which really changes the entire cities attitude towards waste.  Why this blows my mind? Acknowledging that waste has a value is the first step towards solving the issue. Same goes for C02 and other forms of pollution such as oceanic plastic. I never thought I'd look to Taiwan for inspiration on Plastic Pollution. They are also incredible at recycling – who knew!!
If you had your time again, what would you do differently?
DREAM BIGGER. When I was younger,  not even in my wildest dreams could I have imagined what I've done now would be possible. Looking back, I wonder what I could have done if I'd dreamed bigger. These days I constantly try stop & think: "If I look back on this moment in 10 years time… am I dreaming big enough?"
How do you unwind?
Controversially: I don't feel the need to unwind, because I don't approach my work in a way that stresses me out. I'm very pragmatic in my approach, with clear priorities and daily strategies. Sometimes I'll need to work all night or film in really challenging conditions for weeks at a time, which means normally it's more the physical exhaustion that I have to be careful of. Unwinding emotionally is really easy for me – my mind is vary rarely in two places at once. It takes practice, but I think this is a skill I learnt inherently through editing hours of footage! I never imagined film editing would help me in a business sense – but it's very therapeutic! It's a puzzle process that involves strict dedication & total focus. The art of never getting overwhelmed, no matter how much information is laid infront of you.
Favourite Asian destination for relaxation? Why?
My co-worker is obsessed with Lombok – it's only few hours flight from Singapore, a beautiful island next to Bali, not too touched by mass tourism yet with world-class surfing spots. However my favourite destination is definitely Timor-Leste (East Timor) – completely untouched by tourism, or, as Daniel Groshong told me in our Diving Documentary: "It's not under-developed – it's unspoiled"
At the heart of the coral triangle, with a deep whale corridor just meters from the beach, along with stunning misty mountains and peaceful countryside – it's a must-see / must-dive / must-explore destination. I go back every year. Did I mention they grow the best coffee in the world?
Everyone in business should read this book:
"Let My People Go Surfing"  by Yvon Chouinard
Shameless plug for your business:
Last year, Gone Adventurin' worked with National Geographic to inspire people to care about the planet by bringing #NatGeoLIVE to Asia for the first time in history! Having started with a packed out audience at the Esplanade in Singapore, in 2015 we're spreading the event into Hong Kong! Stay tuned for the announcement at http://events.nationalgeographic.com/?source=events_home
On that note – if you know a business or company that wants to become more socially or environmentally impactful, while gaining business value & getting their story heard – please do put us in touch!
How can people connect with you?
Twitter: @Jacqui_Hocking
You can also follow our company > @GoneAdventurin
Email: [email protected]
—
This interview was part of the Callum Connect's column found on The Asian Entrepreneur: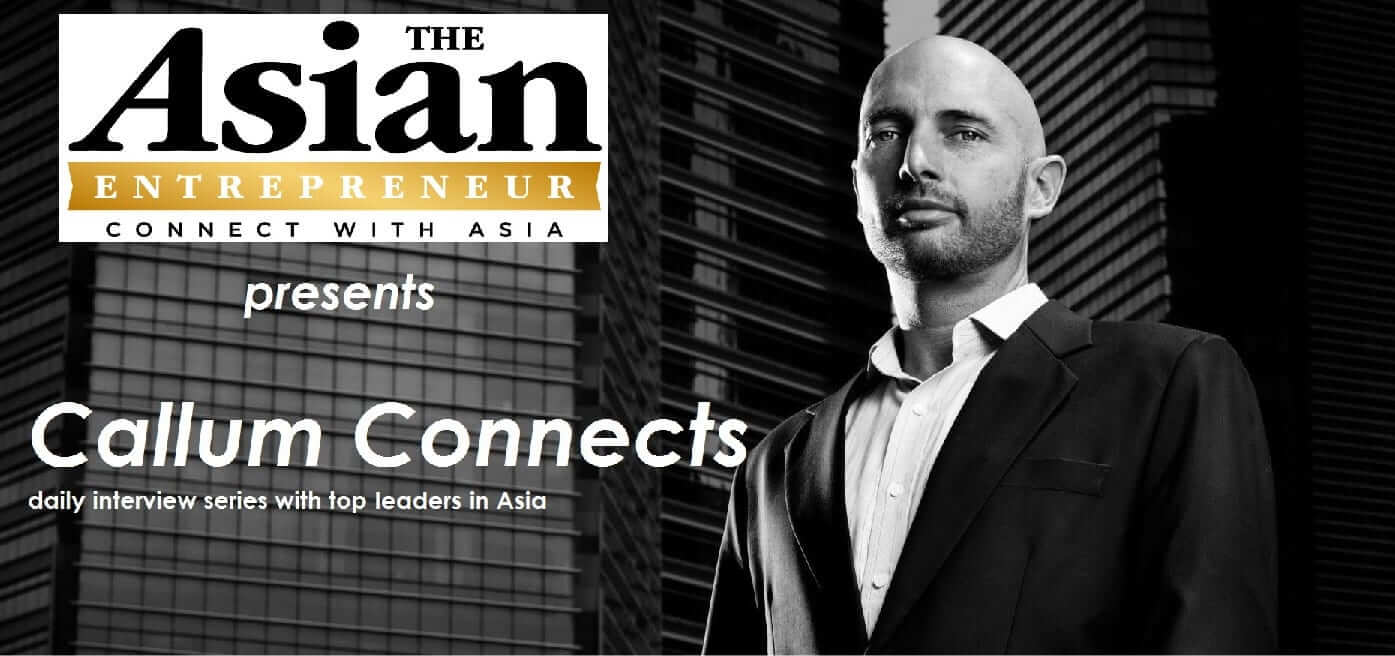 Callum Laing has started, built, bought and sold half a dozen businesses in a range of industries across two continents. He is the owner of Fitness-Buffet a company delivering employee wellness solutions in 11 countries and he is also the CEO of Entrevo Asia, a company that runs 40 week Growth Accelerator programs.
Take the 'Key Person of Influence' scorecard <http://www.keypersonofinfluence.com/scorecard/>
Connect with Callum here:
Get his free 'Asia Snapshot' report from www.callumlaing.com