Monira is successfully setting up ventures in Cambodia. Starting in the food and beverage industry and moving to interior design and property management. There is nothing to stop this young entrepreneur.
What's your story?
I was born and raised in Montreal, Canada. My parents fled the war torn country of Cambodia to Canada and I have worked hard in order to support my education and living. Growing up in a business environment, I was fortunate enough to learn many aspects from my parents in the fields of supermarkets, food and beverage and trading.
After graduating with an accountant degree and CMA license from HEC Montreal, I moved to Taipei, then Hong Kong and lastly ended up in Cambodia in 2012. For my first venture, I started with a small café in Battambang province where I offered the first high speed Internet in a modern air-conditioned space. Afterwards, I created Poptea, a chain of bubble tea shops in Phnom-Penh city. Currently, I am focusing on my new sandwich shops, called nÖmPANG!, which is getting quite popular among the locals and expatriates. It is quite similar to the Vietnamese 'Banh Mi' but with a twist of local taste to it. Facing many international competitors entering the market, I decided to merge both brands (Poptea and nÖmPANG!) under one roof in order to offer more variety to my clients.
I am also gradually moving towards interior design and property management businesses, with the help of a few friends who have skills in that area. Throughout my experiences so far, I have succeeded and failed a few times as well. I believe I speak for most young entrepreneurs when I say failure is just another experience and not a dead end. I love challenges; it's fun! I turn it into positive energy and use it as a driving force for my success.
What excites you most about your industry?
It's simple; I love to eat, cook, surround myself with beautiful environments and face my challenges. The combination of these aspects is my key to success. New challenges excite me and I see it as an adrenaline rush when facing new challenges. I started my career in the F&B industry but now I see more lucrative opportunities in other ventures such as architectural design and real estate. I hope to expand my investment portfolio with these industries as well in the near future.
It always excites me to discover new things when travelling the world. It gives me the chance to learn new cultures and bring back new creative ideas. I like to create from scratch. I research, test and write my own recipes. I like to learn new things from the bottom up in order to understand it well before investing. Ultimately, I love what I do and hope to expand my brand.
What's your connection to Asia?
My parents are originally from Cambodia and I love the Asian cultures! When I first visited Asia, I had a cultural shock with things like hygiene, the large population, space restrictions and many other factors. Back then, I kept telling a friend of mine in Taiwan about my hopes and dreams. The kind of projects and opportunities that I had always dreamt about and one day, he told me, "Can you please stop repeating the same things and just do it. You need to fail once to learn better." After that, I moved to Cambodia and started my ventures.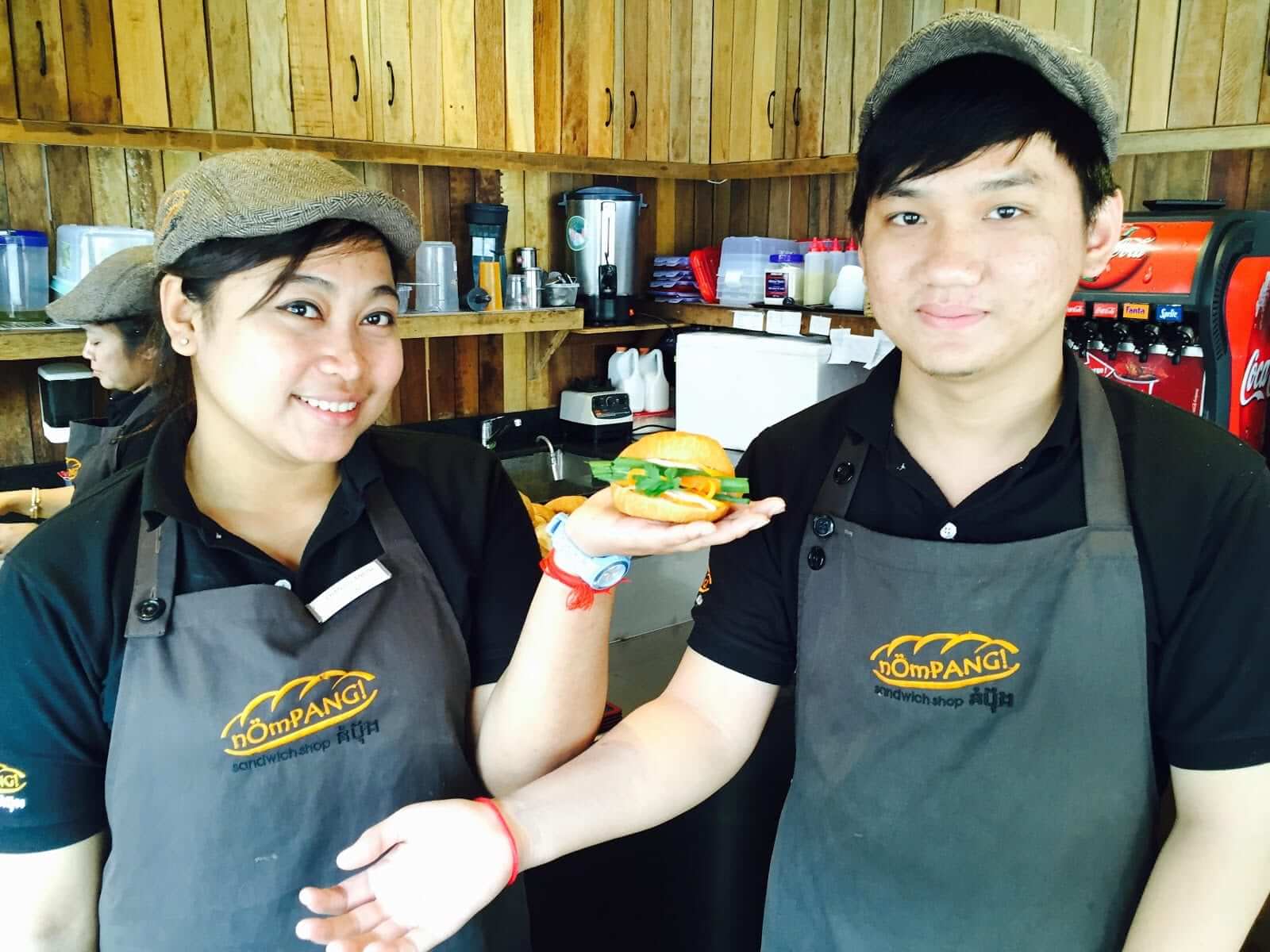 Favorite city in Asia for business and why?
Siem Reap, Cambodia. It is a great tourist destination city filled with hospitality and F&B businesses. My team and I are looking forward to expand our Nompang sandwich shop here as I see great potential. Not only can I grow my business but it will also promote simple local cuisine to foreigners at a very affordable price.
What's the best piece of advice you ever received?
"Do what you like to do and focus," my dad and my friend, Justin once told me. I believe that everyone can be successful in every aspect when they know exactly what their passion, goals and self-determination are.
Who inspires you?
Many people inspire me. My parents are my biggest inspirations. They have worked hard and taught me a lot of things about life. They have always supported me in everything I did since I was young. I also want to mention my two other close friends who have always been supportive and inspiring me in my career, Justin and Dr. L. (She prefers being anonymous). Despite the fact of growing up in a wealthy family, they have both worked very hard and put a lot of time into their careers.
What have you just learnt recently that blew you away?
"The customer is king," people say. I recently learned that many businesses don't really apply this theory. On my side, I always put my guests or customers first and that is another key to the success of my business.
If you had your time again, what would you do differently?
For me, I strongly believe in establishing a strong business foundation thus I would certainly choose quality over quantity. Although, I take on many projects all at once, I am beginning to focus my attention on a select few and excel in them. I think teamwork and partnerships are extremely important in an organisation and I will definitely analyse this well before choosing a future partner.
How do you unwind?
Travelling is the best way of getting away from stress. I can see new things, breathe different air and pamper myself with food.
Definitely, eating good food is my way of escaping stress. I think everyone should try it.
During a family cruise last month in Malaysia, I had no access to any network as I was in the middle of the ocean for a few days. I realised how beautiful it was to be disconnected from my daily work life for a while.
Favourite Asian destination for relaxation? Why?
I love Japan and Thailand where it has a wide variety of entertainment and food.
Everyone in business should read this book:
"Empowerment takes more than a minute."
This book explains how self-management teams and teamwork are important in an organisation. It also explains how to use leverage wisely, especially leverage of words. Every business starts with words and words are free.
Shameless plug for your business:
Check out : http://www.nompangcambodia.com/ for more information. I usually set up my business meetings in one of my shops.
How can people connect with you?
I welcome everyone to contact me via email [email protected] or [email protected]
Twitter handle?
@moniradanielsir
—
This interview was part of the Callum Connect's column found on The Asian Entrepreneur:
Callum Laing invests and buys small businesses in a range of industries around Asia. He has previously started, built and sold half a dozen businesses and is the founder & owner of Fitness-Buffet a company delivering employee wellness solutions in 12 countries. He is a Director of, amongst others, Key Person of Influence. A 40 week training program for business owners and executives.
Take the 'Key Person of Influence' scorecard <http://www.keypersonofinfluence.com/scorecard/>
Connect with Callum here:
twitter.com/laingcallum
linkedin.com/in/callumlaing
Get his free 'Asia Snapshot' report from www.callumlaing.com