Wouter Wants YOU to Be Healthy For Life-One Marketing
What's your story?
I'm the Co-founder and CEO of YOU. Originally from the Netherlands, I moved to Asia in 2013 to lead various tech ventures in Myanmar and Indonesia for Rocket Internet. After a stint as Global Venture Developer in Myanmar, I became the Co-founder and Managing Director of Carmudi Indonesia, a leading online vehicle marketplace. I started the venture in Indonesia from scratch and grew it to a team of 150 staff across 6 cities.
I left Rocket Internet to start YOU in 2016, with the goal to help millennials live a more healthy life and thereby enabling them to live to their fullest potential.
I have a master's degree in International Economics from Erasmus University Rotterdam and a bachelor's degree in Business Economics from the University of Groningen. In my scarce time off work, I love to learn about climate change and go for a run.

What excites you most about your industry?
I witnessed, firsthand, how a poor, one-sided diet is hampering the growth and development of most people, and society as a whole. I felt there should be a way to do something about this. Looking at the category, I realised that there is very little innovation and incumbents are positioning vitamins in a medicinal, curative way – which is not the right way to use vitamins. At Youvit, we aim to change that for the better, by making vitamins delicious and fun to take.
It's very fulfilling to see how far we have come, and to imagine that millions of families are healthy and happier thanks to our products. Being able to contribute to something so fundamental to health is amazing.
What's your connection to Asia?
I moved to Myanmar to join Rocket Internet in a role as Global Venture Developer straight after graduating with my masters degree in The Netherlands. I had initially thought of this as a 1 year adventure, after which I would return to The Netherlands and take a "normal" job in consulting or something similar. That never happened. After a year in Myanmar, I was offered a position to become the country manager for Carmudi Indonesia – which led to what has become a 7+ year tenure in Asia.
Asia is truly diverse, though I am most familiar with Indonesia specifically. What fits me well is the organized chaos of every-day life in Jakarta. Unexpected things happen every day and life is very spontaneous. It's a stark contrast to the structured and well planned out life in The Netherlands. I'm not a planner, and life in Indonesia fits me for that reason. Some Westerners can never get used to the constant changes and struggles that they cannot plan their agenda around, but I love it!
During my 7 years on another continent, I went through ups and downs, that, in a sense, is best described as a love/hate relationship. It's exhilarating and beautiful at times, and at other times is tiring and frustrating. But overall, that makes me feel all the more alive and I wouldn't want to be anywhere else.
Favourite city in Asia for business and why?
Jakarta! The size, the hustle and bustle of the city, and the limitless opportunities. It's truly inspiring to see the speed of change here and to be part of it. Access to a country with a population of almost 270 million, in the middle of a tech boom, is very exciting!
What's the best piece of advice you ever received?
My co-founder has taught me many things, one of the best pieces of advice was to invest time in building and nurturing relationships. Reaching out to people when you don't need them, helping others without expecting anything in return, and trusting that if you give, eventually karma will catch up with you and doors will open that you didn't even realise were there.
Especially when doing business in Asia, the strength and health of your relationships with stakeholders, partners, and people that can inspire and help, is often the key determinant of business success. Coming from The Netherlands, where the business climate is less personal, and having an analytical mindset and introverted personality, it took some time before this point really hit home and I had incorporated it as part of my routine. But now that I have, I believe this advice to be one of the best I have received.
Who inspires you?
Elon Musk. While building a business yourself and seeing how time flies – it is absolutely incredible to see how much he gets done in a short period of time. But more than that, I care deeply about the issue of climate change and respect Elon Musk for building businesses that aim to curb climate change – mankind's biggest challenge.
What have you just learnt recently that blew you away?
About one third of the Indonesian population is affected by stunting. These are deficiencies in micronutrients, like vitamins and minerals, as a baby and young child, causes kids to grow up with underdeveloped brains and bodies, affecting cognitive abilities and, in turn, school performance and family income. It is impacting both individual lives, and society as a whole. It is slowly starting to become recognized as one of the fundamental blockers of the whole nation's development.
These sorts of facts make me realize the importance of the work we are doing, and the impact we indirectly have on the country. I'm proud to be building a company that combines commercial success with a real purpose.
If you had your time again, what would you do differently?
I would hire more good people earlier on. Building a business is often like the situation of the chicken and the egg. Do you want to hit certain milestones (for example sales targets) first, before scaling up and building out the team, or will you need that team to actually achieve those milestones? I have come to believe it is better to move fast early on and hire people that will help you grow faster.
How do you unwind?
I love going for a run and participating in running and triathlon events. Some of my favourite runs are trail runs, up and down mountains and volcanoes in rough terrain. You are forced to completely focus on every step and can get into a trance-like state of mind where you completely forget about everything else for a while.
Favourite Asian destination for relaxation? Why?
Indonesia has so many beautiful places. Even after 7 years there is still more to explore. My hit-list for this year are Toraja (done in January) and Sumba (once Covid allows for it). I love to do something adventurous while exploring nature and culture. These places allow me to breathe in some fresh air, which is impossible in Jakarta.
Everyone in business should read this book:
"The Hard Thing About Hard Things," by Ben Horowitz. Building a business is a rollercoaster ride with many ups and downs. This book is brutally honest about all the challenges faced by entrepreneurs and contrasts nicely with the romantic picture some people have of entrepreneurship. It helped me to put my own challenges in perspective and realise that it's a normal part of the journey. Besides that, it's full of practical tips and tricks.
Shameless plug for your business:
YOUVIT is a consumer health brand that launched its first multivitamin gummy products in 2017. We are revolutionizing the way millennials take their vitamins, enabling a new generation to live a healthy and active life. We spent 18 months working with product experts and labs to formulate a complete range of delicious and nutritious one-a-day gummy vitamins, specifically tailored to the dietary requirements and habits of the Southeast Asian consumer. Euromonitor, a market research agency, recently mentioned our product stating, "A breakthrough innovation in the vitamin category is the adult multivitamin presented in gummy or jelly form. Initiated by YOU [the company behind YOUVIT] this trend has become very popular in Indonesia." We are expanding our footprint rapidly across Indonesia with plans for regional expansion in SEA in the near future. Our products are currently available at over 17,000 modern retail outlets including Watsons, Guardian, Carrefour, Giant, Hero, AlfaMart and even Ace Hardware.
How can people connect with you?
You can reach me at [email protected]
Twitter handle?
@WGJvanderKolk – although I'm not actively sharing.

—
To hear how entrepreneurs around the world overcome their challenges, search your favourite podcast platform for 'CallumConnects' to hear a 5-minute daily breakdown.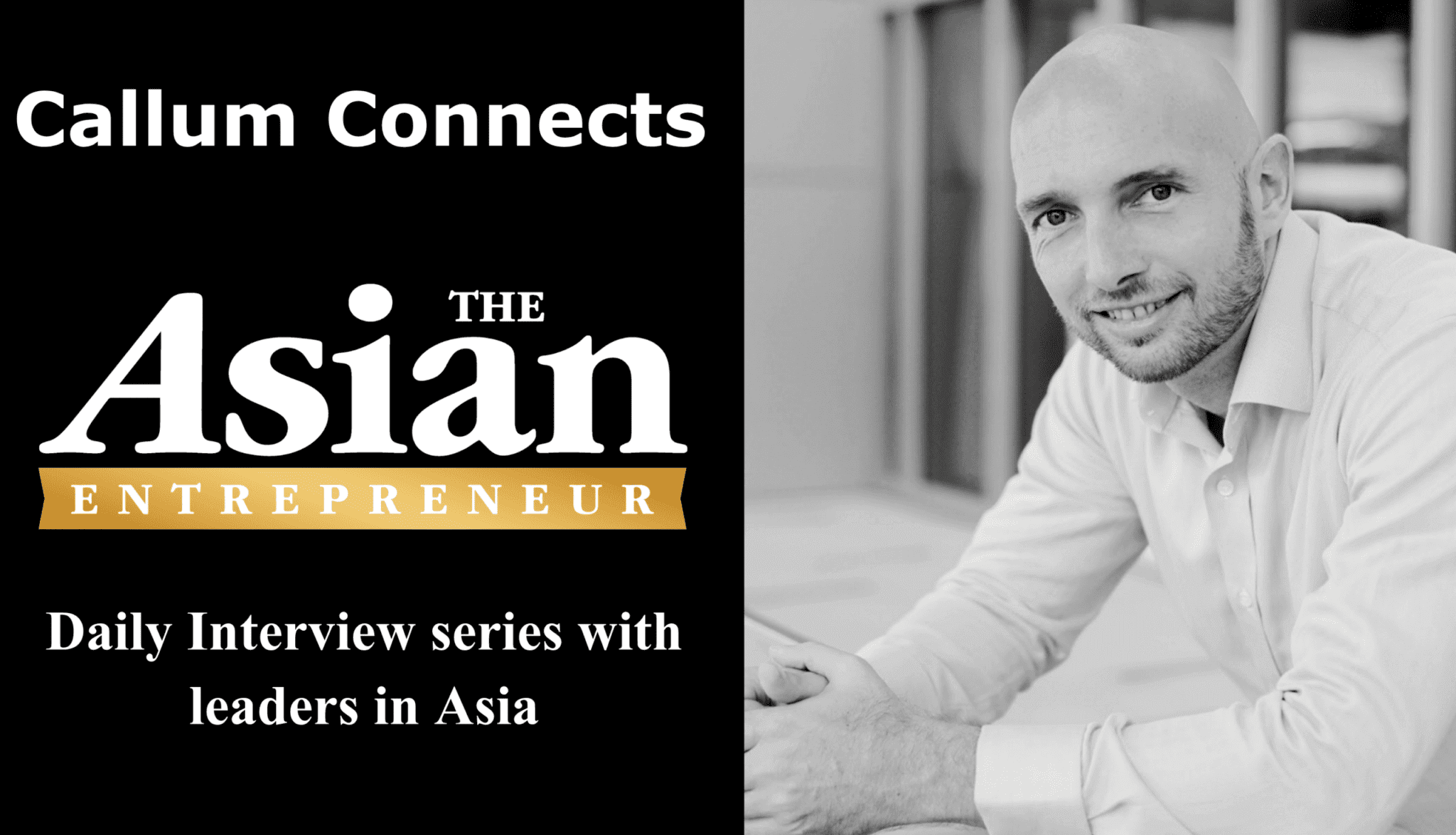 Callum Laing is an entrepreneur and investor based in Singapore. He has previously started, built, and sold half a dozen businesses and is now a Partner at Unity-Group Private Equity and Co-Founder and CEO of MBH Corporation PLC. He is the author of three best-selling books 'Progressive Partnerships', 'Agglomerate', and 'Entrepreneurial Investing'.
Connect with Callum on Twitter and LinkedIn
Download free copies of his books at www.callumlaing.com