Jo Ey Teh is helping broken-hearted people be brave and believe in love again through "Broken Hearts" card game.
What's your story?
"We started this card game in the most unexpected way," said Joey, Broken Hearts Little Chief. Being a simple girl, I held on to this fairy tale fantasy of being in love. I was so devastated when I broke up with my ex-boyfriend that I could not bring myself to speak a word of it to anyone, until one fateful day when we were discussing relationships with 2 of my friends/co-founders. They were really shocked as I hid the fact so well that there were no traces of any heartbreak.
Truth be told, my heart was shattered. I knew I was heart-broken but I did not want to waste my life by dwelling on the anguish that pervaded me. So, I decided to turn the pain into positive energy and suggested to my co-founders on the creation of a relationship card game that would let broken-hearted people in the world be brave and believe in love again!
What excites you most about your industry?
To be honest, we have faced many challenges and rejections along the journey as the three of us were not familiar with card or board games, but that's also the reason why most of the people felt the game mechanism is unique. Broken Hearts is more than just a card game. By playing our cards, we want to mend millions of Broken Hearts all over the world by helping them to be brave and love again.
What's your connection to Asia?
I am a Malaysian, and Singapore is my second home. I've been studying and living here for almost 7 years.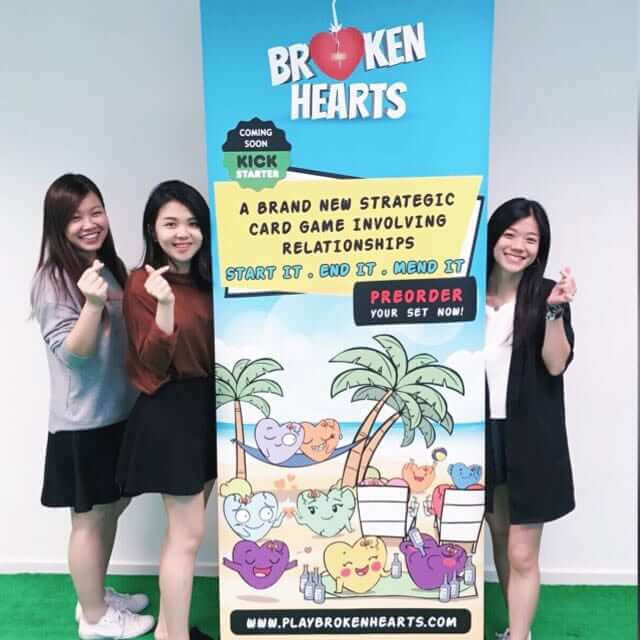 Favourite city in Asia for business and why?
For now, I don't have a favourite city for business as I feel that having the right business partners and team is most important to go further. It's the people that we work with that makes the business fun and eventually creates more unexpected sparkles with great people.
What's the best piece of advice you ever received?
Do not worry about rejections and mistakes. My mentor taught me that there is no right or wrong; if you are right then that is a great form of learning. On the other hand, if you've made a mistake that's great experience.
Who inspires you?
My father and my aunt. They shower me with unconditional love and taught me to be kind thus I hope I will be able to spread love to the world through my little actions.
What have you just learnt recently that blew you away?
To grow we must accept the fact that we're not perfect, but we must live accordingly. Learn to stay comfortable with all the uncomfortable. The universe is made up of 95% of dark matter and nobody know what it is. But without those dark matters, we would not be able to survive. We would not be able to have a job if no problems exist.
If you had your time again, what would you do differently?
I wish to explore more countries and get to know all of their different cultures. I will realize how tiny our own problems might be and simply, find ways to live a happier life.
How do you unwind?
Walk and walk and walk. A long walk with myself is a must.
Favourite Asian destination for relaxation? Why?
The Maldives. I think it is the most beautiful island in Southeast Asia and one of the most stunning is the Moofushi Island.
Everyone in business should read this book:
Zappos, Delivering Happiness
Shameless plug for your business:
Broken Hearts is more than just a card game. Designed based on the #1 problem that every human being in the world faces – the affairs of the heart. Through this innovative and entertaining game, we want to share great relationship lessons and seek to spread love and the understanding of how everything happens for a good reason. Journey through the heartbreaks, heartaches and obstacles as you realize that a broken heart isn't so bad after all. #bebrave
Sail through the ups and downs and unravel the parts and parcel of life and love itself. Explore the nuances of what it means to truly be happy, whether you are looking for love, or healing from heartache. #loveagain
Our Mission – To spread love to the world through our "Broken Hearts" game
How can people connect with you?
Email: [email protected]
LinkedIn: Teh Jo Ey
—
This interview is part of the 'Callum Connect' series of more than 500 interviews
Callum Laing is an entrepreneur and investor based in Singapore. He has previously started,
built and sold half a dozen businesses and is now a Partner at Unity-Group Private Equity and Co-Founder of The Marketing Group PLC. He is the author two best selling books 'Progressive Partnerships' and 'Agglomerate'.
Connect with Callum here:
twitter.com/laingcallum
linkedin.com/in/callumlaing
Download free copies of his books here: www.callumlaing.com